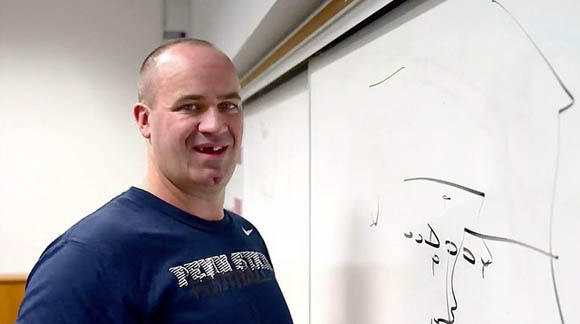 Bill O'Brien might not care what "Paterno people" think about his stewardship of the program — or he might not "get it" at all — but one thing is clear: he's officially on his way to coach the Houston Texans, who have the #1 pick in the 2014 NFL draft and aren't shackled with crippling sanctions.
From Penn State's official website:
UNIVERSITY PARK, Pa. - Bill O'Brien has informed Penn State that he is leaving Penn State to become the head coach of the National Football League's Houston Texans.

A national search will begin immediately to select Penn State's 16th head football coach, according to Dave Joyner, Director of Athletics.

... "We need to do everything we can to support the needs of our student-athletes during this period," Joyner said. "I am very confident in Larry Johnson, the coaches and staff in maintaining continuity and working with the returning players and recruits. "We intend to move quickly in our search to identify the next great Penn State football coach," Joyner added.
ESPN's Adam Schefter and Chris Mortensen first reported this on New Year's Eve, but today it has become official.
It's certainly a big loss for Penn State and the Big Ten as a whole. James Franklin has been kicked around as a possible replacement, but Penn State better hurry. Vanderbilt's frontman has reportedly drawn some interest from NFL teams as well.