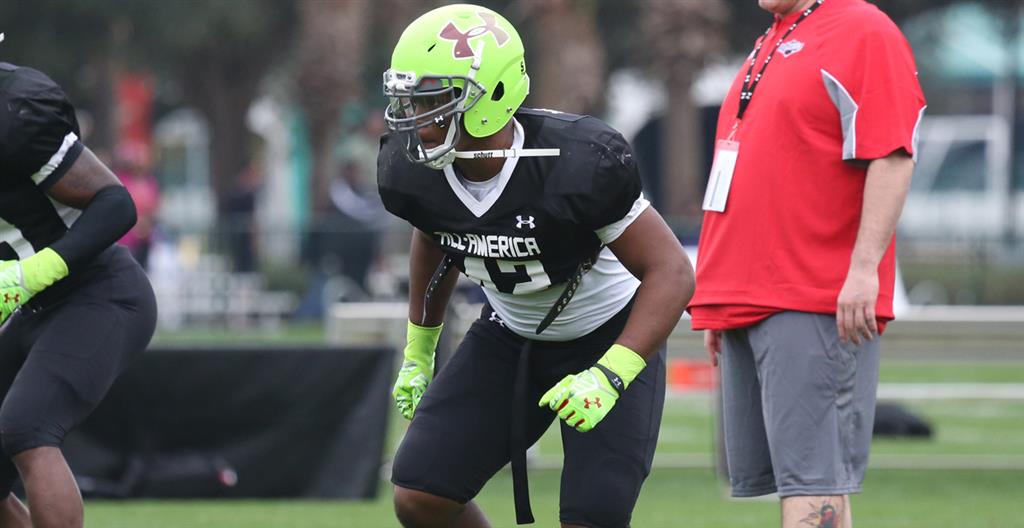 The highly anticipated Under Armour All-American game is nearly upon us and the Buckeye commits and targets have certainly stood out. While only two current Buckeye commits are playing in the game, they have excelled in practice this week and Ohio State is hoping to add at least one more Under Armour All-American commit. As I wrote last week, the Under Armour game is littered with players whom the Buckeyes recruited and many other players committed to Big Ten schools that the Buckeyes will face in the future.
Join us after the jump for more on how Raekwon McMillan and Jamarco Jones have done in practice this week, the latest on Tony Brown, and more on what to watch for in tomorrow's game (4 pm EST on ESPN).
Jamarco Jones Shines
After missing time this season while recovering from shoulder surgery, Jamarco Jones is healthy and showing why he was ranked as one of the top offensive tackles in the country coming into the season. With all of the hype surrounding the recruitment of Chad Mavety and Damian Prince, combined with Jones' injury, a lot of people forgot just how good Jones is.
Ranked as the No. 5 offensive tackle in the country by the 247 composite, Jones has gone against the best of the best this week and has more than held his own. Here, Jones goes up against 5-star defensive lineman and likely future LSU Tiger, Gerald Willis:
Ohio State is certainly getting a good one in Jones as they continue to stockpile talented offensive linemen. Jones already has great size and shows good footwork and technique as well. With prospects like Jones, offensive line woes should be a thing of the past for the Buckeyes.
Raekwon McMillan too
This won't come as much of a surprise to anyone who followed him this year, but McMillan has been as advertised this week, drawing a lot of praise from the coaches and scouts this week.
#OSU LB commit Raekwon McMillan looked again good on inside run drills & also in 7-on-7. Drawn big raves from coaches all week #UAAllAmerica

— Jeremy Crabtree ESPN (@jeremycrabtree) December 31, 2013
Raekwon McMillan will be physically ready to contribute at Ohio State next year, he's already thick and strong from waist down.#uaallamerica

— Scott Kennedy (@ScoutKennedy) December 31, 2013
Scouts said McMillan showed a "great nose for the football" and did a great job of plugging holes. This is music to Buckeye fans ears as Raekwon has instincts you can't teach that have been sorely missed recently at the middle linebacker position at Ohio State. Raekwon will play in the game tomorrow and then heads to Columbus to begin his career as a Buckeye on Sunday.
Tony Brown Latest
Tony Brown suffered a shoulder injury this week and will not play in the Under Armour game tomorrow. Still, he plans to announce his college choice at the game tomorrow and will then enroll at the college he selects next week to join the track team. While Brown to Ohio State rumors have been circulating, it's hard to imagine him going too far from home. For those who do not know, Tony Brown's dad suffered a stroke about a year and a half ago and still remains in a severe state that prevents him from walking or speaking more than a few words at a time. Family is very important to Brown, and his sister currently runs track at LSU, a major factor in his recruitment.
Still, when asked about his sister and how her status has impacted his recruitment, Brown said "I am my own man... This decision is for me. It's not about my sister." In the same interview with ESPN, Brown had this to say about coach Meyer:
"He actually reminds me of my dad a lot. He's real funny. He's actually real personable too. He says I remind him of Joe Haden. He's real cool. I remember watching the Ohio State training days on ESPN, and I thought that's a real cool guy and when I met him, he was like that exactly and it wasn't just how he was for TV."

- Tony Brown
With Urban Meyer, anything is possible and if Brown sees Meyer as a potential father-figure Ohio State may have a chance. LSU is still the heavy favorite but we will have to wait and see.
What to watch for tomorrow
Raekwon McMillan teams up with a powerful defense that includes Jabrill Peppers, Da'Shawn Hand and Lorenzo Carter that will try to stop an offense that has Jamarco Jones blocking for Leonard Fournette. You'll also get a chance to check out Buckeye DB targets JuJu Smith and Jermaine Roberts team up in the same defensive backfield for team Highlight.
Be sure to tune in for Tony Brown's announcement tomorrow (time TBA) and to check out some future Big Ten players as well. Again, the game is at 4 pm (eastern) on ESPN.
We'll have much more coverage tomorrow on Twitter and in the Eleven Warriors forums leading up to, during and after the game.
Have a happy New Year everyone!