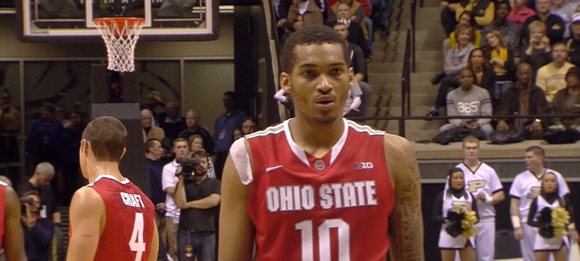 Ohio State battled frontcourt foul trouble throughout, but pulled away from Purdue in the second half for a 78-69 road win.
LaQuinton Ross led the way with 17 of his career-high 25 points in the second half, as the Buckeyes outscored the Boilermakers 44-36. He also grabbed 12 rebounds for his third consecutive game with a double-double. Aaron Craft aggressively created offense throughout, finishing with seven points, eight rebounds and 10 assists. Combined, Ohio State had 21 assists, a season high. 
Craft's trademark hustle was on display, particularly during a sequence midway through the first half. After his transition layup was blocked, he sprinted down the floor to contest a three-pointer, grabbed the rebound, spun and went coast-to-coast again for a lay-in. 
Shannon Scott was the third and final Buckeye in double figures with 18 points, also a career high.
Amir Williams and Trey McDonald picked up two fouls early in the first half, forcing the Buckeyes to go to a smaller lineup and shifted Ross' defensive responsibilities to covering Purdue center A.J. Hammons. He scored 18 points and dominated the boards with 16, but he received little help from the perimeter. Purdue only hit three of their 14 shots from beyond the arc.
With their size advantage, the Boilermakers had 15 offensive rebounds, but failed to convert on numerous chances at the rim. They had only one more second-chance point than Ohio State. 
Williams picked up a third foul early in the second half, sending him to the bench until under four minutes remained. Head coach Thad Matta wasn't even sure he'd play at all.
97.1 The Fan's Paul Keels reported Williams was ill enough to require hospitalization three days ago due to an "undisclosed illness" and was a game time decision, according to Matta. Marc Loving was also battling a back injury, but he came off the bench to add eight points.  
The Buckeyes will play Nebraska, Saturday, their first home game during conference play.