Hello puck fans! Time for to recap the weekend and take your weekly look at the stories around the Buckeye hockey world. Let's start with the Mercyhurst series.
Weekend in Review
What Happened
Ohio State completed their non-conference schedule with a sweep of Mercyhurst. The Buckeyes defeated the Lakers by scores of 6-3 and 7-2. Ryan Dzingel and Nick Oddo were the top point-getters of the series with a goal and four assists apiece. Chad Niddery, Nick Schilkey, and Dave Gust led the team in goal scoring with two goals each. Christian Frey, who joined the team this week, started both games in net. He stopped 56/61 shots in the series and earned the first two wins of his collegiate career.
What Went Right
Offense by Committee: Points were recorded by 18 of the 20 skaters who took the ice for the Buckeyes in this series. Saturday's goals were scored by six different players and Sunday's game featured seven separate goal scorers. It's good to have everyone involved right off the bat in the second half. If they keep this up then whatever goalie Ohio State tosses out there only needs to keep his GAA under five for the team to have a shot at the win.
El Capitan: Curtis Gedig scored his first goal of the season on Sunday. If he's doing his job defensively, he's almost invisible, which explains why we haven't talked about him a whole lot this season. We should mention him more often, though. Very few guys beat him one-on-one, a fact that he demonstrated once again in this series.
Play All the Goalies! Frey was the fourth Buckeye goalie to see action this season. It had to be challenging for him to go so suddenly from junior to college hockey. At times this weekend it looked like he was trying to do a little too much (poke checks, playing the puck, etc.) but he got the job done. I'll be interested to see what he's able to do once he settles in with the team and college life.  
What Went Wrong
Turnover City, Population - Everyone: Tanner Fritz even gave the puck up twice in one shift on Saturday which is really uncharacteristic. This was likely just a product of the long layoff as it seemed to go away as the series went on. I'm not terribly concerned about it…yet.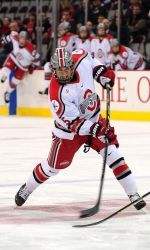 Not-So-Special Teams: I think this might have been due to rust from the break as well. The Buckeyes' first three special teams situations on Saturday were pretty ugly. They couldn't get set up on either of their power plays and got hemmed in their own end by Mercyhurst both times. Then the Lakers capitalized on their man-advantage fairly quickly. Like the turnover situation, this got better as the series went on so I'm not worried about it either…yet.
Other Random Notes
Ohio State's recaps generally include a game story and links to the boxscore and highlights of a given game. That's the case this weekend as well, except you can only view Sunday's highlights for free. If you want to see Saturday's highlights/press conference you have to be a Buckeye Vision member. It makes no sense to let fans see one highlight package but not the other. If you view the press conference as something so valuable you think people ought to have to pay to see it, fine. At least put up a separate, free highlights-only package. You can't argue those are worth paying for when the video from Sunday's 7-2 win doesn't even feature all the goals. There's what looks like a glimpse of Gust's goal from Saturday, a shot of Matt Johnson warming up, several looks at Gust's goal from Sunday, plus one or two other goals from that game.
Oddo (16-7) and Fritz (10-3) killed it on the faceoff dot Sunday… Matt Tomkins dressed for both games, so he's apparently back on the road to health… The crowd on Saturday wasn't near the announced 4,000+ but it was a great turnout considering the students were still on break, there weren't any promotions for that game, and Mercyhurst doesn't incite any great passion among Buckeye fans.
What's Next
The men's team has a bye this week. Then they'll host Michigan State next week and it's all Big Ten games to the end of the season. (The ladies are hosting Penn State this Friday and Saturday for anyone with a college hockey craving.)
What You Might've Missed
(It was very late before I got home from Sunday's game so I haven't had time to doodle up some MS Paint art yet. I'll put it up on Twitter tomorrow and share it here next Tuesday for the Twitterless.)
Other Series Links
Short Shifts
Around the Big Ten
Weekend recap: Minnesota was off last week… In news that will surprise no one, Wisconsin swept Alabama-Huntsville over the weekend… Penn State poured 62 shots on Robert Morris en route to a 3-2 win at the Three Rivers Classic, but were defeated 8-2 by Boston College in the championship game… At the Great Lakes Invitational, Michigan State lost a shootout to Michigan Tech and Western Michigan defeated Michigan in overtime. The Spartans then shut out the Wolverines in the GLI's consolation game. A bit of  silver lining for Michigan fans: JT Compher, thought to have broken his foot at the US WJC camp, was back in the lineup.
Buckeye Women
B1G at the World Juniors
It's been a tough, frustrating tournament for Team Germany. They've been visibly frustrated, playing with a shorthanded roster, and are headed to the relegation where they'll face Norway.   Buckeye signee Janik Moser has accumulated a goal and two assists. His three points are the most among German defensemen and tied for second-most on the entire team. He was also named Player of the Game in their tournament opener vs. Canada.
Following today's loss to Canada, Team USA will go to the quarterfinals as the No. 2 seed from Group A. Their opponent for that quarterfinal game is still to be determined. Big Ten players are making an impact for the Americans. Michigan's Andrew Copp has five assists in the tournament. Wisconsin's Nic Kerdiles has a goal and four assists. Minnesota forward Hudson Fasching has two goals and an assist and defenseman Brady Skjei is +4. (Stats are current prior to the Canada game)
Nuts Abroad