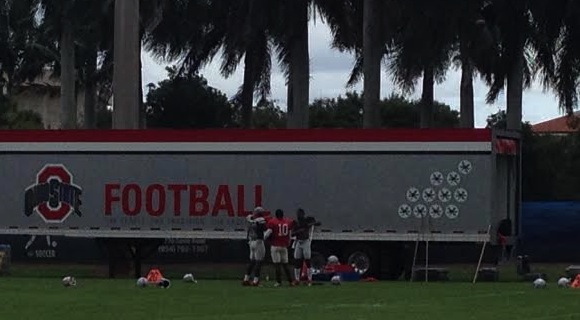 FORT LAUDERDALE, Fla. – Flu-gate lasted all of four hours.
At 8 a.m. Tuesday morning, Braxton Miller did not show up for his media session due to flu-like symptoms, according to offensive coordinator Tom Herman. But at noon, there was Miller on the practice fields at Nova Southeastern University.
The flu has taken center stage since Ohio State arrived in South Florida. Several players and staff members have gone down with a 24-hour bug. Some players have been quarantined from the rest of the team until they feel better.
Also of note, Noah Spence is still not with the team and there is no update to his status. Bradley Roby and Curtis Grant were in full pads at practice, but did not partake in any strenuous activities.
The calendar might say Tuesday; however, on a game-week schedule it is Wednesday. Thus the reason defensive line coach Mike Vrabel shouted to the Buckeyes that it's a "working to whip somebody's ass Wednesday."