Good day y'all, welcome to the last day of 2013 and your final recruiting update from yours truly in what was a spectacular year for Ohio State football. Today, we'll briefly take a look at a few rumors making the rounds regarding the Buckeyes' highly-ranked 2014 recruiting class.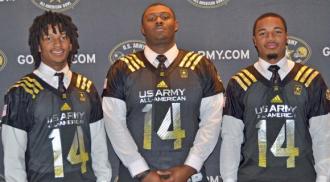 As today is a quasi-holiday, we'll spend more time with the goodies and less time on the introductions, so let's get to it.
THE 'VILLE TRIO
Yesterday afternoon Twitter was abuzz — albeit momentarily — when Scout.com's Bill Greene recruiting analyst sent a tweet referring to Marshon Lattimore as a "Buckeye commit" as opposed to what he actually is (for the time being,) a Buckeye "target." Greene, without question one of the best in the recruiting business, quickly corrected himself updated his account.
Whether or not Lattimore (and his teammate Erick Smith) are currently Buckeye commitments has been (again, temporarily) cleared up, but both Lattimore and Smith have admitted that they've made their college choice, are comfortable with it and they will announce, as expected, this coming Saturday afternoon live during the US Army All-American Bowl.
It's been assumed for some time that Smith and Lattimore would eventually commit to Ohio State, and all signs still point to that being the case. Each player, when pressed on what has helped them make their choice cited the comfort of the school they'll choose, the familiarity and the feeling like they were "home," and in those instances no school makes more sense than the Buckeyes.
What of their enigmatic teammate Marcelys Jones? The Buckeyes first commitment for 2014 has made some waves in recent weeks after taking visits to Alabama and Georgia Tech with his Tarblooder teammates, but it was his solo trip to Kentucky earlier this month that really had people talking. Jones even went so far as to sign a mid-year financial agreement with Kentucky to preserve his spot in their class if he wanted it and that choice might've helped push a few Kentucky writers/analysts took the plunge and switched their "247 Crystall Ball" from Ohio State to the #BBN, hoping to spur a revolution from the versatile and surprisingly athletic (given his 6-foot-5 and now reported 350-pound frame) lineman.
Jones, who is also in San Antonio with his high school teammates, has reiterated this week that he's heading to Ohio State and will going to Columbus straight from the Lonestar State so that he can enroll in classes on Monday, January 6th. 
If Lattimore and Smith join Jones as expected, don't expect them as early enrollees, for the record.
WHAT CAN BROWN DO FOR OHIO STATE?
On Sunday, Rivals analyst Mike Farrell made mention that Buckeyes fan might want to tune in for the Under-Armour All-American game, teasing a potential major "surprise" commitment for the Scarlet and Gray. The player Farrell was referencing, Beaumont (Texas) five-star cornerback Tony Brown, has long been near the very top of the Buckeyes' list — he's a personal favorite of Ohio State assistant Kerry Coombs — but Ohio State has not ever felt particularly positive about their odds of landing the prototype cornerback. 
After the commitment of Raekwon McMillan, Ohio State entrusted the future linebacker with continuing the pursuit of Brown, even though they felt they had a "less than 1-percent chance" of landing him even as recently as three weeks ago. That said, we're talking about Ohio State and Urban Meyer and with even 1-percent chance they will go relentlessly after players they covet; so they've not backed off on Brown at all, nor should they. He's listening, but the Buckeyes are still playing from well behind the leader, LSU, as Brown prepares to make his announcement on Thursday evening.
Of course, Brown will not sign with anyone until February, so it'd be silly to expect the Buckeyes to quit recruiting him this week even if he does announce his intentions to attend LSU this week. 
As for actually getting to see Brown's talents on display, it appears unlikely that he'll participate in the All-American game after injuring his shoulder during the week's practices.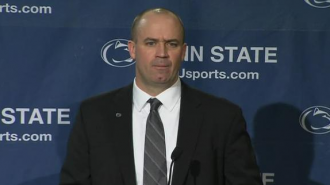 WHAT ABOUT B.O.B?
When 2014 New Jersey tight end Mike Gesicki picked Penn State over the Buckeyes in early October, he cited his relationship with freshman quarterback Christian Hackenberg and the role of the tight end in Nittany Lion head coach Bill O'Brien's offense as the primary reasons for heading to Happy Valley instead of Columbus. Now, with rumors of O'Brien's probable potential departure to the NFL, the talk surrounding Gesicki — and a handful of other Penn State commitments — is picking up again. 
While he's made no public comments on the possibility of re-opening his commitment, it stands to reason that if things change at Penn State, things will change with Gesicki, who remains the primary target for the Buckeyes if they were to land a tight end in 2014. Urban Meyer had worked tirelessly on Gesicki and the incredibly athletic tight end had a great time on his visits to Ohio State, and if — again if — things change with Penn State and Gesicki the Buckeyes are in an excellent position to become the benefactors of that flip.
Are there any other players Ohio State could take another look at currently committed to the Nittany Lions? They had offered Delaware wide receiver Chris Godwin and recent Penn State commitment Thomas Holley, a defensive tackle from Brooklyn (N.Y.) but neither of them appear to be players that Meyer and his staff would pursue aggressively in the event of a coaching change. Ironically, the only definitive "news" on O'Brien's future has come via Holley, who told ESPN.com last week that B.O.B. had told him unequivocally that he'd remain the head coach at Penn State and that all NFL rumors were just that, rumors. I guess we're a few days away from finding out if that's true or not.
---
Have a safe holiday all!