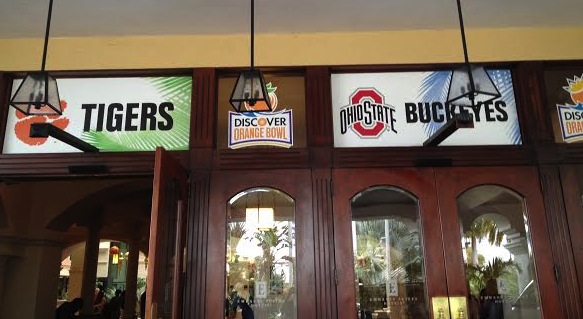 FORT LAUDERDALE, Fla. – It's not the national championship game, but you can still feel the hoopla surrounding the Orange Bowl. It began with a December press conference at the Hard Rock Hotel with Urban Meyer and Dabo Swinney and continued early Sunday morning when Ohio State's team plane was greeted with a water canon salute.
With hype comes pressure, something Meyer, Swinney and quarterbacks Braxton Miller and Tajh Boyd have become almost immune to. When you are scrutinized 365 days a year and in the case of Miller and Boyd dating back to high school, games blend together.
The signal-calling duo has been unflappable the past two seasons, combining to post a 43-5 record.  
"I love competition," Miller said. "It makes me bring my game up a level. It brings competition to all the teammates. When they play a little bit harder, I like it. It's going to big a big game."
Everywhere you look, there is mention of the showdown that will take place Friday night at Sun Life Stadium, home to five Super Bowls. Advertisements and fans clad in Scarlet and Gray and Purple and Orange can be seen as frequently as the calls of "O-H I-O" and "Go Tigers!" reverberate from South Beach to Fort Lauderdale.
It's a stark contrast to the ticket sales from each school. As of last week, Ohio State had only sold 7,500 of its 17,500 allotment, and that figure included comped tickets. Students purchased just 584 tickets out of the 1,000 allocated for them.
Tickets cost as much as $225 for the general public and $110 for students. Unsold tickets go back to the Orange Bowl, who then distributes them to military personnel and youth groups in South Florida. Ohio State has already returned 9,000 tickets.
The university is offering three-day packages that include game tickets and travel, starting at $729. The price can go up to as much as $2,319, depending on the mode of transportation. On Thursday, a free Buckeye Bash will be held at 2 p.m. in Bayfront Park in Downtown Miami.
Clemson failed to sell out of tickets for the 2012 Orange Bowl and opted to sell them at a reduced rate this season to try and up its sales. It's offering a $50 ticket through Clemson's ticket office on tickets that would normally cost $75 to $90. The Tigers are also offering two complimentary tailgate passes and a parking pass in orders of four or more tickets.
"Since teams were announced, we're well above the pace we were two years ago," Joe Galbraith, Clemson's assistant athletic director for communications, told Miami Today. "We have a significant amount of alumni within a 200 mile radius of Miami. We want the stadium to be full of orange. We want the Orange Bowl to see how passionate and supportive the Clemson fan base is and have everyone at home see that as well."
The Tiger faithful will show up, but the expectation is for Ohio State fans to outnumber its counterpart. There are 16 Ohio State alumni clubs in the state of Florida. But it's not just Buckeye Floridians who will populate Sun Life Stadium. 
Ned and Gail Cunningham, season ticket holders from Mount Gilead, Ohio, 43 miles north of Columbus, made a family vacation out of the Orange Bowl, complete with a trip to Disney World.
"I've been to the Rose Bowl, Sugar bowl and Fiesta Bowl, this will finish out my BCS rotation," Ned said.
There were multiple factors in the slow ticket sales, one being the high price of flights to South Florida and another the frustration of losing in the Big Ten Championship Game.
"It's always a little disappointing [after a loss]," Ned said. "I think that probably tempered the enthusiasm a little bit."
The Cunninghams purchased tickets from the university, but many fans are going against what has long been the norm. The biggest deterrent in buying tickets directly from the two universities is the burgeoning secondary market.
More than 11,000 tickets were available on TiqIQ.com Saturday afternoon. The stadium's capacity is 80,120. The cheapest tickets sold for just $6. Club seats can be fetched for as little as $75 and a sought-after seat on the 50-yard line will set you back $179, almost $50 less than face value.
"We're trying to compete with the third-party marketplace and brainstorm ideas on how we can do that. The factors we had a hard time competing with were price, so the two things we can offer that the third party couldn't are [even lower prices] and amenities," Galbraith said.