Prior to Ted Ginn's arrival in Carolina, the Panthers didn't make the playoffs for four consecutive seasons and consistently got off to slow starts, before salvaging a decent finish.
Correlation may not imply causation, but after Ginn's first season with Carolina, he helped put his team into the playoffs. He had a three-yard touchdown grab in their division-clinching win over Atlanta, giving the Panthers a first-round bye. Ben Hartsock is another significant piece to their postseason run, as one of the best run blockers on the team. 
In total, there are seven NFL playoff teams with Buckeyes. Three of those squads needed a win in the final week of the regular season to get in.  
There was news on non-playoff teams, as well. Brian Hartline hit a major milestone, but also hurt his knee. Terrelle Pryor and Chimdi Chekwa returned to starting roles on the Raiders and Jake Ballard made his first touchdown grab of the year.
Plus, Eleven Warriors has stats from all former Ohio State players in the NFL. 
Twelve Buckeyes make the postseason
The following playoff teams have former Ohio State players on their rosters:
Carolina Panthers (first round bye): wide receiver, kick returner and punt returner Ted Ginn Jr., and tight end Ben Hartsock
Cincinnati Bengals (vs Chargers, Jan. 5, 1:05 p.m., CBS): kicker Mike Nugent and wide receiver Dane Sanzenbacher
Green Bay Packers (vs San Francisco, Jan. 5, 4:40 p.m., FOX): linebacker A.J. Hawk, defensive lineman Ryan Pickett, and tight end and special teams player Jake Stoneburner
New England Patriots (first round bye): special teams player Nate Ebner
New Orleans Saints (at Philadelphia, Jan. 4, 8:10 p.m., NBC): safety Malcolm Jenkins 
Philadelphia Eagles (vs New Orleans, Jan. 4, 8:10 p.m., NBC): safety and special teams player Kurt Coleman 
San Francisco 49ers (at Green Bay, Jan. 5, 4:40 p.m., FOX): offensive lineman Alex Boone and safety Donte Whitner
Hartline's bittersweet mark
Entering Sunday, the Dolphins had the best odds of any remaining team at grabbing the AFC's final wildcard spot. 
First, they needed to win their game against the underdog Jets. New York is wildly inconsistent, overall, but they're predictably bad on the road – usually. Despite entering the game with a 1-6 road record, they traveled down to Miami and won, 20-7.
For a majority of the game, the Dolphins' "wet sparkler" offense went without Hartline after he suffered a left-knee injury in the first quarter. Miami Herald columnist Armando Salguero reports Hartline's MRI results revealed he has a torn PCL, which will not require surgery. He will reportedly be ready for next season's training camp. 
Putting a positive spin on the matter, that 25-yard catch put him over the 1,000 yard mark for the season. It's his second straight year with over 1,000 yards, and he finishes the 2013 season with 76 receptions for 1,016 yards.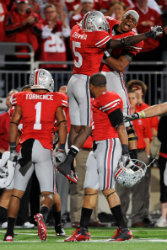 Chekwa and Pryor get another shot
He entered the season as the tentative starter and ended on the same note.
Pryor started nine games for Oakland, and, surprisingly, proved to be the more dynamic of the McGloin-Pryor duo. Head coach Dennis Allen decided to give Pryor the starting nod in the final game against Denver. He finished 21 of 38 for 207 yards and threw two touchdown passes. 
Earlier in the week, Pryor's agent, Jerome Stanley, told CSN Bay Area he believes Allen certainly isn't acting in the best interest of his client.
"I think they're putting him in hopes that he has a bad game, so [Allen] can then justify the McGloin situation," Stanley said. "He doesn't want him to look good because, if he looks good this week, it makes the past five weeks look like a bad decision."
The Raiders coach did not respond in kind, calling out Stanley in a press conference, Tuesday.
"I'd say that's the stupidest thing I've ever frickin' heard," Allen said. "This isn't the Real Housewives of Beverly Hills. This isn't made-for-TV drama. This is football."
Allen also inserted Chekwa into the starting lineup, stepping in for the injured Mike Jenkins. His only other start came during his rookie season, in 2011. Chekwa has been mostly limited to special teams play, and caught a fake punt in week 15. 
Although they needed some help from the lowly Buccaneers, the Cardinals entered the weekend with a shot at the playoffs. If they were scoreboard watching, with hopes of a Saints loss, those disappeared. New Orleans went to beat Tampa Bay, 42-17.  
Still, Arizona put together a 10-win season, with an "awesome" Phil Dawson game-winning field goal keeping them from win number 11. One of their best, internal storylines began when they picked up Ballard after week eight. The former Giants and Patriots tight end battled back from a knee injury he suffered in Super Bowl XLVI. For the millions watching, especially the Buckeyes fans, it was a depressing sight.
Nearly two years later, he caught his first touchdown pass outside of New York. He finished the season with seven receptions for 75 yards. 
How ex-Buckeyes Fared During Week 17
| Player | team | position | stats/Notes |
| --- | --- | --- | --- |
| Mike Adams | Pittsburgh Steelers | OT | Steelers beat a hapless franchise, miss playoffs  |
| Will Allen | Pittsburgh Steelers | S | 3 tackles in win over a hapless franchise  |
| Jake Ballard | Arizona Cardinals | TE | 1 rec, 1 yard but made it count for seven  |
| Alex Boone | San Francisco 49ers | OL | Selected as alternate for Pro Bowl, long journey for him |
| Michael Brewster | Jacksonville Jaguars | OL | Ended season on injured reserve |
| Chimdi Chekwa | Oakland Raiders | CB | Started, made 8 tackles in loss to Broncos |
| Kurt Coleman | Philadelphia Eagles | DB | PHI fans have at least 1 more chance to see their fave |
| Jim Cordle | New York Giants | C | On injured reserve |
| Nate Ebner | New England Patriots | DB | Recovered another onside kick in win over Bills |
| Reid Fragel | Cleveland Browns | OT | Active, able to see his hapless employer lose on the road |
| Ted Ginn Jr. | Carolina Panthers | WR | 2 rec, 6 yds, 1 TD, Panthers clinch NFC's No. 2 seed |
| Johnathan Hankins | New York Giants | DT | 1 tackle as Giants miserable season ends with a win |
| Brian Hartline | Miami Dolphins | WR | 2 rec, 38 yds, left with potentially severe knee injury |
| Ben Hartsock | Carolina Panthers | TE | Left game with knee injury, Panthers get first round bye |
| A.J. Hawk | Green Bay Packers | LB | 2 tackles, forced fumble in division-clinching win |
| Boom Herron  | Indianapolis Colts | RB | On injured reserve |
| Cameron Heyward | Pittsburgh Steelers | DE | 3 tackles, 1 sack in win over a hapless franchise  |
| Santonio Holmes | New York Jets | WR | 3 rec, 41 yards, dealt with another medical issue |
| Malcolm Jenkins | New Orleans Saints | S | 1 tackle, hurdled by Brian Leonard but Saints win  |
| James Laurinaitis | St. Louis Rams | LB | Led team with 10 tackles in loss to Seahawks  |
| Nick Mangold | New York Jets | C | Named a Pro Bowl alternate, made four in career |
| Jake McQuaide | St. Louis Rams | LS | Snapped 1 FG, shameless Glenn Beck fan |
| Mike Nugent | Cincinnati Bengals | K | Kicked 2 FGs, 4 XPs |
| Ryan Pickett | Green Bay Packers | DT | 3 tackles, as Packers beat Bears for NFC North crown  |
| DeVier Posey | Houston Texans | WR | Inactive due to ankle injury |
| Terrelle Pryor | Oakland Raiders | QB | Started, 21-38, 207 yds, 2 TDs, 9 rush, 49 yds in loss |
| Dane Sanzenbacher | Cincinnati Bengals | WR | 1 rec, 7 yds in win over Ravens |
| John Simon | Baltimore Ravens | LB | Inactive in loss to Bengals |
| Rob Sims | Detroit Lions | OG | Lions collapse, Sims looking for improvement on o-line |
| Austin Spitler | Miami Dolphins | LB | 1 tackle in Dolphins loss and elimination from playoffs |
| Jake Stoneburner | Green Bay Packers | TE | Played sparingly on special teams in win over Bears |
| Donte Whitner | San Francisco 49ers | S | 4 tackles in win, selected as Pro Bowl alternate |
[Photo via Getty Images]