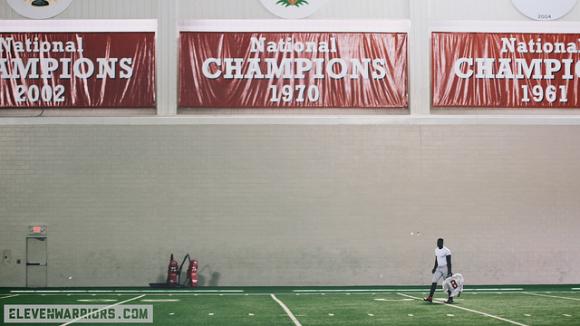 FORT LAUDERDALE, Fla. – Ohio State arrived in Fort Lauderdale Sunday morning, but only after an hour delay in Columbus due to weather. And not every member of the team made it to South Florida, sophomore defensive end Noah Spence, the Buckeyes' sack leader, is at home dealing with "personal issues," according to head coach Urban Meyer.
Spence has 52 tackles, 14.5 tackles for loss and eight sacks on the season. If he were to miss the Orange Bowl, it appears Jamal Marcus would replace him in the lineup.
"Noah didn't fly down with us," Meyer said after Ohio State's arrival. "He's working through some personal issues at home. I hope [he will be here]."
Marcus is no stranger to the playing field. He's been a presence on special teams and on defense as Spence's backup. Marcus, a sophomore, recorded 15 tackles, two sacks and a forced fumble during the regular season.
Less than a month after a stinging defeat to Michigan State, which cost Ohio State a spot in the national championship game, Meyer said it's all systems go for the Buckeyes. Disappointment lingered, but an opportunity to provide No. 7 Ohio State with a positive perception led the team to quit sulking and licking its wounds.
"I think the fact that we're playing Clemson in a BCS bowl game wakes up everybody up real fast," Meyer said. "You worry as a coach that fundamentally that you're not in shape and fundamentally behind a little bit. That's what we worked on yesterday, and I'm going to run them pretty good today and get Christmas out of them."
Under 79-degree cloudy skies and constant buzzing from airplanes arriving at nearby Fort Lauderdale-Hollywood International Airport, the Buckeyes went through a lengthy Sunday afternoon practice on the campus of Nova Southeastern University. All indications are Marcus Hall is again working with the first-team offensive line. 
Ohio State's trying to overcome that early December loss to the Spartans, but it appears history is on their side. During the BCS era, teams that lost its final regular season game or conference championship game with a berth in the national title game at stake are 8-3 in bowl games. The past six teams are 5-1.
If the Buckeyes improve on that record, it will most likely be thanks to the defense – and possibly Vonn Bell. The true freshman safety told a Chattanooga TV station that he would start in the Orange Bowl. Meyer didn't confirm that statement. However, he did concur that Bell will see a significant increase in playing time.
Ohio State's secondary came under fire all season. The final two games were at another level, though. The Buckeyes surrendered 755 yards passing and seven touchdowns through the air in back-to-back weeks to Michigan and Michigan State.
A probable secondary lineup for Ohio State on Friday is Bell at nickel, Tyvis Powell at free safety, C.J. Barnett at strong safety and cornerbacks Bradley Roby and Doran Grant. The odd man out in that scenario becomes Pitt Brown, who could be used in dime packages.
"Vonn is a really good athlete and a really good player," junior linebacker Ryan Shazier said. "He changes up the game when he gets in. His athleticism and judgment on balls, I feel like he can help out a lot."
Bell's played sparingly, mostly on special teams, making 12 tackles.