The 11W Community Interview is truly of the people, by the people, and for the people. You submit the questions, vote on them, and then we pass the top ones on to the biggest names in the world of Ohio State athletics.
After a methodical autumn, it has been a very merry December for the 2014 Ohio State football recruiting class. First, it was the less than surprising yet still earlier than expected commitment of 2017 prospect Danny Clark, followed three days later by the addition of the nation's top 2014 linebacker, Raekwon McMillan. One day later, the Buckeyes added their 19th member of the "Dream '14," when Florida wide receiver Johnnie Dixon ended months of speculation and pledged for the Buckeyes.
While most expected Dixon, the 5-foot-11, 185 pound split end, to eventually commit to the hometown Hurricanes, Ohio State felt confident for months that they had done the work to keep themselves in contention thanks in large part to the recruiting efforts of Buckeye wide receiver coach Zach Smith. 
Dixon is in San Antonio preparing for the US Army All-American bowl, but took the time to participate in the 11W Community Interview series for Eleven Warriors readers. Next week, he'll join a handful of fellow 2014 commitments and future teammates when he enrolls at Ohio State so that he can participate in winter and spring activities with the Buckeyes.
Get to know Johnnie Dixon in this week's 11W Community Interview.
What was it about Ohio State that sold you on leaving the South? - Killer Nuts
JD: I went to Ohio twice, once for camp and then one more time for the Wisconsin game. I knew right away at the game that it was just an amazing place. The fans were great and I wanted to be a part of that. I felt at home.
 A lot of folks had you going to Miami before you committed. How frustrating is it to deal with projections and people guessing where you'll wind up? Do you think fans and media had a good finger on your process or was it simply guesswork? Any advice on how we (people who follow recruiting) should interact with prospects going forward? - HarryBuckeye
JD: I thought the prediction thing was a little funny, to be honest. At first everyone had me going to Miami because at one point they were my leader then a couple days before my commitment I saw everything turn around. In my opinion it was just a lot of guesswork. As far as interaction with prospects, I think people should never say bad things to a kid if he doesn't end up going to the school they want the kid to go to, it's their life.
Johnnie, which Ohio State coach had the biggest role in your recruitment, and were there any other Ohio State commits that helped influence your decision? - MN Buckeye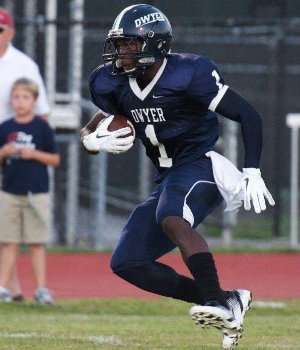 JD: I had the best relationship with coach Urban Meyer and coach Zach Smith. They both played a major role in my recruitment. My mom loved both of them and my family and I felt that they would take care of me, not only as a player but also as a person. Mike Thomas and Braxton Miller both helped make me feel at home during my visit. I also talked to (Buckeye commit) Terry Mclaurin a couple times when were at camp (at Ohio State) and during The Opening.
Johnnie, obviously academics and football at this level will keep you extremely busy, but what are your interests or hobbies outside of football? - TeddyBallgame
JD: I love to bowl, every time my mom and I get to go, we go. It's become like a family tradition with her and I.
What current college or professional wide receivers do you look forward to watching? Is there one wide receiver that you have tried to model your game after? - KeithMC33
JD: I model my game after Dez Bryant and Andre Johnson. They are very physical players and always play with a chip on their shoulders. They are both exciting to watch and consistent in their effort.
Do you still carry a buckeye in you pocket everyday, or did that change once you committed? - BuckeyeVSTheWorld
JD: I have it with my every single day, still. It's funny because now people always ask me do I have it in my pocket and if they can see it (laughs.) Every day before I leave the house I make sure I have it.
How do you think you can contribute on the field and what are your long term goals over the course of your Buckeye career? - HarryBuckeye
The game atmosphere at Ohio State made me want to get on the field right then and play that night.
JD: I think I can come in and make an impact immediately. I just have to get in and work my butt off. My longterm goals are to get a degree from The Ohio State University, to become a captain and win national championships. Eventually I want football to be an avenue for my mom to retire. I hope to become an all-american and a professional football player who wins some Super Bowls. Maybe then I'll be come a professional bowler (laughs.)
So last week we learned that Raekwon likes to cook and bake. What's one thing that not many people know you like to do either in school or as a hobby? - ChicagoBuckeye
JD: I already said it, but bowling. I'm huge on it. I played one day and it just stuck with me. If I am not on the football field or at school, I am bowling. It's just another place I can my mind off of things and enjoy life with my family.
When did you know you were coming to The Ohio State University? - InHartWeTrust
JD:I really knew when I was there on my official visit. I called my mom and told her then I was ready, and she told me she was fine with it. She just wanted me to finish all my visits and make sure that was truly what I wanted. The game atmosphere at Ohio State made me want to get on the field right then and play that night.
Johnnie, when was the first time you realized that Ohio State is a special place and that you would consider leaving the south to play football? - BassDropper
JD: The Wisconsin game and the last day of my official visit was when I really knew I was ready for recruiting to be over. I knew in my heart that I was going to end up a Buckeye no matter what. The entire place is special.
I'm ready to come in and work hard to help the team and coaching staff continue being successful and win national championships alongside my recruiting class. Any other recruits considering Ohio State should come join the family we're building, we're going to get things done. 
Go Bucks!