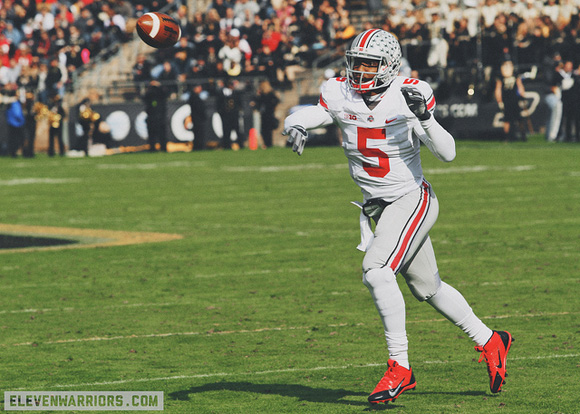 In his second year under the tutelage of offensive coordinator and QB Coach, Tom Herman, Braxton Miller has transformed into quite a cannon. Far from the run first, ask questions later freshman we saw in 2011, No. 5 is now firing the pig-skin with authority. Since his first season in the Scarlet and Gray, the Huber Heights native has steadily increased his efficiency (moving from a 54% completion rate to a 63% completion rate freshman to junior year) and his passer rating (138 to 157 freshman to junior year.)
In addition, Miller has increased his passing TD total by seven year-to-year despite missing three games to injury. The game next week against the Clemson Tigers looks to be a shoot-out and the Buckeyes' gunslinger has shown he is up to the task. To prove it, here are his top 10 TD passes of the 2013 season on a loop…forever.
#10 Float Like a Bullet
On first and goal at the Buffalo 7-yard-line Braxton Miller rolled to his left then fired a strike to Chris Fields for a TD. Tossing it on the move like this looked too easy, and got Buckeye Nation excited about the prospect of Miller as a purer passer in the 2013 season.
#9 Play Action in the Big House
Up by a TD in the waning minutes of the third quarter against Michigan, the Buckeyes rode a steady dose of Carlos Hyde all the way to the UM 22. With a 1st and 10 to go, Miller faked a hand-off to Hyde then hit Jeff Heuerman up the seam for a 22-yard TD.  
#8 Welcome Back, Brax
After being knocked out of the previous three games due to injury, the night game against Wisconsin was the time to make a statement for Miller. Kenny Guiton had been nothing short of historic against San Diego State, Cal and Florida A&M. His performances were so epic that some were doubting whether he should be taken out in favor a pre-season Heisman favorite. With his position on the depth chart questioned for the first time at Ohio State, Miller unleashed a whale of a game, tossing for 198 yards and 4 TDs. Here is his second. Beauty personified.
#7 Starting 2013 with a Bomb
Here is Miller's first TD of the 2013 campaign. A 47-yard bomb to Devin Smith. This is an example of putting it where only your guy can get it.
#6 Improvisational Filthiness
At #6 we have Braxton doing playground things. Wanting to assure the country that last year's performance against the Boilermakers was a fluke, the Buckeyes proceeded to put up 28 points in the first quarter with three of those scores coming via a Braxton Miller pass. Here is the last TD of that epic quarter; an improvisation by No. 5 that made everyone wearing black look silly.
#5 Snow? No worry
Up 35-0 to start the fourth quarter, Miller trotted out on a snow-dusted field and spun this 39-yard TD to Devin Smith. #Gross
#4 An Early Equalizer
Being a good QB is all about finding a rhythm with your WRs. It's safe to say Miller and No. 9 have that rapport. It was hard to keep this toss out of the top three. 
#3 Zipping Through the Penn State Defense
In order to hand Penn State their worst loss in a century, you've got to make some plays. Miller has been a human highlight reel during his time in Columbus, but I don't think I've ever seen him fire a ball with more on it than this one. Here's how you fit it into a window, now go let that cannon cool on the sideline for a while.
#2 Philly in Indy
It's still heart-wrenching to look at the tape from the B1G Championship game, but there are some gems amongst the wreckage. You may have been too busy wringing your hands and repairing the holes in your wall to notice… but Braxton made one of the finest throws of his career, firing the ball over three MSU defenders and finding Philly Brown in the back of the end-zone for 6.
#1 Just Your Typical Cross-Body Dagger
As aforementioned, Miller had something to prove in his first game back against the Badgers. The doubters were silenced after his first TD throw of the night. Braxton rolled left, then fired. This is perfection.
---
Thanks Brax. Now come back next year and earn your rightful place amongst the Heisman greats.