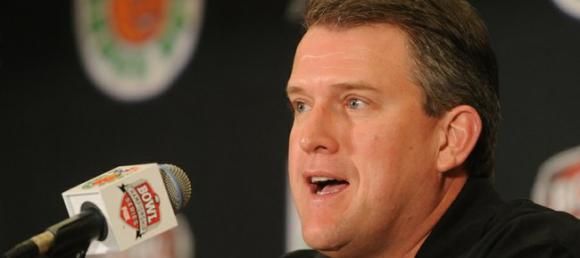 The first hole in the Ohio State coaching staff came last week with the departure of Everett Withers, who was named the head coach at James Madison. One or more coaches moving up the coaching ladder was inevitable. If you coach at a program that wins at the rate the Buckeyes rattle off W's, you're going to progress in the profession.
But as silly season winds down, it looks as if Withers will be the lone assistant lost to another university. Many believed Tom Herman, Luke Fickell and Stan Drayton were primed to get head-coaching jobs. However, the carousel wasn't as busy as most years.
Herman owns a rich contract and wizardry mind when it comes to offense. Ohio State has set numerous school records relating to points and yards, and offensive skill players have etched their name into the media guide for future reference. But offensive line coach Ed Warinner might be more valuable to Urban Meyer and the Buckeyes' future.
Warinner, who interviewed for the Army vacancy, has transformed the line in two seasons and been a major part of the entire offense's production. The line led the way for the nation's third-best rushing offense this season – 317.5 yards per game – and most yards per carry in the country (7.0).
"In terms of the entire offense, [Warinner] has brought the added level of toughness and attention to detail you want in a coach," senior center Corey Linsley told Eleven Warriors. "He doesn't let anything slide – win or lose – and that's shown in our drastic level of improvement."
The images of Orlando Pace, LeCharles Bentley and Korey Stringer matriculating from Ohio State to the NFL seem as distant as the Berlin Wall. That will change in April when Jack Mewhort, Andrew Norwell and Linsley sign pro contracts. At the center of the rejuvenated line is Warinner.
In two seasons, the Buckeyes have fielded the Big Ten quarterback and offensive player of the year – twice. Braxton Miller won both awards, as well and the Silver Football. In that same time span, Carlos Hyde accounted for nearly 2,400 yards rushing and 30 touchdowns thanks in large part to a cohesive unit of five offensive linemen.
In 2011, the year before Warinner's arrival and a staff overhaul, Ohio State allowed 46 sacks – more than 3.5 per game. That number fell to 29 in 2012 and 17 in 2013. Warinner usually gets his message across by using a raised voice. At practice, he's often heard motivating linemen with a tough love approach.
"You grow to love Coach Warinner," Linsley said. "He'll scream and yell at you out on the field, but that's only because he loves you and wants you to get better as a player. It's made us all better."
In the spring, Warinner will be tasked with the improvement of four new starters. One – Pat Elflein – has already emerged, which should lessen the blow of losing Mewhort, Norwell, Linsley and Marcus Hall, owners of a combined 148 starts. But to continue being one of the team's strengths, Taylor Decker, Elflein and others must develop cohesion and prove they have the mettle to compete in the Big Ten.
If the Big Ten Championship Game was any indication, the line could have little to no falloff. Elflein's transition into the starting lineup was seamless. He's only a freshman, but Elflein appeared poised and in the moment. The consistency and solidarity of the line is a major component in the line's production, and Elflein didn't rattle either characteristic.
During bowl preparation, Warinner's started the beginning stages of the new transfer of power.
"He's grinding them day in and day out," Linsley said. "From a teaching standpoint, it's just all about helping them out and where we see their weaknesses – like Billy Price needs to learn to keep his pressure on the inside of his feet and not lose his balance by keeping it all over the place. That's one area that I'm helping him in."
From right to left, the line could look something like Decker, Darryl Baldwin, Jacoby Boren, Elflein and Kyle Dodson next season. Decker and Elflein are known quantities, Boren's shown immense promise and Dodson and Baldwin are wild cards. Price, Evan Lisle, Tommy Brown and Antonio Underwood are also possibilities.
"There are no sure starters," Linsley said. "Jacoby, Pat and Taylor are definitely the ones who have progressed the most. They're doing a heck of a job leading off the field and with intangibles. Those three guys have definitely made the impression that they want it the most over the past two years."
According to Meyer, the best way for the future of the line to get better is by observing the current starters.
"They are energy givers," he said. "They walk through that door and it changes practice."
The biggest news of all, though, is that Warinner is due to return to Ohio State for his third season in Columbus and 31st year of coaching overall. Army's last 10-win season came when he coached the offensive line at West Point, Warinner won an Orange Bowl as Kansas' offensive coordinator and the beginning of Illinois and Notre Dame's most recent national success took form with Warinner as a cause.
"If we aren't getting better, he's pushing us to get better," Linsley said. "He's a maniac. He doesn't let you slide one bit. That's what makes him a great coach."