You have just woken up to the year 2014. Yeah, we were supposed to have flying cars by now.
We were supposed to have flying cars years ago. It was a foregone conclusion, just like Ohio State playing for the BCS title this season. Remember Back to the Future II? Doc Brown and Marty McFly traveled to the future to prevent Marty's unborn hoodlum kids from being thrown to prison.
They arrived in 2015 - now officially next year - and there were flying cars all over the damn place. It's 2014 and we're nowhere close to having flying cars.
But it was just a movie, you say. It's not supposed to be realistic you say. Well, that crazy world of 2015 featured surveillance cameras everywhere, crisp flat panel TVs, Skype, rampant cosmetic surgery, automated fueling systems, Google Glass and video games without controllers.
Those things were fantasies in 1989. They're all realities today. We have them at our disposal. What we don't have is a flying goddamn car.
We don't even have one of those little hovering skateboard things. Those were a foregone conclusion, just like Ohio State always winning games with a suffocating defense. How hard could it be to manufacture a hovering skateboard? They're just magnets and plastic and science, right? 
What we do have is another new year full of promise that will in all likelihood disappoint us all, again. Even if we don't get flying cars this year [SPOILER: We won't] we can still get Situational. LET'S GO, 2K14 SITCH ACTIVATE!
THE UNWONTED DESTINATION: MIAMI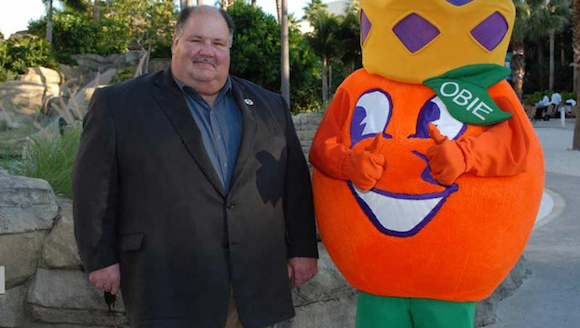 You already knew that Ohio State can close out the BCS era with the most BCS bowl wins of any program. You probably didn't realize that by beating Clemson it can also become the only program to have won all four of the BCS bowls.
Technically this has already has happened: The Buckeyes have won eight Rose Bowls, four Fiesta Bowls, two* Sugar Bowls and an Orange Bowl, but that last win came over 20 years prior to the BCS.
It's also Ohio State's most recent victory in Miami. (Also, stop calling it South Beach, which is as close to the Orange Bowl as Ohio Stadium is to Pickerington) (Thanks again, LeBron).
You could argue that beating Clemson would solidify Ohio State as the program of the BCS era. A more cynical view would say that every BCS game that isn't for the title is a fancy bridesmaid's dress, and the Buckeyes have looked radiant more times near the altar than actually at the altar.
Parse it however you wish: A seventh BCS bowl victory would leave Ohio State with more multi-million dollar January bedpost notches than any other program.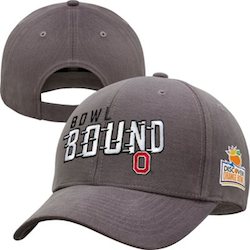 Even if Clemson and Florida State win their respective BCS bowls, Ohio State will still conclude the BCS era with more BCS bowl wins than the entire ACC combined (ESPN owns the ACC's first, second and third tier media rights -  just in case you're wondering why you only hear about why the Big Ten can't win bowl games).
So from an historical standpoint, choking away the Pasadena trip in Indianapolis last month actually produced this opportunity: No program has claimed wins at all four locales in the BCS era. The Buckeyes are missing only Miami, the Gators are missing Pasadena and the Crimson Tide never got to see Phoenix. No one else is close.
Granted, there's also been some pairing luck involved: LSU and Southern Cal were plucked by local options New Orleans and Pasadena a combined 12 times, keeping them from going elsewhere. This unwonted Miami trip gives Ohio State the one missing sticker on its well-traveled BCS suitcase.
Luck, for those of us who grew up in the middle of the country dreaming about the Tournament of Roses, hasn't been completely on OSU's side: One Pasadena trip? Out of the entire Tressel dynasty? One?!
Anyway, go Bucks. Beat Clemson. Enjoy Miami. Make History. And good riddance, BCS.
THE PATTERN: PINSTRIPE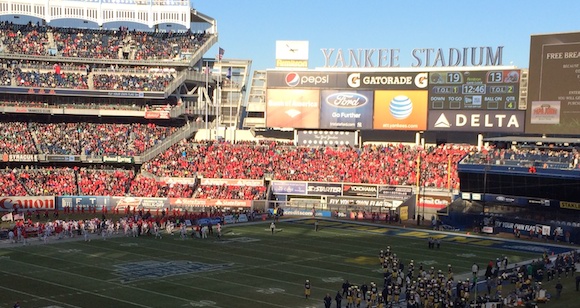 Attending baseball games has evolved into a venture exclusively for outdoor drinking, conversation and people-watching. This is a function of the Major League season being two times longer than necessary along with 90% of baseball "action" being two guys just playing catch.
Most attention spans born after 1980 can't handle it anymore. The baseball game itself is therefore secondary.
Football games, in theory, are superior in every way. In theory. That theory is absolutely wrecked when you put a mediocre edition of America's college football team inside of the stadium belonging to America's baseball team. This renders the football game secondary.
Outdoor drinking, conversation and people-watching become the main event when Notre Dame's subway alumni descend upon Yankee Stadium. It's like watching the Jerry Springer show in its heyday being held in the cage at the original Wrestlemania. There's just too much to stare at, everywhere.
If you're unaware, Notre Dame's subway alumni base is a fascinating and perfectly homogenous combination of Yankees bravado and classic northeast arrogance combined with fourth-grade reading aptitude. Imagine Alabama fans with all of the same howling passion but with only a tertiary understanding of college football.
So being a displaced Ohioan - who grew up amongst countless Notre Dame fans who inherited the same disease from their elders - attending last weekend's Pinstripe Bowl was irresistible and nostalgic. Outdoor drinking, conversation and people-watching. The football game was secondary.
The Irish were facing the annually disappointing Scarlet Knights of Rutgers, who play their home games less than an hour away (in traffic) in Piscataway, NJ. Prior to reaching my seats I had already heard three separate arguments between Notre Dame and Rutgers fans about having actually attended their respective schools.
That's because as with so many other fan bases, being a Rutgers fan isn't inherited. It's a mark of distinction that comes with financial aid payments back to campus that continue well into middle age, long after its alumni have forgotten or discarded what they learned in college.
The added bonus is having university telemarketers calling nightly for donations on top of what's already being sent monthly. Non-subway alumni openly resent this - particularly about Notre Dame fans - and that was apparent at the Pinstripe Bowl prior to kickoff.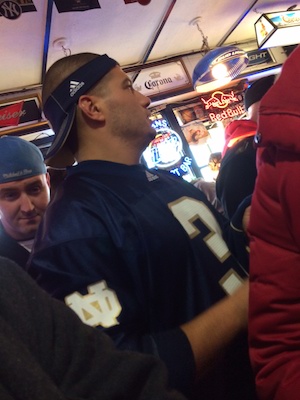 This dynamic, by the way, is why being a Notre Dame subway alumnus is better than being a fan of your own school. It. Costs. Nothing.
While these loyal adopted sons of Our Lady take nothing away from the game, they give so, so much: Fifteen minutes in as the clock ticked down to zero the stadium announcer's voice boomed, "that's the end of the first quarter." An energetic ND fan seated in my row stood up and howled, "oh, that's bullshit!"
The game was tied at 10 and the Irish were close to violating field range. I figured he was confused about the clock so I informed him that Notre Dame would simply switch sides and continue its drive in the opposite direction in a few minutes.
"Oh, cool. Yeah I knew that." He sat back down.
He was a modern-day, domesticated and swarthier version of Prince Akeem cheering on St. John's in Coming to America, as were so many other extremely vocal and uninformed subway alumni. I couldn't take my eyes of them. What football game?
As he and hundreds of his fellow Fighting Irish participated in multiple, spontaneous Let's Go Yankees cheers throughout the game it occurred to me just how unique and historic the opportunity to see Notre Dame in the Bronx really was.
The Irish played Army in Yankee Stadium from the 1920s well into the 1940s, which significantly aided in creating this charming monster. That famous Knute Rockne speech about winning one for the Gipper actually took place in the locker room of old Yankee Stadium.
And here were today's Fighting Irish, almost 90 years after that speech being cheered on by third and fourth-generation fans, loyal to a fault because they grew up being told they had to be.
In that sense, the Pinstripe Bowl was one of the most rewarding sporting events I've had the pleasure of attending, and I have a new appreciation for the role of the Notre Dame Subway Alumnus in the lexicon of college football's rich tapestry.
This is despite learning Saturday that Let's Go Yankees is basically their Roll Tide. You have to take the bad with the good.
THE BOURBON

There is a bourbon for every situation. Sometimes the spirits and the events overlap, which means that where bourbon is concerned there can be more than one worthy choice.
When the French invaded Northern California to conquer the American sparkling wine market, they invested heavily in the grapes required to make it: Pinot Noir and Chardonnay. They patiently cultivated their vines for years to get the acidity just right. 
Then they discovered what you already know: Americans drink champagne on designated special occasions only, like last night. There is no American sparkling wine market.
This is also why so much Pinot Noir and Chardonnay come out of California today: Yeah, that was supposed to be American champagne. Oops.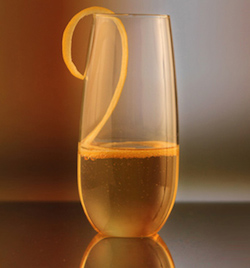 America's champagne is bourbon. It is uniquely American, far superior to its European ancestors and requires no special occasion for its consumption. That being said, it's New Year's Day and this is a special occasion.
Therefore, your Situational Bourbon is the Ceebik, which is the acronym for the initials to Champagne Bourbon Cocktail.
Several Situationals ago you were introduced to The Devereaux, which is an Elderflower cocktail buttressed with sparkling wine. The Ceebik isn't nearly as sophisticated, but New Year's Day is about simplicity and starting over. Besides, your head still hurts. Let's keep it basic.
Go get last night's leftover bubbly (it's still in that ice bucket on the counter floating in relatively-cold water). Grate a vanilla bean into half a cup of sugar and put that in a pan with half a cup of water. You're going to make simple syrup - hey, shut up - this is easy even if you're hungover.
Cool it down with a couple of ice cubes and pour it into the chilled glass of your choosing (or the fancy non-flute pictured). Add Woodford Reserve, which loves being paired with anything vanilla. Top off with last night's champagne.
Consume. Repeat. Happy New Year.
THE PLAY-OFF

The first thing that caught your eye when you pulled up this column - aside from Terry Porter making what Referee Magazine cited as one of the greatest officiating calls of all time - was the word Catorce. 
For you confused gringos and gringas, catorce is fourteen in Spanish, as in the current year of the new millennium that you would screw up if you still wrote checks.
The last time you probably heard Catorce being uttered in mainstream fashion you were watching an Apple commercial almost ten years ago. That ad featured the song Vertigo by the imitable Irish rock band of my generation, U2. Catorce is the fourth word of the song:
Bono opens the song with, "uno, dos, tres, catorce" which translated means, "one, two, three, fourteen." When asked about it once during an interview he blamed alcohol - which is what the Irish blame for 100% of everything that goes awry.
However, U2 lyrics are generally deeper than a shot class, and the ever-reliable anonymous contributors to Wikipedia dug deeper:
The lyrical choice was a deliberate nod to Exodus 3:14 (the first testament of the Christian bible, second book, third chapter, fourteenth verse), whereby after Moses asks God's name, God responds "I AM THAT I AM."

This theory is supported by the fact the final track on the How to Dismantle an Atomic Bomb album is titled Yahweh, another name for the Christian and Hebrew god.
It should be noted that Yaweh is a truly lousy song, which could also have been a deliberate metaphor reflecting the fact that the Old Testament God tends to be far angrier than His counterpart (hey, fatherhood, right?) in the second testament.
Perhaps He would have been happier had the Canaanites figured out how to make flying cars. HURRY UP WITH THIS, SCIENCE.
Happy New Year. Go Bucks.