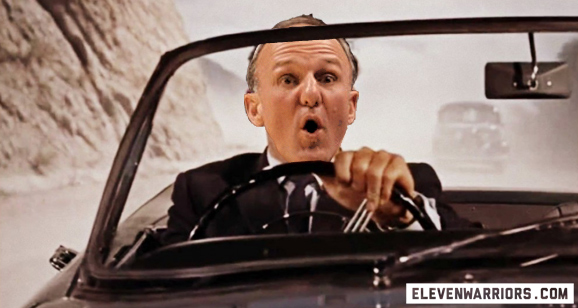 The Ohio State hoops team is a perfect 12-0 heading into tomorrow night's non-conference finale against Louisiana-Monroe.
But if that trend is going to continue into a Big Ten schedule that starts in just five days in West Lafayette, there are a few problems the Buckeyes will have to fix. The perfect record belies some imperfections that could cost Ohio State in one of America's top basketball conferences.
The team's swarming defense, collection of guards, better-than-expected shooting and the improvement of Amir Williams inside are all reasons to be optimistic.
But if we could invite Debbie Downer into the conversation for just a moment, she'd probably want to tell you about the things the Buckeyes need to clean up in order to earn a sixth conference championship and/or fifth B1G tournament title under Thad Matta — or make another run at a Final Four.
Interior defense
If you've watched an Ohio State game this season, you've no doubt seen Williams commit to a head fake, aggressively going for a block, only to have his opponent drive around him on the baseline for an easy reverse layup. Easy points in the paint in conference play can be deadly as games are decided by fewer and fewer points.
It's not just on Amir though. LaQuinton Ross has been a liability defensively at times as well, and his consistency must improve on that end of the floor. The most notable breakdowns on the interior occur when the more nimble opposing guards drive the lane and get a step on Aaron Craft or Shannon Scott The help defense hasn't been very helpful at times.
That's fine against Morgan State. Not so much against Michigan State.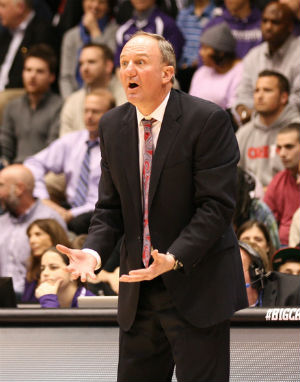 Rebounding
For a team with good interior size, long wing players and active guards, the Buckeyes have not been a great rebounding team this season. In a pretty weak non-conference slate, Ohio State has won on the glass eight times. But only four times have the Buckeyes posted a significant positive difference — against Morgan State (+21), Wyoming (+13), North Dakota State (+10) and Delaware (+16).
On the flip side, Marquette out-rebounded the Buckeyes by 16 and Maryland grabbed 14 more boards than Ohio State. Bryant proved to be Ohio State's equal on the glass and the Buckeyes barely edged Ohio, American, North Florida, and Notre Dame by 1, 3, 4, and 1, respectively.
That's not good enough to get it done in the B1G.
Bench Consistency
Ohio State has often built sizable leads this season, only to see them evaporate once Matta unleashed his bench. Sam Thompson has provided some occasional spark with his acrobatics, and has even put up a few decent games from the floor. But outside of Slam, bench production has been inconsistent.
Marc Loving has shown he is a special talent. He is confident in his shot and in taking on defenders. No moment has seemed to big for the frosh.  He's averaging six points per game. But Loving hasn't yet earned Matta's complete trust, either.
Trey McDonald is aggressive, but he hasn't defended as well as Williams. And he's prone to fouls and turnovers. Amedeo Della Valle is extremely streaky and can be a liability on the defensive end. The primary four bench players have usually been paired with the sometimes offensively-challenged Scott, making points tough to come by while the starters rest.
No doubt Matta will shorten the bench in Big Ten play. But the key reserves must find more consistency to avoid a production drop when the starters rest or if they get into foul trouble.
Intensity
Although it's easier to get up mentally for Wisconsin or Michigan than Bryant or American, the Buckeyes have shown a worrisome tendency to come out flat or seem disinterested against some opponents. There are too many upperclassmen on this team for that to happen. Craft and Smith typically apply the right amount of leadership to avoid these letdowns, but they still happen on occasion.
In the rugged Big Ten, a team that comes out flat could find itself behind by 20 points by halftime. Players like Scott, Ross and Williams are all veterans who shouldn't need to look to seniors Craft and Smith to hit the court with the appropriate focus — not that Craft and Smith are immune themselves.
offensive Consistency
The final area of concern is offensive consistency. Since his reawakening, Ross has been very steady. And Smith has been very even in his production outside of the first 39 minutes of the Notre Dame game. After that, all bets are off.
The B1G is made up of coaches who will find ways to take Ross and/or Smith out of the game and force other players to make up for the missing scoring. Craft has shown he can step up when he needs to. But what about Scott, Thompson or Williams? None of the three has been consistent enough as of yet.
And from a collective standpoint, the team has to be more consistent against defensive changeups, particularly the zone. With guards like Craft and Scott — both adept on the dribble drive – there is no reason the Buckeyes shouldn't be able to penetrate a zone and distribute to zone busters like Williams, Ross and Thompson.
---
Despite the concerns above, the 2013-14 Buckeyes are a very good basketball team. Their defense will give them a chance in every game on the schedule. But if the problem areas are cleaned up, the potential for a truly magical season exists.