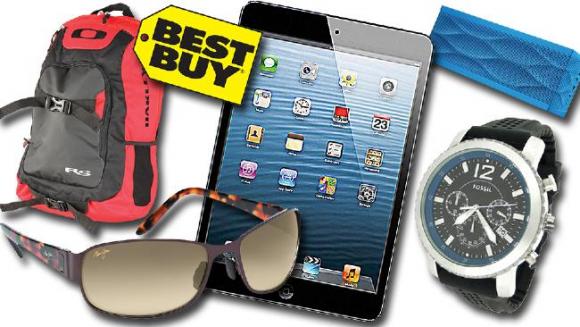 From Northwest Ohio to South Florida, Jack Mewhort, Ryan Shazier and Jeff Heuerman awoke Christmas morning to a clatter. Year and year, Santa Claus can't seem to enter people's homes quietly. But Wednesday won't be the only gift-giving of the holiday season for Ohio State players. They'll receive more presents once they arrive in Miami for the Orange Bowl.
In recent years, bowl game gifts – or swag bags – have become a phenomena. The NCAA allows $550 in gifts for 125 people from each school. Bowls often negotiate a lower price on products because they purchase them in bulk, allowing players to receive more than $550 in retail items. It's one of the many perks players experience by qualifying for the postseason. Warm weather also usually comes with bowl games.
Ending the season on a high note won't be the only thing the Buckeyes think about. They'll be discussions about what to select from the gift suite as well.
"I hope we get something good," Heuerman said.
This season's Tickle Me Elmo is a selection of recliners, which is part of the gift suite. The Orange Bowl is one of 18 bowls that offers gift suites, giving players the opportunity to select from an assortment of high-prices items in a hotel ballroom. The Buckeyes and Tigers will also receive a $110 Tourneau watch, leaving them with approximately $440 worth of merchandise to claim in the gift suite.
There are eight tiers to the suite with the items receiving a numbers based on their value, eight being the most expensive. Each player gets eight points, so they can choose one of the most expensive items or several lower-prices items.
Tier 1: 13 items, including earbuds, jewelry, cell phone case, sandwich grill and a remote-controlled helicopter.

Tier 2: 13 items, including over-ear headphones, jewelry, speakers, blender and a retro kettle popcorn popper.

Tier 3: 12 items, including Bluetooth headphones, jewelry, speakers, Ray-Ban sunglasses, Blu-Ray players and a Fender acoustic guitar with a stand and picks.

Tier 4: 11 items, including portable Bluetooth speakers, Ray-Ban Aviator sunglasses, Fujifilm digital camera, HD waterproof camera and a Dooney & Bourke purse.

Tier 5: 10 items, including cameras, camcorders, Wi-Fi speaker for iPhones/iPads/iPods and a Toshiba 23-inch HD television.

Tier 6: 10 items, including headphones, cameras, Sony home theater system, electric tabletop grill, Fender acoustic guitar, 9-inch portable DVD player and a home theater recliner.

Tier 7: 10 items, including video gaming headsets, Sony sound bar with wireless subwoofer, Toshiba 32-inch HD television, recliner and a Trek mountain bike.

Tier 8: nine items, including Armani watch, Esqmovado watch, Pandora 5-charm bracelet, Ferragamo women's French wallet, Sony Blu-Ray home theater system, Sony audio system and two different kinds of Briggs & Riley suitcases.
"It's a cool incentive," Mewhort said, before admitting the gifts have lost some appeal as he's progressed through his career. "I think when you're a freshman, that's a pretty exciting thing. It's my fifth year, I've been to a few BCS bowls. I've kind of done it all. The gifts to me don't mean as much. I'm more focused on winning the game. As a first year guy, it's exciting."
In 2009, Mewhort and his teammate received a 19 Sharp television combo, Fossil watch, New Era fitted hat, Ogio Fugitive laptop pack and a plaque from the Rose Bowl. The next season the Sugar Bowl outfitted Ohio State with Sleek Audio headphones, a Reactor Meltdown watch, New Era fitted hat and select items from a gift suite. The 2011 Gator Bowl gave a Fossil watch, Gator Gear performance headwear, rolling luggage bag, Jostens ring and commemorative football.
Southern Motion's Viva reclining chair could be the big-ticket item of the bowl season, according to Sports Business Journal. The luxury recliner will make you feel like a king. They'll also offer the McLaren model, which is even larger than the Viva.
Jon Cooperstein, of PAC's sports marketing division, projects that 800 chairs will be ordered from the 18 gift suites.
"We do view this alliance as an avenue to do additional business through alternative channels of distribution," Beth Loden, Southern Motion's strategic accounts director, told SBJ. "We are interested in exploring this opportunity as it does not conflict with our normal business model, which is through traditional retail stores."
Ohio State and Clemson players will be able to bask in the sun, take part in beach activities and get their coveted gifts, but there could be a tinge of jealousness aimed toward Annapolis, Md. The home of the U.S. Naval Academy is located on the water, but the average high temperature of 34 degrees for New Year's Day isn't what the Buckeyes and Tigers wish they had in Miami. Instead, it's the PlayStation 4 participants of the Military Bowl will receive.
"I just look forward to the game," Shazier said. "But the gifts are a pretty nice perk. All the stuff you went through during the year, you get a nice prize at the end."