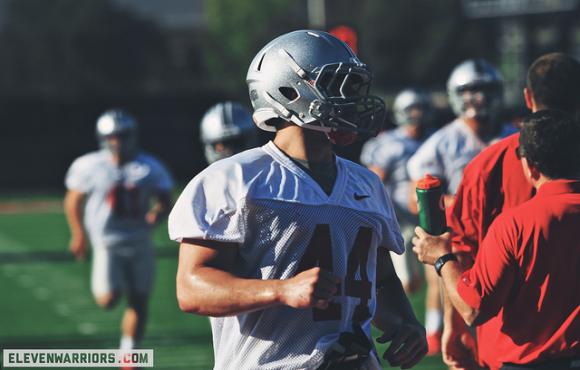 For two years, Ohio State fans and recruits have listened as Urban Meyer said the Buckeyes are not in the redshirt business. The 2013 season presented a contrasting set of circumstances. A handful of talented freshman and even sophomores and a junior appear destined to redshirt unless something drastic occurs during the Orange Bowl.
Jalin Marshall, Mike Mitchell, Michael Thomas, Bri'onte Dunn and Corey Smith are the most prominent players yet to appear in a game this season. Last year, Tyvis Powell, Warren Ball, Cardale Jones, Pat Elflein and Kyle Dodson were among the redshirtees.
Meyer's doctrine isn't to be taken literally. It's more a declaration of not accepting projects or players not deemed ready to play immediately. Ohio State recruits at a level where it wants impact players who can contribute in Year 1. Meyer has not minced words. If you don't play your freshman season – or any season, for that matter – it means you weren't good enough.
But that doesn't mean redshirts should be frowned upon. Powell became a trusted defender in 2013 after gaining experience on the scout team last year. Elflein did the same, becoming a de facto starter on the offensive line when Marcus Hall used poor judgment and missed the better part of two games.
The aforementioned candidates to redshirt this season are "on call," according to Meyer. They're ready to play, but only in a dire situation. At the same time, Meyer doesn't want to waste a year of eligibility. For instance, Dunn could become a feature back next season with the departure of Carlos Hyde and Jordan Hall. There was no space for Dunn in 2013, though, so Meyer would rather get three more years out of him.
"We don't really redshirt, but there are some guys that could be fine players down the road," Meyer said after the Florida A&M game. "I just didn't want to burn a year to get them 5 or 10 plays, so that's the decision we made."
Instead, walk-ons and scout team performers received their rightful moment in the sun – literally on a warm afternoon inside Ohio Stadium. Even four- and five-star recruits aren't always ready to begin a star-studded career the moment they arrive on campus.
Destination Redshirt

| Pos | PLayer | Year |
| --- | --- | --- |
| CB | Eli Apple | FR |
| QB | J.T. Barrett | FR |
| TE | Marcus Baugh | FR |
| WR | James Clark | FR |
| CB | Gareon Conley | FR |
| DT | Michael Hill | FR |
| DE | Tyquan Lewis | FR |
| OL | Evan Lisle | FR |
| WR | Jalin Marshall | FR |
| LB | Mike Mitchell | FR |
| DT | Donovan Munger | FR |
| OL | Billy Price | FR |
| DL | Tracy Sprinkle | FR |
| S | Jayme Thompson | FR |
| DB | Chris Worley | FR |
| RB | Bri'onte Dunn | SO |
| WR | Michael Thomas | SO |
| WR | Corey Smith | JR |
| OL | Antonio Underwood | JR |
The expectation in July and August was the 2013 recruiting class would burst onto the college scene and engineer a championship run for the Buckeyes. Defensive lineman Joey Bosa was named to numerous freshman All-American teams, but Dontre Wilson didn't dazzle consistently. Fellow running back Ezekiel Elliott displayed promise while no other skill player greatly impacted the offense. Vonn Bell was a Signing Day savior and proceeded to play sparingly, mostly on special teams.
It's not to say their future or Ohio State's isn't set up for success. The verdict just shows the first season didn't go quite according to plan. As injuries mounted, the Buckeyes turned to veterans whose careers were nondescript.
Bell, Eli Apple and Cam Burrows were each overlooked as the secondary faltered with poor play and injuries. Many believed those true freshmen were more viable options than Pitt Brown and Armani Reeves. The same occurred with depth at linebacker. Freshman Trey Johnson appeared on the field, but not Mitchell, a coveted five-star prospect.
"Sometimes those young guys, their opportunities are going to arise at certain times," defensive coordinator Luke Fickell said.
For Marshall, a wide receiver, a concussion in fall camp hampered his ability to learn the offense and get up to speed with the college game. Although Wilson totaled 441 yards of offense and three touchdowns, his lack of game-breaking plays was perhaps more surprising than other freshmen not seeing the field at all. In the season's two biggest games – Michigan and Michigan State – Wilson didn't record any stats and was ejected against the Wolverines. 
The hype surrounding Wilson reached mythic levels before the season started. It did him no favors as unrealistic expectations were formed. The knock on Wilson, according to Meyer, was his raw skill set. The head coach wanted a more complete player who could run, catch passes and block.
All those characteristics will likely become more developed during bowl prep and during the offseason. Next season, Wilson should see more opportunities to be involved in the run game with Hyde's exodus.
Sparks and electricity could be on the menu for 2014.