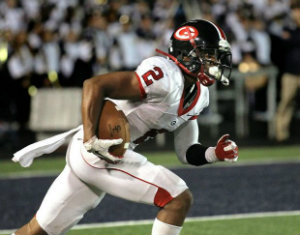 Despite entering into an NCAA mandated dead period, this past week proved to be a busy one for many Big Ten teams. 
Big Ten schools welcomed in 17 new pledges in the past week. Illinois and Purdue added three. Indiana, Michigan State, Northwestern and Penn State each added two. Iowa, Maryland and Ohio State added one each. With the latest movement, Penn State moves into the third spot in the rankings. 
Ohio State further distanced themselves in the recruiting rankings from the rest of the Big Ten with the commitment of Johnnie Dixon. That lead is only expected to grow, with the Buckeyes expected to land four-stars Marshon Lattimore and Erick Smith, Jan. 4. How Urban Meyer will close out the class is still not clear, however, you know better than to count Meyer out. 
Now, on to the rankings.
14. Minnesota
Minnesota was once believed to only be planning to sign about 15 recruits, but that number could now be closer to 20. The Gophers top remaining targets are four-stars Frank Ragnow and Melvin Holland Jr.
Commitments: No new commitments this week.
Visitor news: Dead Period. 
13. Indiana
Indiana could finish their 2014 class strong with commitments from four-star wide receiver Dominique Booth and three-star linebacker Tegray Scales. Both are high major prospects that the Hoosiers have a legit chance to land. Most of their top targets are expected to decide in January. 
Commitments: Indiana landed former Ohio State Buckeye Tim Gardner. The Hoosiers also signed Rutgers commitment Jordan Fuchs. The Rutgers decommit is a three-star JUCO tight end with numerous offers, but chose Indiana because they'll allow him to walk-on to the basketball team. 
Visitor news: Dead Period. 
12. Illinois
The Fighting Illini have been hitting the junior college ranks hard, searching for prospects that can contribute right away. Many of the prospects with crystal ball selections to Illinois are two-star or unrated prospects. While their class won't be highly rated, we'll see how they do on the field. 
Commitments: Tim Beckman and the Illini had a big recruiting week. Three-star defensive tackle Jihad Ward surprised many people by committing to Illinois over offers from South Florida, West Virginia, Tennessee and others. The 6-foot-7, 286 pound junior college prospect should get immediate playing time in Champaign. Two-star linebacker Carroll Phillips committed to the Illini over Middle Tennessee State and Temple. Three-star JUCO defensive end Joe Fotu signed with Illinois over New Mexico, as well. 
Visitor news: Dead Period. 
11. Purdue
While the Boilermakers have added eight commitments in the past two weeks, they also lost one of their top prospects in three-star lineman Denzel Ward. Ward is no longer considering Purdue and many think USF will be his destination. Hazell will look to add a few more three-star recruits before calling it a class. 
Commitments: Purdue landed three more commitments this week. Three-star receiver Ladarius Wiley started things off by selecting Purdue over Cal, Fresno State and Northwestern. Three-star running back Dexter Knox was next, choosing the Boilermakers over a host of FCS offers. Three-star corner Chris Jones also committed to Purdue. He had offers from FIU, Indiana, UMass, South Florida and others. 
Visitor news: Dead Period.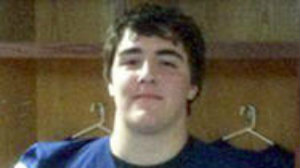 10. Maryland
Maryland falls a spot in the rankings after three-star lineman Jared Cohen decommitted. Many expect Cohen to wind up at Penn State. It's a blow to the Terps, but ultimately five-stars Damian Prince and Jalen Tabor are the main guys that everyone is worried about. Both seem to be favoring Maryland. 
Commitments: The Terrapins landed a commitment from two-star long snapper Nate Adams. Air Force was also pursing the two-star prospect. 
Visitor news: Dead Period.
9. Iowa
Kirk Ferentz and the Hawkeyes move up a spot in the latest rankings, but things are looking cloudy on the recruiting trail for Iowa. Their top remaining target, four-star Brian Wallace, continues to trend towards Alabama on the crystal ball. Wallace would be the second offensive lineman that Ferentz "lost" to Nick Saban. 
Commitments: Iowa landed three-star signal caller Tyler Wiegers, one of their top targets. The one-time Rutgers commitment should be a good fit for Iowa's pro-style offense. 
Visitor news: Dead Period.
8. Rutgers
Kyle Flood and company continue to lose commitments. Three-star tight end Jordan Fuchs decided to sign with Indiana instead of Rutgers. Some say the Hoosiers offered the chance to walk-on to the basketball team, while Rutgers would not. Fuchs was the seventh decommitment for the Scarlet Knights. 
They continue to search for a few more commitments to round out their class, but could they continue to lose more prospects? I'm sure many teams would love to land four-star receiver Saeed Blacknall.
Commitments: No new commitments this week. 
Visitor news: Dead Period.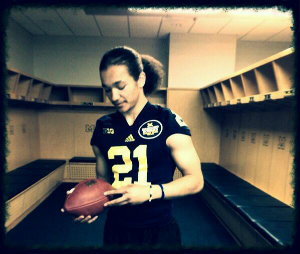 7. Northwestern
Northwestern's top priority has been fulfilled with this class and it could now turn their attention to the class of 2015. The Wildcats are running tight on scholarships, so they aren't expecting a busy final forty days until NSD. 
Commitments: The Wildcats landed the top guy on their board, four-star corner Parrker Westphal, this week. Westphal was once considered a Michigan lean, but they appeared to look elsewhere. Northwestern beat out Vanderbilt for his commitment. Pat Fitzgerald also landed two-star linebacker Hamilton Anoa'i over an offer from Nevada. 
Visitor news: Dead Period.
6. Nebraska
The Cornhuskers have been quiet this far during the dead period. Bo Pelini will come out swinging after the dead period is lifted. Nebraska has been recruiting numerous players that are committed elsewhere. It should be an interesting finish for the Huskers. 
Commitments: No new commitments this week.
Visitor news: Dead Period.
5. Michigan State
While Michigan State did land two commitments, they also lost one of their top prospects to Virginia Tech. Three-star quarterback Chris Durkin surprisingly decided to flip his commitment to VT. The signal caller from Ohio was the only quarterback committed to the Spartans. It's not clear if MSU will look elsewhere to replace Durkin or move on to 2015. 
Commitments: The Spartans landed a pair of commitments from four-star safety Montae Nicholson and three-star offensive tackle David Hedelin. Nicholson held offers from Michigan, Pitt, Penn State, Ohio State, Virginia Tech and many others before deciding to become a Spartan. The Pennsylvania native should be able to play right away for one of the nation's top defenses. Hedelin, a three-star junior college prospect, held offers from most of the PAC-12 and Big 12 conferences. 
Visitor news: Dead Period.
4. Wisconsin
Wisconsin was one of the few teams to have a quiet start to the dead period. While they did not receive a commitment, five-star running back Joe Mixon did name Wisconsin with UCLA and Oklahoma as his final three schools. Many expect him to stay close to home and play for UCLA. Gary Andersen is running out of time to persuade one of the nation's top players since Mixon will decide on Jan. 4. 
Despite already having 25 commitments, the Badgers are expected to take at least five more commitments. 
Commitments: No new commitments this week.
Visitor news: Dead Period.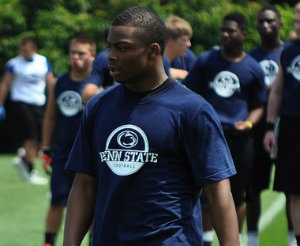 3. Penn State
The Nittany Lions move up a spot after a big recruiting week. Bill O'Brien's unsettled future has not impacted recruiting, yet. PSU is the favorite to land three-star Maryland offensive lineman decommit Jared Cohen and three-star safety Shawn Boone, which would be a great finish to a solid class. 
Commitments: Penn State landed four-star defensive tackle Thomas Holley and three-star linebacker Donte Raymond. Holley had offers from many top schools including Florida, Notre Dame and Ohio State. Raymond was committed to Delaware before being offered by Bill O'Brien. 
Visitor news: Dead Period.
2. Michigan
Wolverine fans will be keeping a close on four-star defensive end Malik McDowell as we inch closer to National Signing Day. Many felt McDowell was a "Michigan lock," but he has recently picked up a few crystal ball predictions elsewhere. Michigan State and Ohio State are both pushing for the Michigan native. 
Commitments: No new commitments this week.
Visitor news: Dead Period.
1. Ohio State
The Buckeyes have been on a recruiting hot streak, but things are expected to be quiet until Marshon Lattimore and Erick Smith announce, Jan. 4, during the Army All-American game. Keep a close eye on official visitors during the month of January. Solomon Thomas, Malik McDowell and Mike Rogers are a few of the highly rated prospects left on the board that are expected to visit. These upcoming visits will be key to Ohio State's finish. 
Commitments: Ohio State landed a commitment from four-star receiver Johnnie Dixon. Dixon chose the Buckeyes over Alabama and Miami (FL). With the Miami speedster enrolling early, he could be a factor next season. 
Visitor news: Dead Period. 
---
Rankings Overview
| No. | School | Commits | Scout ★ AVG | Rivals ★ AVG | 247 ★ AVG | ESPN ★ AVG | Overall ★ Avg |
| --- | --- | --- | --- | --- | --- | --- | --- |
| 1 | Ohio State   | 19 | 3.84 (7) | 3.79 (3) | 3.84 (2) | 3.79 (5) | 3.82 |
| 2 | Michigan  | 16 | 3.56 (19) | 3.44 (19) | 3.63 (13) | 3.75 (10) | 3.60 |
| 3 | Penn State  | 18 | 3.28 (25) | 3.29 (23) | 3.28 (19) | 3.47 (24) | 3.33 |
| 4 | Wisconsin  | 25 | 3.12 (18) | 2.96 (21) | 3.04 (26) | 3.12 (31) | 3.06 |
| 5 | Michigan State | 19 | 3.16 (27) | 3.00 (31) | 3.05 (32) | 3.33 (NR) | 3.14 |
| 6 | Nebraska  | 19 | 3.11 (35) | 3.05 (34) | 3.05 (37) | 3.21 (NR) | 3.11 |
| 7 | Northwestern  | 15 | 3.07 (43) | 3.14 (53) | 3.20 (39) | 3.36 (36) | 3.19 |
| 8 | Rutgers  | 23 | 2.87 (37) | 2.80 (43) | 2.96 (42) | 2.96 (NR) | 2.90 |
| 9 | Iowa | 18 | 2.94 (40) | 2.78 (52) | 2.94 (48) | 3.12 (NR) | 2.95 |
| 10 | Maryland  | 13 | 2.92 (59) | 3.25 (63) | 3.00 (52) | 3.31 (NR) | 3.12 |
| 11 | Purdue  | 18 | 2.56 (61) | 2.59 (60) | 3.00 (55) | 3.00 (NR) | 2.79 |
| 12 | Illinois   | 18 | 2.54 (63) | 2.75 (58) | 2.89 (56) | 3.05 (NR) | 2.81 |
| 13 | Indiana  | 16 | 2.81 (57) | 2.61 (57) | 2.88 (65) | 3.00 (NR) | 2.83 |
| 14 | Minnesota  | 13 | 2.69 (65) | 2.77 (66) | 2.85 (66) | 3.00 (NR) | 2.83 |
Number in parentheses is national rank