What began as a simple blocked field goal attempt led to the discovery of a confusing, obscure rule.
Cam Heyward started the chain reaction by swatting away Mason Crosby's kick, and a massive scramble for the football broke out. The ensuing action included Crosby diving after the loose ball, a lateral from a Pittsburgh player and another Steeler getting flagged for an illegal bat, resulting in a Packers first down. Make sense? 
Elsewhere, Ted Ginn and Jake Ballard both made key, fourth quarter catches to boost their respective teams' playoff chances. With his multiple drop game, Brian Hartline certainly didn't help the Dolphins in their quest for an AFC wildcard spot.
Kurt Coleman wasn't able to help the NFC East-leading Eagles on the field, but he did deliver a message to his team before the Sunday night game.
Back to Green Bay, defensive lineman Ryan Pickett updates us on his impending free agency. His teammate – and fellow Buckeye – made a nifty, one-handed interception.
Plus, Eleven Warriors has stats from all former Ohio State players in the NFL.
Pair of Buckeyes make fourth quarter grabs 
The Panthers had a chance to clinch a playoff birth for the first time in five years if they beat the Saints at home. With New Orleans up three and grabbing possession of the ball with under two minutes to go, a Carolina win seemed unlikely. 
In stunning, un-Sean Payton-like fashion, the Saints ran three straight times and gained only two total yards. So, they punted away after only 55 seconds of game time elapsed.
With the ball at their own 35 yard-line and wide out Steve Smith out with an injury, Cam Newton needed a big play through the air. Who could he trust? Ted Ginn Jr., of course. He advanced it to the New Orleans 28 yard-line, and it only took four more plays for Newton to find Domenik Hixon for the go-ahead touchdown. 
In a much more shocking upset, the Cardinals used a 10 play, 80 yard drive in the final quarter to take the lead in Seattle. Carson Palmer was surprisingly efficient on that drive and the Cardinals offense made use of what weapons they had to go up seven.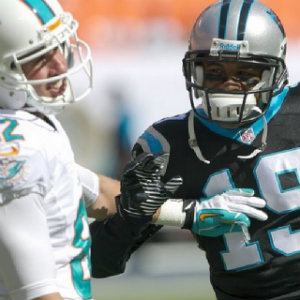 That includes Jake Ballard, as without him, Arizona's upset might not have been possible. If not for his 17-yard catch on third down to keep the drive alive, the Cardinals were looking at a three-and-out and likely punting the ball back to the Seahawks. 
Hartline, dolphins struggle in Buffalo
Though not completely in control of its playoff fate, Miami entered Sunday's game against Buffalo at 9-6 with an outside shot at the division title. At the very least, another win would help their chances of grabbing the final AFC wildcard spot.
Hope quickly dissolved when the Dolphins offense sputtered throughout. Late in the game and down 13, it got worse, as starting quarterback Ryan Tannehill was knocked out of the game. Backup Matt Moore took his place and he hit Brian Hartline for a 50-yard completion. Those good vibes lasted less than 40 seconds, as Moore followed that up with an interception.
For Hartline, it was his only notable, positive play of the game. He was targeted 10 times but only wound up with two receptions. He also dropped three passes, which nearly doubled his season total. One of those came on a potential long touchdown play in the first quarter. 
Hartline was rather brief with the media after the game, according to the Miami Herald. Miami coach Joe Philbin did the talking for the team's top receiver, however.
"It wasn't our best day on offense," Philbin said, in his post game press conference. "He's a guy that's busted his tail every single game. He goes out to work every single day at practice, wanting to get better and working to get better."
Pickett not ready to retire, yet 
Pickett's time at Ohio State dates back to the John Cooper era, playing as a true freshman in the 1998 season. At 34 years old, he's the eldest former Ohio State player in the NFL.
That puts him on the brink of retirement, but he's not ready to hang up his cleats. According to the Milwaukee Journal Sentinel, Pickett wants to play at least one more season in the NFL. He signed with the Packers in 2006, and re-upped with them in 2010 at an average salary of $6.2 million per year. His contract expires at the end of the season, but he hopes to return to Green Bay, even if he's making less money.
"At this point, I'm not trying to break the bank or anything like that," Pickett told the Journal Sentinel. "I mean, whatever. All that stuff will take care of itself. I still have the fire. I just want to keep playing."
Pickett feels like his level of play hasn't dropped off this season. 
"I watch my tape all the time," Pickett said. "I'm getting off blocks. We've had more calls to free up the 'backers. It's different factors. But I'm doing the things I was doing."
Kurt Coleman Fires up the bird gang 
It should come as no suprise that Green Bay's leading tackler is A.J. Hawk. His 116 combined tackles are also good enough to put him among the top 20 in the NFL. In each of his eight pro seasons, Hawk has amassed at least 80 tackles. He's also only missed two of his team's games.
Since 2010, however, he hasn't grabbed an interception. That changed, Sunday, with Hawk leaping in the air to snatch a Ben Roethlisberger pass with his right hand.
How ex-Buckeyes Fared During Week 16
| Player | team | position | stats/Notes |
| --- | --- | --- | --- |
| Mike Adams | Pittsburgh Steelers | OT | Somehow, Steelers still have a shot at the playoffs |
| Will Allen | Pittsburgh Steelers | S | 2 tackles, SportsCenter gives him credit for pick-six |
| Jake Ballard | Arizona Cardinals | TE | Had 17 yard grab for first down on go-ahead drive |
| Alex Boone | San Francisco 49ers | OG | Plays tonight vs Falcons |
| Michael Brewster | Jacksonville Jaguars | OL | Underwent surgery for fractured, left ankle |
| Chimdi Chekwa | Oakland Raiders | CB | 8 tackles in loss to Chargers |
| Kurt Coleman | Philadelphia Eagles | DB | Inactive with hamstring injury, still pumps up his team |
| Jim Cordle | New York Giants | C | On injured reserve |
| Nate Ebner | New England Patriots | DB | Patriots clinch AFC East after win over Ravens |
| Reid Fragel | Cleveland Browns | OT | Inactive while his team continues perpetual tanking   |
| Ted Ginn Jr. | Carolina Panthers | WR | 2 rec, 66 yds, clutch 37 yd grab on game winning drive |
| Johnathan Hankins | New York Giants | DT | 1 tackle while family and friends watched |
| Brian Hartline | Miami Dolphins | WR | 2 rec, 53 yds and had 3 drops  |
| Ben Hartsock | Carolina Panthers | TE | Panthers clinch playoff berth after win over Saints |
| A.J. Hawk | Green Bay Packers | LB | 6 tackles, 1 interception in loss to Steelers |
| Boom Herron  | Indianapolis Colts | RB | On injured reserve |
| Cameron Heyward | Pittsburgh Steelers | DE | 6 tackles, 1 blocked field goal on wild sequence |
| Santonio Holmes | New York Jets | WR | 2 rec, 20 yds media looks down on him from high horse |
| Malcolm Jenkins | New Orleans Saints | S | 3 tackles, 1 interception with thanks to Ted Ginn |
| James Laurinaitis | St. Louis Rams | LB | 6 tackles, 1.5 sacks in win over Bucs    |
| Nick Mangold | New York Jets | C | Played the Browns, naturally result is positive  |
| Jake McQuaide | St. Louis Rams | LS | Snapped 3 FGs, 2 XPs in win  |
| Mike Nugent | Cincinnati Bengals | K | Kicked 6 XPs and made 2 tackles to prevent KR TDs |
| Ryan Pickett | Green Bay Packers | DT | In final year of contract, said he's not retiring  |
| DeVier Posey | Houston Texans | WR | Inactive due to ankle injury |
| Terrelle Pryor | Oakland Raiders | QB | Didn't take a snap, as situation "didn't arise"  |
| Dane Sanzenbacher | Cincinnati Bengals | WR | Inactive in win over Vikings  |
| John Simon | Baltimore Ravens | LB | 1 tackle in loss to Patriots   |
| Rob Sims | Detroit Lions | OG | Called for holding penalties, said team hit "brick wall" |
| Austin Spitler | Miami Dolphins | LB | Fielded a short kick on special teams during loss |
| Jake Stoneburner | Green Bay Packers | TE | Tough day, fumbled kick return and flagged for roughing |
| Donte Whitner | San Francisco 49ers | S | Plays tonight vs Falcons  |
[GIF via @Internetican]