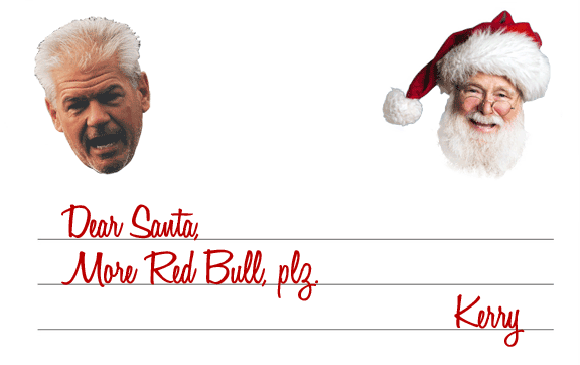 In a little over 48 hours a lone sleigh will depart from the North Pole airport (NPX) and make its way around the entire world over the course of a single night. Former Navy pilot Santa L. Claus will take off with a dangerously over-laden aircraft that will become lighter and lighter with every stop as the flight continues.
In preparation for that day, people all over the world send cards, letters and —in overwhelming numbers these days — emails to Claus to request specific parcels from the former naval aviator, who is about to have his delivery method one-upped by Amazon's drone service in the near future.
Ohio State coaches and players are among those who send such communications to the North Pole, and the last we checked, the university is still a public organization. Eleven Warriors is not above filing a few Freedom of Information Act requests when our readers need important facts, like what Urban Meyer has requested for delivery on Dec. 25.
The following are letters from Buckeye coaches and athletes to the fat guy in the red suit, as opposed to the fat guy in the blue golf shirt with the 'M' on it.
From Urban Meyer:
Coach Claus,

I'm very interested in obtaining the services of a defense similar to the one fielded by the Ohio State Buckeyes in 2002. Quite honestly, I've been a little disappointed by the performance of some of my requests of the past two seasons. You're better than that. It's time to step up your game. Those elves of yours need to execute better and they will fix it.  It's big boy time. Let's go get it.

Sincerely,

Urban F. Meyer

P.S. Can you please get me another year of Braxton and Shazier?
From Ryan Shazier:
Dear Santa,

This year, I'd like the same thing as last year — someone else to hit.

Thanks.

Ryan.
From Thad Matta:
Hi Santa,

I'd really love a new spine this year to replace this rickety wooden bridge holding my skeleton together. But it's not about me, it's about the team. So if it's no trouble, I'd really enjoy some gifts for my players (it would be a violation if I gave them to them): bionic hands for Amir, a consistent outside jumper for Sam, some defensive mojo for LaQuinton, a consistent outside jumper for Shannon, some national respect for Lenzelle, and another year of eligibility for Aaron.

Thanks for all you do,

Thad
From Michael Bennett:
Hey Santa,

Comic books!

- Mike
From Braxton Miller:
Sup Santa,

Hey I don't really need much this year, but, as long as you're handing out presents, I'd really enjoy either a second-round grade or better in the NFL Draft or another year of Mewhort, Norwell, Linsley and Hall. Either one is fine with me. I'm not picky. Thanks, man.

Brax
From Aaron Craft:
Dear Santa,

I get a lot of requests to solve the Rubik's Cube, but it gets pretty old. I mean, I've been solving that thing since before I was toilet trained. Can you please bring something a little more challenging this year? Maybe something I have to solve in four or five dimensions? If that's not possible, the following are titles I need to complete my collection of Ohio State text books of the '90s:

[edited for length]

Thanks so much, Santa. You're the best.

Love,

Aaron
From Mike Vrabel:
Yo Santa,

Luke and I are looking for a few more five stars. Tell Pantoni because I always forget to write it down. Thanks, bro. You rock.

Vrabes
---
So there you have it. We don't care how many FOIA requests we have to submit. Eleven Warriors will continue to dig deep to get the vital info for which you rely on our site.