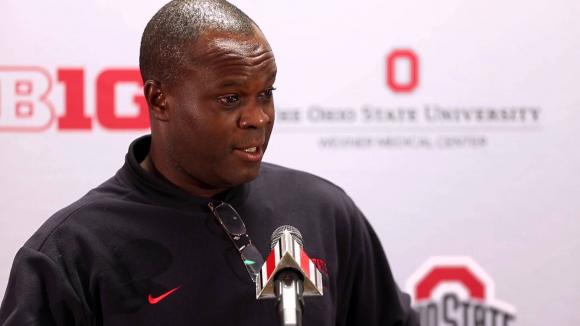 One day after Everett Withers was reported to be accepting the head coaching position at James Madison, the news is now official. Withers is the Dukes' sixth head coach in program history.
Grateful for the opportunities The Ohio State University has provided me. Excited to lead James Madison in a successful future. Go Dukes!

— Everett Withers (@JMUCoachWithers) December 21, 2013
"We are so thrilled to welcome Coach Withers and his family to James Madison," James Madison athletic director Jeff Bourne said in a statement. "Everett is a proven winner and has shown his ability to lead, having spent time as a head coach. The entire committee was incredibly impressed when we met with him, and I have no doubt that he will be a great leader for our football program and mentor to our student-athletes for many years to come."
Withers will stay at Ohio State through the Orange Bowl. He leaves after two seasons as co-defensive coordinator and safeties coach. During his two years with the Buckeyes, the defense has been a constant source for criticism. The unit bottomed out this season, especially in the secondary, where it allowed almost 260 yards passing per game. Ohio State ranks 104th nationally in pass defense.
But Withers' coaching past is littered with high marks and respect from his colleagues. He's regarded as one of the top recruiters in the country and garnered praise from Urban Meyer in February for securing the commitment of five-star safety Vonn Bell.
"I'm happy for Coach Withers, and his family, on his being selected to be head coach at James Madison University," Ohio State head coach Urban Meyer said. "Everett is extremely well respected in the coaching profession and I've enjoyed having him on our staff. He is a great family man, cares about his players and is an excellent recruiter. I expect that he will be a fine head coach."
At James Madison, Withers replaces the school's all-time winningest coach, Mickey Matthews. In 15 seasons, Matthews won 109 games, the 2004 national championship and three conference titles. The Dukes appeared in the FCS playoffs six times during his tenure but only once in his final five seasons.
Matthews' base salary was $222,000. Withers will reportedly made between $300,000 and $350,000, a significant pay cut from his $585,000 salary at Ohio State.
James Madison recently completed a $62 million stadium expansion to bring the capacity to 25,000. The Dukes added an upper deck, club seating and 17 private suites. The stadium can be further expanded to seat over 40,000. The university did a study in the fall to gauge its viability as a FBS program and is rumored to be eyeing Conference USA or the MAC as a possible landing spot.
"Coach Withers impressed us greatly not only with his experience on the field, but also with his strong commitment to the student-athlete," James Madison President Jonathan Alger said. "Coach Withers is dedicated to JMU's educational mission and believes that his team's success begins in the classroom.  He and his wife Kara have also emphasized the importance of being active participants in the community. I am confident that Coach Withers, his wife Kara, and their two children Tia and Pierce will be valuable additions to the JMU family and the community at large."
This will be Withers' second stint as a head coach. He served as the interim head coach at North Carolina during the 2011 season after Butch Davis was fired. The Tar Heels finished 7-6 and qualified for the Independence Bowl. After North Carolina hired Larry Fedora as Davis' permanent replacement, Urban Meyer quickly brought Withers to Ohio State.
Withers has coached at the college level for 19 seasons with another seven years of experience in the NFL. Eleven of his 19 years in college have been as a defensive coordinator. He's coached the defensive backfield for 16 seasons.
During Withers' four-year stint at North Carolina, he built the Tar Heel defense into one of the nation's best. In 2008, the team's 20 intercepted ranked eighth nationally and set a school record. The following season they ranked sixth in total defense, 10th against the run and 14th in pass defense. In 2011, they were 14th against the run.
North Carolina had five defenders taken in the 2011 NFL draft, including first-rounder Robert Quinn.
Withers interviewed at Southern Miss last year, but the job went to Todd Monken.