Santa Urbz delivered some early Christmas presents this week when he landed commitments from Raekwon McMillan and Johnnie Dixon in back-to-back days. More importantly, Meyer delivered over $5,000 in toys to the Nationwide Children's Hospital.
The recent commitments have given the Buckeyes some much-needed momentum and the Buckeyes are on a roll. At this point, the natural question is: who will the Buckeyes finish the class with?
With several highly-touted prospects still on the board and only a few spots left to fill, it looks to be another exciting finish for OSU recruiting.
Join us after the jump as we take a look at the remaining targets on Ohio State's board and the likelihood of them being Buckeyes.
Scholarship Numbers

As the Buckeyes' class continues to fill up, one question always seems to be ever-present at this time of year: how many spots does Ohio State really have left?
As many of you know, attrition is very difficult to predict. Who knew Joey O'Conner would transfer, Blake Thomas would suffer a career-ending injury or Tim Gardner wouldn't even make it to fall camp? One thing is certain, however, attrition happens. When we looked back at the 2012 recruiting class a couple of weeks ago, we learned that seven of the 25-member class have already left the program. These players left for a variety of reasons: injury, lack of playing time, being far from home or some combination of these factors. Seven is a pretty high number of defections and isn't too likely to be repeated, but 3-5 is certainly a possibility.
Ohio State currently has 64 returning freshmen, sophomores and juniors on scholarships, leaving 18 spots in the 2014 class, as the scholarship restrictions allow for 82 scholarship players. Add in Roby and Shazier likely leaving early, and a fairly safe estimate of four players lost to attrition, and I expect the class to finish with 24 players. So with that number in mind, how might the class finish?
Remaining Needs

At this stage, Ohio State has filled many of their needs: linebacker, receiver/running back, and quarterback. They are also sitting in a pretty good position at offensive line. That being said, looking at who they are targeting, they are primarily focused on offensive line, defensive line and defensive backs.
I think the Buckeyes would like one more offensive lineman, one more defensive lineman and at least a couple more defensive backs. While they already have four offensive linemen in the class, Ohio State will lose four to graduation this year, as well as losing Joey O'Connor and Tim Gardner early to attrition. I think they would like to round out the class with a fifth offensive lineman.
Ohio State only has two defensive linemen in the class after back-to-back classes that featured several defensive line prospects. While it seems they are pretty comfortable moving forward with the current depth situation, they've made it pretty clear they would like another defensive lineman in the class.
As for the defensive backfield, Ohio State loses three of their four starters in the defensive backfield, plus the uncertainty surrounding Christian Bryant's future. In addition, the defensive backfield may not be quite as deep as you would think. Ohio State will only have one senior and two junior defensive backs next year (assuming Bryant is not back). While the Buckeyes had seven freshman defensive backs this year, they only have two committed thus far in the 2014 class and look to be wanting to add at least a couple more.
TARGETS: OFFENSIVE LINE

Ohio State has already put together an excellent offensive line class with four four-star commits already in the fold (two guards and two tackles) but has been trying to land one more tackle to close out the class. After missing out on Chad Mavety, four primary offensive line targets remain for the Buckeyes: Damian Prince, Frank Ragnow, Roderick Johnson and Brady Taylor.
Damian Prince (5-star, District Heights, MD)
Prince is an elite offensive tackle (#2 OT in 247 Composite) that Ohio State recruited hard and at one point appeared to be in the driver's seat for. Things have changed however, and Prince has since shifted towards Maryland and Florida State. Prince actually cut Ohio State a couple of weeks ago when he named a top 5 of Maryland, Florida State, Florida, Miami and South Carolina. But, since this is a wish list and he's a guy that many Buckeye fans hope Urban can snag I thought we'd include him on the list. The Eleven Warriors Recruiting team currently has him predicted to go to Maryland. Buckeye Odds: Going take a Christmas Miracle (less than five percent)
Roderick Johnson (4-star, Florissant, MO)
Johnson is a guy that Buckeye fans may have not heard too much about. He visited for The Game in 2012, but things were fairly quiet between him and Ohio State for much of the year. Florida State has been Johnson's top school for quite some time, but he recently told ESPN that Ohio State was the team right behind Florida State. Johnson visited Florida State last weekend, but still hasn't committed to the Seminoles despite having them as his leader for so long, while Florida State continues to stockpile offensive lineman. Florida State already has six offensive linemen committed for the 2014 class, while continuing to pursue Johnson, Frank Ragnow and Damian Prince.
With Ohio State already losing targets Chad Mavety and Brock Ruble to Florida State, one has to wonder how many offensive lineman Florida State can take. Do they really want seven? It's certainly possible, but taking that many could have an impact on Johnson's decision. While Florida State is his leader, Johnson has mentioned being interested in possibly visiting Ohio State in January. While I still think the Seminoles are the team to beat for Johnson, if Johnson makes it to Columbus in January and Florida State's offensive lineman class fills up, Johnson could be a Buckeye. Buckeye Odds: Not good, but not out of the realm of possibility (10-15 percent).
Frank Ragnow (4-star, Chanhassen, MN)
Ragnow appears to be leaning towards Minnesota and Florida State recently, as Ohio State hasn't been recruiting him all that hard. With the recent commitments of Mavety and Bookser however, Ohio State may go after Ragnow a bit more aggressively. With Florida State, the same logic from the Roderick Johnson section can be applied here. Ragnow officially visited Florida State last weekend and has also visited Minnesota multiple times. I would expect him to visit Ohio State in January, which would provide a better idea of the Buckeyes chances. For now, I think he's Minnesota-bound, but it all depends on the potential Ohio State visit in January. Buckeye Odds: Not great, but better than the other two so far (25 perent).
Brady Taylor (3-star, Columbus, OH)
Taylor is an interesting prospect, he's from Columbus and really likes Ohio State but is committed to Virginia Tech and doesn't hold an Ohio State offer. That being said an Ohio State offer could be coming soon for Taylor, putting him in an interesting predicament. While he remains faithfully committed to Virginia Tech amongst the swirling rumors, an offer from the Buckeyes would likely be very difficult for Taylor to pass up. I think there is a pretty good chance Taylor gets the offer, and if he does, I think there is a pretty good chance he commits. Buckeye Odds: Pretty good, if they offer (55-60 percent)
Wrapping it up: I think Brady Taylor is the most likely pick to round out the Ohio State offensive line class, while Ragnow and Johnson remain possibilities. There is also a chance that Ohio State doesn't take another offensive lineman at all, but I think Taylor (while still committed to V. Tech) is the most likely outcome.
Targets: Defensive Line

Defensive line recruiting has been a major highlight for the Buckeyes under Urban Meyer, as he has brought in several highly-touted prospects that have already made an impact on the field. One thing is for certain, Meyer seems to have his way with 5-star defensive linemen. Three major targets remain on the board here: Solomon Thomas, Derrick Nnadi and Malik McDowell.
Solomon Thomas (5-star, Coppell, TX)
Thomas is a stud, ranked as the No. 2 strong-side defensive end in the country and holding offers from nearly every major program. Texas was the early leader for quite some time, but has since shifted his focus to Stanford and Ohio State.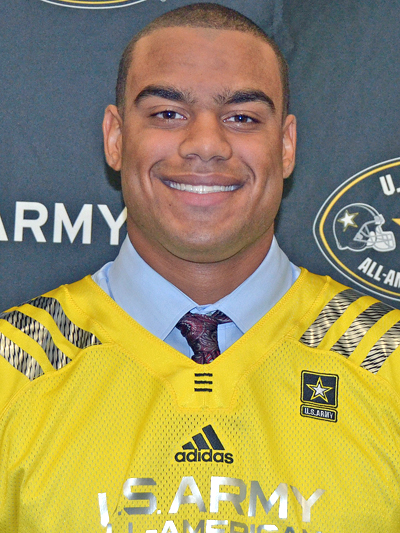 While many continue to pick Thomas to Stanford, it's the Buckeyes who are gaining momentum with him. When he made multiple unofficial visits to Columbus, Thomas signaled that he has serious interest in Ohio State. He has since had an in-home visit with Buckeye legend Mike Vrabel and scheduled an official visit to Ohio State for January 31st. Yesterday, he named a top five that included the Bucks.
What makes the visit a bit more interesting is the fact that it is Thomas' final official visit and that it comes only two days before the quiet period and less than a week before signing day. What this basically means is that Ohio State is the last school that will have any in-person contact with Solomon before he commits, as the quiet period runs until April.
Many factors are working in the Buckeyes favor: Urban Meyer's closing ability, Tom Herman's connections in Texas, Mike Vrabel's relationship with Thomas, Vrabel's ability as a recruiter and defensive line coach, as well as the timeline. In addition, Thomas' primary recruiter at Stanford, Mike Sanford, recently left for Boise State. While I don't expect Sanford's departure to have a huge impact, it is noteworthy and David Shaw to Texas or the NFL rumors will continue to swirl.
While many "experts" continue to pick Thomas to Stanford, Ohio State continues to make more sense and many deciding factors are pointing to Ohio State. The Eleven Warriors recruiting team continues to predict Thomas to Ohio State, beginning with Birm in October. Stanford will be tough to beat, but I like the Buckeyes' chances. Buckeye Odds: Pretty Good (60 percent)
Derrick Nnadi (4-star, Virginia Beach, VA)
Nnadi is probably a newer name to many Buckeye fans. Ohio State offered him in April, but there hasn't been a whole lot of talk about him since then. He recently scheduled an official visit to Ohio State for January 15th and is a highly-touted defensive tackle. After passing on Thomas Holley, it was questionable whether or not Ohio State would pursue a defensive tackle in this class, but Nnadi is one they would be interested in taking. He had been thought to be favoring Virginia Tech, but after visiting Florida State last weekend, he said that Florida State, Virginia Tech, Penn State and Ohio State were all even. After visiting Ohio State, Nnadi will visit Virginia Tech on the 24th of January. Ohio State is in the hunt, but the January visits will go a long way to determining where he lands. Buckeye Odds: Not bad, not great (less than 20 percent)
Malik McDowell (4-star, Detroit, MI)
McDowell has been considered a Michigan lean for quite some time now, but things are beginning to change. While it sounds like McDowell is feeling some pressure to go to Michigan, he is now starting to look elsewhere. He's already visited Alabama (who "set the bar") and Florida, with visits scheduled to Florida State, LSU and Ohio State. Like Thomas, McDowell visits Ohio State on January 31st, likely giving them the last in-person contact before he makes his decision. I'm not sure Ohio State is interested in taking both Thomas and McDowell, though it is a possibility. Right now, McDowell's recruiting picture is a little fuzzy. Michigan is probably still the leader, but the official visits in January will be telling. Buckeye Odds: Better than you might think (25-30 percent)
Wrapping it up: I think Ohio State should end up with at least one of these prospects, more likely Thomas, with a small chance of landing two of them.
Targets: Defensive Backfield

To call the defensive backfield a weakness for the Buckeyes on the field this year would be a major understatement. However, the Buckeyes have recruited the position area well and some of the younger guys have shown promise in limited action. Ohio State currently has one cornerback and one safety committed for 2014 but is looking to add to that.
Tony Brown (5-star, Beaumont, TX)
Brown has always been a bit of a longshot for Ohio State, but he did come up to Columbus for an official visit in October and likes Ohio State a lot. Ohio State continues to show a lot of interest in Brown, as Meyer visited him about a week ago. Ohio State will continue to recruit him but the chances of him going anywhere but LSU are slim. Buckeye Odds: Slim (5 percent)
John 'JuJu' Smith (5-star, Long Beach, CA)
Smith also visited Ohio State officially in October and has continued to like Ohio State for some time. He recently spoke to the Cleveland Plain Dealer and was very positive on Ohio State as well. That being said, Ohio State is going to have a hard time pulling him out of Southern California. While he claims he is not a "USC lock," they were his favorite team growing up and it's hard to see him going anywhere else. Still, JuJu said Ohio State will "be there until the end" and he "has a strong interest in the program." Of the "longshots," I've always liked Smith's chances more than most, but it would be a pretty big surprise if he picked the Buckeyes. Buckeye Odds: Not too good (10 percent)
Mike Rogers (3-star, Smyrna GA)
A couple of months ago, Ohio State offered Rogers (a UCF commit) a scholarship and it seemed like almost a sure thing that he would eventually flip to Ohio State. Things have quieted down a bit, as the Ohio State coaches could be waiting to see if they have a chance with Brown or Smith before pushing for Rogers. I still expect Rogers to make a visit to Columbus some time in January and I think he remains a strong candidate to close out the 2014 class with. Everett Withers was his primary recruiter, but I don't think him leaving will have too big of an impact on Rogers' decision. The way I see it, if Ohio State wants Rogers he will be a Buckeye. Buckeye Odds: Good if they choose to pursue him (60 percent)
Marshon Lattimore/Erick Smith (4-stars, Cleveland, OH)
Lattimore and Smith are dynamic play makers in the defensive secondary who Ohio State has been all over for a very long time. Ohio State continues to remain heavy favorites for the duo, who would be huge additions to an already great class. They will both be announcing their decisions at the Army All-American Bowl on January 4th. Buckeye Odds: Nothing's guaranteed except death and taxes, but this is pretty close (90 percent)
Wrapping it up: I think the most likely outcome is Ohio State adding Lattimore, Erick Smith and Mike Rogers, while Ohio State has a very small shot at landing Brown or John Smith. The second most likely outcome would probably adding the Glenville duo and nobody else, though I think Ohio State wants to add three more DBs.
Putting it all together

With plenty of targets and only a few spots, the Buckeyes find themselves once again poised for an exciting finish. It looks like Ohio State has about five spots left and is looking to add an offensive lineman, one or two defensive lineman and a few defensive backs.
With that in mind, if I had to predict how Ohio State finishes, I would say with Marshon Lattimore, Erick Smith, Solomon Thomas, Mike Rogers and Brady Taylor. Excluding Solomon Thomas, this is a fairly conservative prediction and I wouldn't be surprised to see Meyer pull someone out of left field, much like last year with Dontre Wilson.
The January visits will be huge and will provide a better idea for how things close, but, for now, this is how I think it will play out. Be sure to continue to frequent Eleven Warriors as the landscape will likely change between now and signing day, and follow our recruiting team on Twitter for even more info.