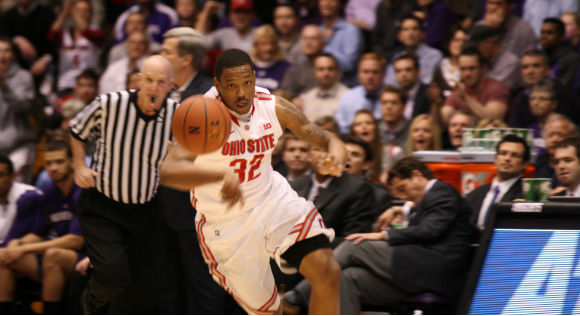 The calendar year of 2013 has been a good one for the Ohio State basketball team. As the year winds to a close, it's a good time to look back at some of the great moments of the year.
And there were a lot of great moments. This year, the Buckeyes won the B1G tournament, reached the Elite Eight in the NCAA tournament, and have started the 2013-14 season with an 11-0 mark after last night's win over Delaware.
Although there are a few games left before we ring in 2014, let's take a look back at some of the outstanding individual performances by the Ohio State hoopsters, countdown style.
No. 10 - LaQuinton Ross vs. maryland
LaQuinton Ross went beast mode, scoring 20 points with six rebounds to lead Ohio State to a 76-60 drubbing of Maryland in the ACC-Big Ten Challenge on Dec. 4. Ross shot 7/13, including a scorching 4/6 outside the arc and chipped in a pair of steals to pace the Buckeyes. He made his first four attempts from deep and scored 17 in the first half. Many will remember this game for Sam Thompson's four highlight-reel dunks, but Ross was the boss this night.
No. 9 - Lenzelle Smith Jr. at Northwestern
Lenzelle Smith Jr. scored a season high 24 points to go with six rebounds and three steals in a tougher than expected 63-53 win at Northwestern on Feb. 28. Zelle hit 7/13 overall and scored 18 of his points from behind the three-point arc, drilling six of them. The Buckeyes struggled with the Wildcats, but Smith's contribution helped fuel the third of 11 consecutive wins.
No. 8 - Ross vs. Arizona
Ross scored 17 points and hit the buzzer-beating three pointer to push Ohio State past Arizona, 73-70, and into the Elite Eight in a game played in Los Angeles. Deshaun Thomas scored 20 in the game, but it was Ross off the bench who provided the spark and gave the Wildcats fits. He went 5/8 from the field, including 2/2 from downtown, and made all five of his free throws.
(Tie) No. 6 - Deshaun Thomas and Aaron Craft at Indiana
It was March 5, and Aaron Craft and Deshaun Thomas caught fire, leading the Buckeyes to a 67-58 road upset over the No. 2 Hoosiers in Bloomington. Thomas scored a game high 18, despite being turned into a volume shooter (6/17 from the field). But Tank also led all players in rebounds (8) and blocked a shot. 
Craft was equally effective, finishing with an efficient 15 points on 7/10 shooting. He added four rebounds, four assists and four steals, and played outstanding defense against the Indiana guards all game long. His passion and leadership were critical, especially down the stretch. Tom Crean did Tom Crean things after the game, making the media wait an extraordinarily long time.
No. 5 - Thomas vs. Wisconsin
Thomas poured in 25 points on Jan. 29 to pace the Buckeyes to a 58-49 win over the Wisconsin Buzzcuts in Columbus. Deshaun hit 10/17, adding two rebounds and four assists. In addition to scoring nearly half of Ohio State's points, Thomas scored 10 in a decisive 15-0 second-half run. He was simply too much for Bo Ryan and the Badgers to deal with.
No. 4 - Craft vs. Michigan State
How appropriate for Craft to fall in line in the No. 4 spot. Craft was the killer in a slasher film, slicing through the paint and the Michigan State defense to score a career high 21 points in a 68-60 win at Value City Arena on Feb. 24. The rosy-cheeked assassin hit 7/12 from the floor, with three rebounds, six assists and a steal. Whether setting up Ross for a key triple or carving his way to the basket, Craft was a sneaker-wearing ninja that night.
No. 3 - Craft vs. Michigan State
It was another big game for Craft and another win over the Spartans on March 16. In the semifinal game of the Big Ten Tournament, Ohio State's No. 4 scored 20 points on 9/13 shooting, nearly replicating his performance from late February. This time, Craft added nine assists and four steals to lead his team over Sparty in the Windy City.
No. 2 - Thomas at Michigan State
Deshaun Thomas checks in at the second spot in yet another game against Michigan State. Tank rained down 28 points in East Lansing on Jan. 19 in a 59-56 heartbreaking loss. Thomas hit 10/20 from the floor including 6/11 from deep. He ripped down seven boards in what was one of his most dominant performances of the year. The Spartans spoiled the party, but Deshaun was amazing.
No. 1 - Craft vs. Iowa State
Thomas scored 22 points and grabbed five boards, but it was Craft who willed the Buckeyes to a 78-75 win over Iowa State and a trip to the Sweet 16. Craft scored 18 points with a rebound, six assists and two steals. But more importantly, it was his buzzer beater from three that provided the final margin of victory.  By swishing his only three-point attempt of the night over the outstretched arm of Georges Niang, Craft broke the Dayton jinx and sent Ohio State to Los Angeles for the second weekend of the NCAA tournament.