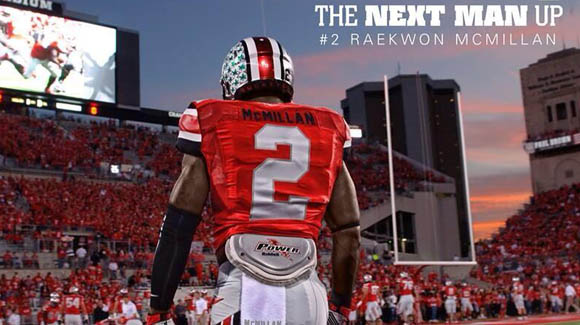 In two seasons under Urban Meyer, Ohio State has regained its status among college football's elite. Twenty-four wins, one loss, a productive backfield and stout offensive line. It's the defensive side where question marks have sprouted, with most gathering at the linebacker position.
Penn State claims the moniker Linebacker U., but the Buckeyes could also own rights to the title. Meyer believes the play of A.J. Hawk, Bobby Carpenter and James Laurinaitis was the best at linebacker during the 2000s. That production level has tapered off considerably in recent seasons, though. If All-American Ryan Shazier is removed from the equation, Ohio State is ordinary at best.
"The linebacker position is still my biggest concern on our team," Meyer said in November. "The depth is a major concern. When you think of the great linebackers here; arguably the last decade as good a linebackers as anywhere in the country played at Ohio State."
Now, a surge is coming. Four highly touted linebackers, including the nation's top man-in-the-middle, Raekwon McMillan, have pledged their allegiance to the Buckeyes, on top of underclassmen Trey Johnson and Mike Mitchell. Suddenly, depth at linebacker is plentiful. And depth can outplay talent.
McMillan's commitment wasn't just important in terms of setting the roster, but also because he was plucked from Alabama, Clemson and Auburn in the Deep South. To win a national championship, Meyer must defeat southern schools on the football field and in the living room.
McMillan is perhaps the biggest commitment secured by Meyer during his tenure at Ohio State. Coaches and staff members can't comment on prospects until they sign a National Letter of Intent, but Mark Pantoni's "BOOOOOOOOOOOMMMMMMMMMMMMMMMMM" tweet said all that was needed. McMillan, a five-star recruit, was a must-get at a position of dire need. He's exactly the type of impact player Meyer covets.
At Florida, Meyer built a national powerhouse through an athletic, dominant defense. The speed and strength of the front seven overwhelmed opponents and allowed an equally impressive offense to power past the competition. With the Buckeyes' pass defense in shambles, an energetic front half of the defense could take pressure off the secondary.
"I've been blessed to coach a couple championship teams, and the common denominator is not rushing yardage, passing yardage, blocked punts, whatever – it's great defense." -Urban Meyer
As much as the SEC is disparaged in Columbus, their style of football remains the surest way to national titles. It just so happens to be the desired formula for Meyer as well. Since the day he was hired – now more than two years ago – Meyer has stockpiled elite athletes for the defense, the place where any championship caliber program is formed.
"I've been blessed to coach a couple championship teams, and the common denominator is not rushing yardage, passing yardage, blocked punts, whatever – it's great defense," Meyer said.
There's a reason the Oregons, Baylors and Oklahoma States of the sport don't appear regularly – if ever – in the national championship game. Shoddy defenses undercut each team.
"You look at the SEC and the teams that are playing for national championships, obviously Alabama has been leading that charge, and they have been built on defense," Notre Dame head coach Brian Kelly said.
If Shazier leaves early for the NFL, which is expected, the projected starters at linebacker are Curtis Grant, Joshua Perry and Johnson. Mitchell and McMillan would factor into the rotation, while the status of Dante Booker, Kyle Berger and Sam Hubbard is unknown. Meyer isn't a fan of handing out redshirts, but all three true freshman playing defense could be unrealistic. Special teams is a more plausible landing spot.
Cam Williams, Devan Bogard, Chris Worley and Darron Lee also remain in the mix at linebacker.
"They don't look Ohio State-ish. We're nowhere near where we need to be as far as the expectation level of the linebacker play here," Meyer said. "We need to get back to that."
Raising the specter of playing as true freshmen is the early enrollee aspect. McMillan will officially become a Buckeye the first week of January, allowing him to get a head start on the complexities of college. It also permits him to participate in spring drills and become acclimated with the rigors of college football.
A dominant theme evolved this season, and it was Meyer's unimpressed nature with the linebackers. The message wound through the corridors of the Woody Hayes Athletic Center and into the linebackers meeting room.
"I think it's definitely motivation," Perry said. "I know what we do in our meetings and how we react to that. We take that as a challenge.
"Early in the year, I think we were a team of talented guys, but not necessarily technicians. We weren't great at fundamentals, didn't necessarily have as good of a grasp on the scheme as we do right now. Then when you turn on the film, you see guys running to the ball with better effort. I think that comes with confidence from knowing what we're doing."
The challenge will continue, but instead of Meyer's words being the source, it will be competition on the practice field.