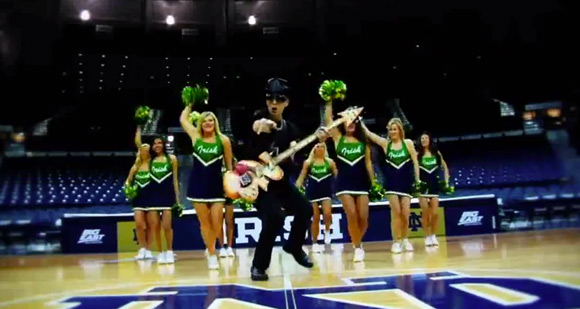 The rankings show Ohio State is undefeated and No. 2 and 3 in the country. They also say the Buckeyes have played a weak schedule. Even head coach Thad Matta said he doesn't know how good his team is.
"I've asked myself that question about a hundred times a day. That's one of the hardest parts of coaching because there are so many ups and downs throughout the season," Matta said. "A lot of times you need to hit both and see the response. Do you embrace success or wilt under pressure when things aren't going well?"
The eye test says Ohio State is one of the top teams in the country. It's elite defensively and more than adequate on offense. Every win has come by double digits and 30-point victories aren't a rarity.
A true test will come inside historic Madison Square Garden. Notre Dame is 8-3, but the Fighting Irish should compete for an NCAA Tournament berth. The Buckeyes stiffest tests so far have been Marquette and Maryland. The defensive outing at Marquette is perhaps the finest in the country this season – and still could be come April.
Ohio State limited the Golden Eagles to 35 points and shooting percentages that were beyond belief. It also ended a 27-game home win streak, then the second longest in the nation. Like any good team, corporation or business, teamwork and leaders positioned at the beginning of the food chain is what makes the Buckeyes go and go so efficiently.
"We have great leadership at the top – two seniors, five juniors that have been in this program for a while," junior forward Sam Thompson said. "We've been to the top and we've had some bad losses. I think we're conditioned to handle adversity well."
| # | Name | YR | HT/WT | PTS | REB | AST | P | # | Name | YR | HT/WT | PTS | REB | AST |
| --- | --- | --- | --- | --- | --- | --- | --- | --- | --- | --- | --- | --- | --- | --- |
| 4 | A. Craft | SR | 6-2/195 | 10.0 | 3.2 | 4.8 | G | 0 | E. Atkins | SR | 6-2/182 | 11.9 | 3.5 | 4.6 |
| 3 | S. Scott | JR | 6-1/185 | 7.8 | 4.3 | 3.7 | G | 22 | J. Grant | SR | 6-5/203 | 19.1 | 2.5 | 6.4 |
| 32 | L. Smith Jr. | SR | 6-4/210 | 13.5 | 5.3 | 1.6 | G | 23 | D. Jackson | FR | 6-1/195 | 7.8 | 2.8 | 2.1 |
| 10 | L. Ross | JR | 6-8/220 | 12.5 | 4.9 | 0.5 | F | 24 | P. Connaughton | JR | 6-5/214 | 13.9 | 7.3 | 2.6 |
| 23 | A. Williams | JR | 6-11/250 | 10.1 | 7.7 | 0.3 | C | 11 | G. Sherman | SR | 6-11/255 | 14.3 | 7.5 | 0.8 |
Opponent Breakdown
It's been a head-scratching season thus far for Mike Brey and the Notre Dame Fighting Irish. They beat Indiana last weekend, but suffered losses to Indiana State and North Dakota State in the weeks prior. Year 1 in the ACC could be long and torturous if consistency isn't found.
Saturday night in New York City offers the Irish an opportunity to secure another signature win and gather some momentum before the conference schedule begins with a highly anticipated game with Duke in South Bend.
"We're not focused on that right now. We have a lot of things to worry about," said senior center Garrick Sherman, a Kenton graduate and transfer from Michigan State. "We just have to play, get our heads clear and play as hard as we can. We just have to be ready. We've got a big game. It's a good opportunity."
It's the second such chance Notre Dame's received in as many games. Last Saturday, the Irish beat the Hoosiers in front of a crimson-and-cream-clad Bankers Life Fieldhouse. After struggles at both ends of the floor, Notre Dame put together a complete game. It limited Indiana's transition attack and forced them to shoot jump shots, which resulted in a field-goal percentage that barely crept over 40 percent.
In all three losses this season, the Irish have allowed opponents to get too comfortable and dictate every facet of the game.
"You're always playing catch-up and that's not something you want to do ever," junior guard Pat Connaughton said. "It comes down to that mental focus to start the game."
Buckeye Breakdown
Ohio  State basketball isn't just about the Aaron Crafts, Lenzelle Smiths and LaQuinton Rosses. Jake Lorbach also gets his moment in the sun. Last week, the junior walk-on scored a career-high six points against Bryant. That's heady stuff for someone who's played 10 minutes the past two seasons.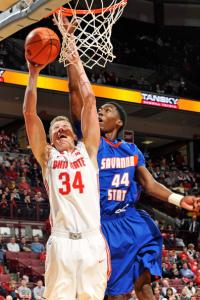 Most of Lorbach's work, though, is done on the practice court. The former high school volleyball star prepares his teammates each week for the upcoming opponents.
"Jake's done a tremendous job for us," Matta said.
Before last week's scoring onslaught, Lorbach was mostly known for running onto the court prematurely after Craft's last-second three-pointer against Iowa State. But he put a new image in fans minds after completing an ugly breakaway dunk versus Bryant. It sent Value City Arena into a frenzy.
"When I was sitting on the bench , my knees were feeling kind of tired from that week of practice," Lorbach said. "So I think once I got the ball on the breakaway, it was just like a lot of adrenaline and then me thinking about my knees and whether or not I was going to get high enough. It was a split second. Fortunately I was able to get up high enough and put it down."
Lorbach said his stature has grown on campus since the outing and his Twitter followers have swelled. He's fine with the sudden attention on campus. It's something he's always received from coaches and players.
Matta said Lorbach provides the team with whatever it needs in practice. He'll guard various people and give them several different looks at each end of the floor. 
Etc
Ohio State is 7-4 all-time against Notre Dame.
Thad Matta is 131-23 in non-conference games at Ohio State.
OSU ranks in the top five nationally in: three-point field-goal percentage defense, scoring defense, fewest fouls, scoring margin and field goal percentage defense.
"For Jake, wanting to be a part of this basketball team and knowing that his role was never going to be significant by any stretch for the team, but we're going to require him to be a great teammate and have a great attitude every single day –  he's definitely exceeding our expectations," Matta  said. "He's here every second that they're here and not getting to do the majority of the things they are, so when something happens, I think they're excited for him."
Attention for walk-ons is nothing new at Ohio State. Mark Titus is perhaps the most well-known non-scholarship player in NCAA history aside from Rudy. Titus gained a cult following due to his popular Club Trillion blog. He followed that up by writing a humorous book about his playing career.
According to Lorbach, Matta advised him not to be another Titus. But the head coach laughed off those accusations.
"I love Mark," Matta said. "Still do."