Welcome back to Tuesday night and your weekly Buckeye recruiting update. Last Tuesday we talked at length about where things are headed with respect to the final pieces of the 2014 class in Columbus, and the last two days have proven to be quite fruitful for the Scarlet and Gray. Ohio State added key commitments from its top remaining offensive and defensive targets only days after losing out on their key remaining offensive line prospect, Chad Mavety, who committed to Florida State last Monday.
Yesterday, it was the dramatic and tension-filled announcement of Raekwon McMillan, who became (perhaps) the single biggest recruiting win for Urban Meyer in his three years at the helm of the goodship Buckeye. Today, it was Dwyer High School (Palm Beach Gardens, Fla.) wide receiver Johnnie Dixon who made his pledge and decided to "roll with the Buckeyes."
While we never want to put too much stock into a player (or in this case, players) who've yet to play a game or even participate in a practice. However, it's difficult to not count these two recruitments as major wins for Ohio State and not just because of on-the-field potential, but because the Buckeyes and Urban Meyer went head-to-head with national perceptions about the Big Ten, about Ohio State about the SEC and southern football's supposed dominance and won. Twice. For the Buckeyes to win the battles on the field, the Buckeyes need to win the battles in the living rooms, and Urban Meyer is doing that. He's selling the nation's most talented prospects not on the idea that Ohio State is just a great place to go to school and play football, but that Ohio State is the place to do those things and unseat the southern reign of terror.
More important than what Meyer is selling? Players across the country are buying in. 
How did Ohio State win these key battles? Let's take a little closer look.
Recruiting, for all its complexities, all the nuances and strategic implementation that's taken hold of the process lately, is still — and always will be — about relationships first. Ohio State identified early the importance of McMillan and Dixon to their longterm success, and did not, at any point, allow that to wane. It's that commitment to a player which leads to a player's commitment to you.
RAEKWON MCMILLAN

For McMillan, it's been a much tougher choice than many recognized. He has long felt Ohio State was the "right" place for him, sharing with me over a year ago (August of 2012, in fact) that he was "pretty sure (he was) going to Ohio State," but that adoration didn't necessarily remove his need to fully consider other opportunities; to see what other schools could potentially do for him as a student, person and a football player. There was much made of a desire to "stay close to home," but that was simply not enough of a factor for McMillan to discount any school, let alone the one that he had fallen in love with from the start. 
What McMillan found at Ohio State was a consistent, open, honest and valuable relationship with Urban Meyer, an above-average academic institution and a football program that will continue to compete for championships as it has for the past 60 years. He chose the trust he had in Meyer's plan above the narrative, and we all know what that narrative is, but it wasn't easy for him. In fact, the nation's top linebacker didn't finalize his choice until 8:30 a.m. Monday morning, hours before announcing his decision to the world. He didn't let Meyer know until minutes before the broadcast shared it with the world.
Ohio State, despite the knowledge that they'd done everything and anything they could do to secure McMillan's commitment, was on pins and needles until the end. That's recruiting.
JOHNNIE DIXON

The Dixon saga has been remarkably different. McMillan, long thought to be "all Buckeye," was a public chase, a nationally-recognized player, tops at his position. Everyone knew where he stood with Ohio State and they him, but Johnnie Dixon's recruitment has been in stark contrast to that from the start. Until just recently, almost no one believed that Ohio State could actually land the wide receiver who has been at the top of Ohio State's list all year. Ohio State has silently cultivated an incredibly close relationship with Dixon for the past year, led by Zach Smith, and it was that relationship that carried the Buckeyes to the top despite all the crowing to the contrary. Dixon to Miami, Dixon to Alabama; Dixon to anywhere but Ohio State was the refrain.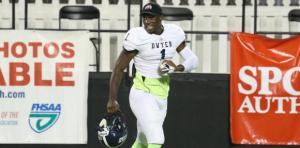 Scheduled first to make an announcement on December 8th, Dixon decided to move back the date a few days. Most speculated it was as a result of his December 7th official visit to Miami, a visit that caused him to move the 'Canes back to the front. After an in-home visit with Urban Meyer and Smith, Dixon's biggest perceived roadblock to being a Buckeye, his mother's approval, was removed, and the Buckeyes felt even more secure knowing Dixon was their guy. Last Friday night, rumors again began to fly that Dixon was set to announce and when he appeared at the Florida state championship wearing a Buckeye hat, it seemed inevitable that Ohio State was set, once again, to land the 5-foot-10, 190-pounder who reminds some in Buckeye circles of Clemson's star wide receiver, Sammy Watkins. 
After an exciting state title victory, Dixon once again put off his commitment, this time according to his head coach. Again, rumors of the delays cause fell to the side of "Miami must be making a push, he must be changing his mind," but today that narrative fell flat once again when he finally made the decision public. Dixon's delays, numbered though they were, were necessary: he needed to make sure that all his proverbial ducks were in a row in order to facilitate a January 6th enrollment at Ohio State. When that was clear, so was his choice. 
What are the Buckeyes getting in Dixon? A source close to the recruitment pulled no punches.
"He's a legit track guy, (but that speed) carries it over to the field and plays fluid with great ball skills. Above all of that he is an A-1 kid who has extremely high intangible values. (He has) the "it" factor."
Almost all the kudos for Dixon's commitment belong to Zach Smith, who has turned himself into a tireless Buckeye advocate on the recruiting trail. 
YOU SERIOUS, CLARK?

It's not often that a high school freshman receives a scholarship offer from any coach not named Lane Kiffin, so when the Buckeyes pulled the trigger and offered Massillon freshman quarterback Danny Clark last Friday afternoon it was a bit of a surprise. It was not a surprise because of Clark's talent, which is immense, a talent that — as it continues to develop — could end up marking him as one of the best high school quarterbacks in Ohio history, but because of the timing, so soon after the end of his freshman year. 
Urban Meyer had seen enough of Clark's game, combined with projecting where he's headed, to make the offer and Clark accepted on the spot, perhaps the single least surprising commitment in Buckeye football history.
Clark hasn't wasted time attempting to lead his 2017 class, already reaching out to Liberty County (Hinesville, Ga.) freshman sensation Richard LeCounte. LeCounte is a high school teammate of Raekwon McMillan, and while he is very high on Ohio State early, don't look for any commitment soon.
WHAT'S NEXT

As Jordan highlighted yesterday, we've now entered in a recruiting "dead period," which means no visits for coaches, which is a nice break for student-athletes and their families as they celebrate the holidays if you ask me. While the news may be a bit slower over the next few weeks, it'll ramp back up considerably, starting for the Buckeyes on Saturday, January 4th, with the probable commitments of Marshon Lattimore and Erick Smith, the talented defensive back duo from Cleveland Glenville. Despite their protestations, it's likely both end up putting on Buckeye hats in San Antonio at the US Army All-American game.
The Buckeyes are in an interesting spot with two of the nation's premiere defensive ends as well. Solomon Thomas and Malik McDowell, two of the best uncommitted defensive linemen in the country, will each make their final official visits to Ohio State. Buckeyes defensive line coach Mike Vrabel has been at the front of each recruitment, and the Buckeyes are in a better than discussed position with both. Whether or not that leads to a commitment from one or both remains to be seen, but you can expect Ohio State to be in the equation for each when signing day arrives.
With 19 commitments in the fold out of an expected 23-24, there are sure to be unexpected players added to the mix soon, and we'll do our very best to keep you apprised of every possibility.