Brandon Fields' facemask is the undoubted star of this Dolphins derp-fest, but Nate Ebner is there to make sure his name ends up in the boxscore. It's his second fumble recovery of the year, reminding us he is the sole opportunist of your silly mistakes, NFL. 
Special teams gaffes were expected when Mike Nugent took over as the Bengals punter, but he was serviceable. Strange happenings on special teams continued to be a theme for Buckeyes in the NFL, as Chimdi Chekwa took part in a trick play on Oakland's punting unit. 
In less zany news, Mike Brewster suffered a severe ankle injury and had to be helped off the field. Santonio Holmes also ate his overblown words, in a sense.
Plus, Eleven Warriors has stats from all former Ohio State players in the NFL.
OUT OF NECESSITY, Nugent displays versatility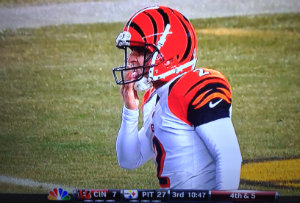 As a former SportsCenter anchor, the NFL Network's Rich Eisen is an expert in creating a catchphrase and, summarily, running it into the ground. One of his more recent inventions is "punters are people too" (complete with t-shirts!). 
Unfortunately, Terence Garvin did not treat Bengals punter Kevin Huber like a fellow human being. Instead, the Steelers' linebacker turned Huber into a personal rag doll. That vicious, un-flagged hit resulted in a fractured jaw for Huber.
Most NFL teams lack the ingenuity to keep two punters on their active rosters, so the kicker normally takes over the punting duties. For the Bengals, that meant Nugent became the interim punter. 
He might be the second-coming of Ray Guy, but it's a work in progress. His two punts averaged 40 yards, which would put him dead last in the NFL if applied to a whole season's work. 
The Bengals went on to lose to the Steelers, 30-20. That was largely a result of Cincinnati's early, special teams gaffes, although no blame should be applied to Nugent. 
Brewster fractures ankle
In Brewster's two seasons with the Jaguars, his playing time has been somewhat spotty. Last year, he started seven games and entered Sunday with two starts in 2013.
Veteran center Brad Meester has spent 14 seasons in Jacksonville and isn't stepping aside for anyone. So, Brewster has been plugged in at other spots on the line. Sunday, with Will Rackley out with a concussion, Brewster started at left guard. 
Unfortunately, it was a short stint. After Bills defensive tackle Kyle Williams rolled on his ankle in the first half, Brewster went down. Apparently, Chad Henne might have fell on it, too. Either way, Brewster had to be helped off the field and couldn't put pressure on his left ankle. The Jaguars trainers also had to bring out the cart.  
After the game, head coach Gus Bradley told the media Brewster suffered a fractured left ankle. It's a tough blow for him, as he tries to impress a new coaching staff and for the team, down to their third-string guard. 
Holmes' comments provide motivation for panthers
These days, anything Holmes says is likely to be blown out of proportion.
He's not living up to his huge contract and he's a target in the haughty New York media. To be fair, injuries have taken away a large percentage of his last two seasons. Even if he was healthy, is he really expected to catch anything thrown by Mark Sanchez or Geno Smith? 
So, when Holmes paid the Panthers defense a, somewhat, back-handed compliment, it was unlikely that he would be casted in the most favorable light. 
"Not to call these guys out, but their secondary is probably the weakest link on their defense," Holmes said, Thursday. "Their front seven are guys that are really going to get after the ball. They have really great pass rushers. We know how physical these guys are."
The Panthers defensive backfield was not flattered by those comments, and used them as motivation to shut down Holmes. Carolina coach Ron Rivera even brought it up in the lead-up to Sunday's game. 
"We're the weakest link? I took that real personal," Panthers cornerback Captain Munnerlyn said, after the game. "Santonio Holmes lit a fire in our secondary, and we showed up today."
Holmes finished the game with 2 receptions and 14 yards. Munnerlyn had a 41-yard interception return for a touchdown. 
"I'm an eight-year veteran. I wouldn't regret anything," Holmes said, after the game. ""I said it and I still feel that way."
Chekwa's impact on the Raiders has been felt on special teams, almost exclusively. Oakland selected him the fourth-round of the 2011 draft as a cornerback, but he showcased his wide pass catching skills on a fake punt, Sunday. 
It was an obvious trick play situation in CBS analyst Dan Fouts' mind, meaning it was even more obvious to everyone watching. Running back Marcel Reece made the 22-yard toss to Chekwa, making it one of the few Raiders passes that didn't end up in the hands of the Kansas City defense. 
How ex-Buckeyes Fared During Week 15
| Player | team | position | stats/Notes |
| --- | --- | --- | --- |
| Mike Adams | Pittsburgh Steelers | OT | Briefly filled in at LT for Kelvin Beachum |
| Will Allen | Pittsburgh Steelers | S | 5 tackles, 1 tackle for loss in win over Bengals |
| Jake Ballard | Arizona Cardinals | TE | 3 rec, 13 yds, 1 touchdown catch  |
| Alex Boone | San Francisco 49ers | OG | 49ers rush for 187 yards in win over Bucs |
| Michael Brewster | Jacksonville Jaguars | OL | Started at guard, left after fracturing his left ankle |
| Chimdi Chekwa | Oakland Raiders | CB | Showcasing wide receiver skills on fake punt  |
| Kurt Coleman | Philadelphia Eagles | DB | 2 tackles, one injured hamstring, one ecstatic fanbase  |
| Jim Cordle | New York Giants | C | On injured reserve |
| Nate Ebner | New England Patriots | DB | Recovered fumble after Brandon Field's head butt |
| Reid Fragel | Cleveland Browns | OT | Inactive while his team continues perpetual tanking   |
| Ted Ginn Jr. | Carolina Panthers | WR | 1 rec, 10 yds, 1 carry, 14 yds |
| Johnathan Hankins | New York Giants | DT | 3 tackles in loss to Seahawks |
| Brian Hartline | Miami Dolphins | WR | 5 rec, 70 yds, inspiration to young, white males |
| Ben Hartsock | Carolina Panthers | TE | Continues to carve out niche as a great blocking TE |
| A.J. Hawk | Green Bay Packers | LB | 3 tackles, still working on a loose chinstrap issue |
| Boom Herron  | Indianapolis Colts | RB | On injured reserve |
| Cameron Heyward | Pittsburgh Steelers | DE | Continues strong season with 3 tackles in win |
| Santonio Holmes | New York Jets | WR | 2 rec, 14 yds "weak link" secondary shuts him down |
| Malcolm Jenkins | New Orleans Saints | S | 4 tackles and missed a few more in loss to Rams |
| James Laurinaitis | St. Louis Rams | LB | 5 tackles, 1 tackle for loss in win over Saints   |
| Nick Mangold | New York Jets | C | Jets ran for 157 yds vs tough Panthers D, still lost |
| Jake McQuaide | St. Louis Rams | LS | Snapped 2 FGs, 3 XPs in win  |
| Mike Nugent | Cincinnati Bengals | K | Stepped in at punter after hit on Kevin Huber |
| Ryan Pickett | Green Bay Packers | DT | 2 tackles in comeback win against Cowbys |
| DeVier Posey | Houston Texans | WR | Injured ankle in team's 12th loss  |
| Terrelle Pryor | Oakland Raiders | QB | 1/4, 12 yds, 1 INT, 3 rushes, 19 yds in loss to Chiefs |
| Dane Sanzenbacher | Cincinnati Bengals | WR | Inactive in loss to Steelers |
| John Simon | Baltimore Ravens | LB | Plays tonight at Lions  |
| Rob Sims | Detroit Lions | OG | Plays tonight vs Ravens |
| Austin Spitler | Miami Dolphins | LB | Dolphins counted out "Touchdown Tom" and won? |
| Jake Stoneburner | Green Bay Packers | TE | Inactive in win over Cowboys |
| Donte Whitner | San Francisco 49ers | S | 1 tackle, 2 pass deflections in win over Bucs |
[GIF via @CorkGaines]