The 11W Community Interview is truly of the people, by the people, and for the people. You submit the questions, vote on them, and then we pass the top ones on to the biggest names in the world of Ohio State athletics.
Welcome back to another 11W Community Interview, this week we'll be talking to future Buckeye, and back-to-back Ohio state champion, Parris Campbell from Akron St. Vincent-St. Mary High School.
Campbell burst on to the national recruiting scene when he not once, not twice, but three times found pay dirt in the state title game his junior year, a feat he accomplished with none other than Urban Meyer standing on the sideline watching intently. Less than two months later, Campbell had earned his scholarship offer from the Buckeyes and made his intentions known quickly: he was a Buckeye.
Now, a year later and with another title in the bag, Campbell's a well-known name after being selected for Nike's "The Opening," training camp in July, and his football talents made him one of the most dangerous players in the country with the ball in his hands.
Let's get to know a bit more about Parris Campbell, Ohio State commitment, as a person.
How nice is it being able to call yourself and your teammates "two-time state champs?" Was there any difference in your teams approach to the playoffs this year compared to last? - PCuzz1
PC: It feels amazing to have achieved that because we worked so hard for it. Nothing was different, we had the same mentality to play hard, put it all on the line, and get the win and we did that.
What goals (on and off field) do you have set for your Buckeye career? - 703Buckeye
PC: My goal on the field is to play to my best ability at all times, no matter what. I want to be a person that changes the game of football and play it how I want it to be played. I want to go down in history as a guy who was a wonderful football player, without question. At Ohio State, my goal is to get a great degree and of course win national championships. I have a goal to continue doing well in the classroom as well. Right my GPA is a 3.3, and I want to maintain that.
What current, or former Buckeye do you look up to, and what current/former Buckeye do you feel you compare to? - Alex Boones Liver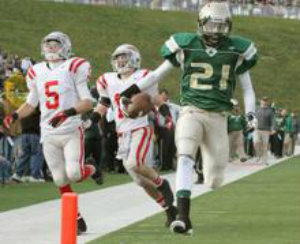 PC: One Buckeye I look up to is Doran Grant. He is an Akron St. Vincent-St. Mary's alum, and he's always been around me helping me with different things and being a good guy. He gives everything he does 110-percent and I really don't know who I would compare myself to, I try and be my own player.
What position are you primarily being recruited for? And what positions can you see yourself playing? - TJames43
PC: I'm currently being recruited as an athlete, but I feel like I can play both receiver and running back. My favorite is running back, so I hope I get a chance to play there, but I will do whatever is best for the football team.
With you skipping a grade early on, are you still growing into your body? What's your weight like right now? Does the staff possibly see you becoming a three-down back once you've hit a college weight program? - CalgaryBuck
PC: Yeah I'm definitely still growing, (laughs) I'm only 16. Right now I'm at 185-pounds, I'm looking forward to getting to college and adding more good weight.
With you, Terry McLaurin, Curtis Samuel, Dontre Wilson, James Clark, Jalin Marshall and more, are you excited about the DAMAGE you're about to do against opposing defenses when you suit up? - Gametime
PC: Yeah it's pretty exciting, for sure. It's going to be fun playing with all that speed all over the field. I can't wait to see what we can do as teammates.
Who is more intimidating, Coach Meyer or Coach Coombs? - TILSTHEHUN3
At Ohio State, my goal is to get a great degree and of course win national championships.
PC: Coach Meyer, just because he's the head coach and the guy. Don't get me wrong I love coach Coombs that's my guy, but he's not as intimidating to talk to as Coach Meyer.
When did you know that you wanted to be a Buckeye? - Buckeye_Heart
PC: I mean I always kind of knew in the back of my head that if I got the chance, I'd be a Buckeye. What really sealed the deal was the visit for the junior days when I committed. I just knew it was the right place for me as a football player and a person and student.
What jersey number do you wish to wear at Ohio State? - Buckeyes43201
PC: I plan on wearing No. 21. I've wore that number ever since pee-wee football.
What will you miss the most about high school and what gets you most excited about being a freshman in college? - Cinserious
PC: I will most miss playing with my brothers, and everything about the St. Vincent-St. Mary's family being at all the games and going nuts. The most thing I'm excited about is just the ability to play at Thee Ohio State University, that speaks for itself. It's a dream come true.
Thanks for all love and the questions, Buckeye fans. Go Bucks!