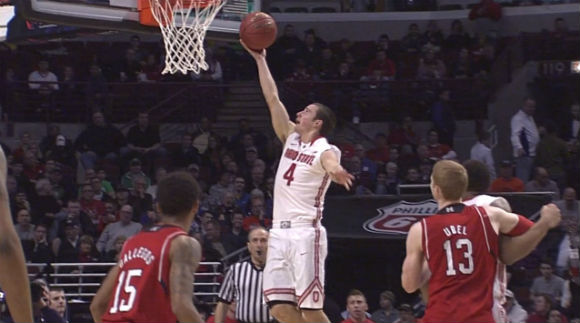 Not to depress you or anything, but we're now just 21 scheduled games and an as-yet undetermined number of postseason appearances away from the end of the Aaron Craft era.
In case you've been living under a rock for three years, you know by now how special Craft's career at Ohio State has been. In a culture that pours accolades upon the guys who score the most points, it might be easy to overlook No. 4's incredible career. Thad Matta knows a lot about basketball and he'll tell you how important Craft has been, if only he could think of what to say.
"It's hard to put into words what Aaron has meant to this program and to this university," said Matta after last night's 79-62 dismantling of North Dakota State — a game during which his point guard became the school's all-time assist leader, with 581. With his seven helpers against the Bison, Craft passed (see what I did there?) Jamar Butler's career total of 579. Craft had already snagged the program's career record for steals during his junior year.
To put it in more simple terms, no player in the 121-year history of Ohio State basketball has taken the ball away from the opposition or set his teammates up to score more than Aaron Craft. Those are insanely important things to do in the game of basketball, and every bit as vital to team success as scoring points. The two school records are going to be more than broken by the time Craft leaves — they'll be crushed.
We've talked about this before, but are you appreciating it?
Craft plays hoops with zero regard for his body and with more passion than most people approach anything in their lives. He attacks the game with gusto, often getting more excited about little things like creating a five-second call than hitting a three-pointer, although that can get pretty exciting too.
What we've all witnessed these last three years (and some change) is a guy who has turned defense into an art form. It's more than steals or deflected passes. He draws five-second calls and charges. His mere close proximity to an offensive player who receives a pass often creates a traveling call on the startled opponent who expected only oxygen where Craft's body turned up. That's not normal.
Aaron Craft's CAREER HONORS
2013-14 CBSSports.com Preseason All-American,
2nd Team
2013-14 Sporting News Preseason All-American,
3rd Team
2013 Big Ten Tournament MOP
2013 Big Ten All-Tournament Team
2013 USBWA All-District V Team
2013 First Team All-Big Ten, media
2013 Second Team All-Big Ten, coaches
2013 Big Ten All-Defensive Team, coaches
2013 Capital One Academic All-America of the Year/
First Team Academic All-American
2012-13 Bob Cousy Award Semifinalist
2013 Big Ten Player of the Week (March 11)
Hall of Fame Tipoff All-Tournament Team
2012-13 Wooden Award Preseason Top 50
2012-13 Naismith Award Preseason Top 50
2012 NCAA Elite 89 Award-Highest GPA in Final Four
2012 Big Ten Defensive Player of the Year
2012 Capital One First Team Academic All-American
2012 Third Team All-Big Ten (media)
2012 Honorable Mention All-Big Ten (coaches)
2012 Big Ten Sportsmanship Award
2012 Bob Cousy Award Semifinalist
2011 Big Ten Sixth Player of the Year
2011 Big Ten All-Freshman Team (coaches/media)
2011 Honorable Mention All-Big Ten (media)
2011 Big Ten Freshman of the Week (Jan. 17)
Are you appreciating it?
Craft is also the only player in the history of Ohio State basketball to amass more than 1,000 career points, 500 career assists and 250 steals. Along with leading all Buckeyes who ever played in total thefts, Craft is also tied with Northwestern's Pat Baldwin for fifth in conference history.
Something else that isn't normal is the amount of fun it is to watch Craft play. There have been many great basketball players at Ohio State over the years — Kelvin Ransey, Herb Williams, Dennis Hopson, Jay Burson, Jim Jackson, Evan Turner, Jared Sullinger and many others have worn the scarlet and gray. But how many of those guys were more fun to watch than the rosy-cheeked assassin?
About the only thing people could knock about Craft's game over the years has been his shooting. But he has shown the ability to score when needed. In just about every big game last season, Craft was the go-to guy on offense down the stretch of tight games, despite the presence of the prolific Deshaun Thomas. Craft can get to the rim when he wants to, and if he's surrounded, he'll just find whoever was left open.
Only 44 men have scored more points in a Buckeye basketball uniform than Craft, and he'll likely pass Carter Scott and maybe Scoonie Penn on Wednesday against Delaware.
Are you appreciating it?
Being very good at basketball is only one reason to enjoy watching a player. It's even more fun to follow guys who are good people. Craft comes across as a good guy. He's humble in post-game interviews. His obvious commitment to his studies is endearing. And his prowess with a Rubik's Cube has become legendary.
When you add all of his off-the-court qualities with his accomplishments on the hardwood, the sum is a unique elite athlete with the looks and charm of a small town paperboy and the lethality of a ninja.
If he's extremely fortunate and his teammates play brilliantly this season, there will be 30 more games of the Aaron Craft experience. It's just three and a half months until the expiration date of the career of one of the best, brightest, smartest and most likeable ballers to ever ball at THE Ohio State University.
The question is, are you appreciating it?