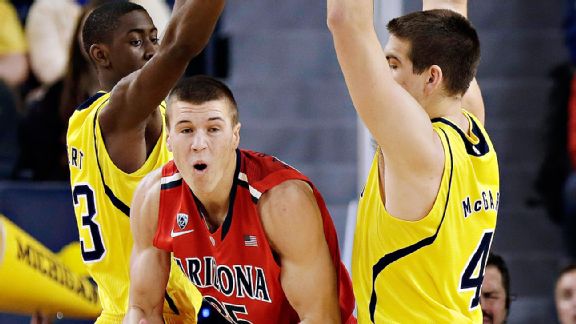 The Arizona Wildcats assumed the title of no. 1 team in the country after Michigan State's loss to North Carolina in the ACC-Big Ten Challenge. Coached by Sean Miller, a former Thad Matta assistant at Ohio State, the Wildcats erased an 11-point deficit to beat Michigan in Ann Arbor. The Wildcats had trailed almost the entire game.
Glenn Robinson III led Michigan with a game-high 20 points on 8/9 shooting. Arizona had four starters in double figures. Brandon Ashley led Arizona with a team-high 18 points.
The loss drops Michigan to a disappointing 6-4 in just ten games into the season. Losing to the likes of Duke and Arizona are understandable. Even the first loss to Iowa State is an understandable loss on the road to a quality team. However, that loss to Charlotte, also coached by a former Thad Matta assistant, makes Michigan's 6-4 record a little bit more curious right now for last season's national runner-up.