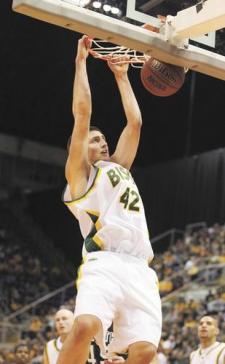 Ohio State began the season with many believing LaQuinton Ross would do most of the scoring and Amir Williams would continue to have growing pains under the basket. Well, consider a lot of people wrong.
One year after Deshaun Thomas led the conference in scoring, evening out the distribution has proven to be an asset for the Buckeyes. Having a No. 1 option isn't a bad thing, but it can become too predictable at times. Through nine games this season, four starters average at least 10 points per game with the fifth just one step behind at nine points.
The current roster make up has numerous options while each one could be the leading scorer on any given night. There's no more relying or leaning on one guy to get the job done.
Then there's Williams' play down low. The junior center is finally beginning to show why he was a five-star recruit. He's averaging more nearly three blocked shots per game. Teams have taken notice of Williams' aggressiveness and are staying out of the lane at times. His presence combined with Ohio State's stout defensive backcourt has made offense a nightmare for opponents.
| # | Name | YR | HT/WT | PTS | REB | ASST | P | # | Name | YR | HT/WT | PTS | REB | ASST |
| --- | --- | --- | --- | --- | --- | --- | --- | --- | --- | --- | --- | --- | --- | --- |
| 4 | A. Craft | SR | 6-2/195 | 10.2 | 3.4 | 4.9 | G | 12 | L. Alexander | JR | 6-3/180 | 9.8 | 5.6 | 3.0 |
| 3 | S. Scott | JR | 6-1/185 | 9.1 | 4.2 | 3.8 | G | 22 | K. Brown | SO | 6-4/200 | 6.5 | 3.8 | 1.4 |
| 32 | L. Smith Jr. | SR | 6-4/210 | 12.9 | 5.1 | 1.6 | G | 24 | T. Braun | SR | 6-7/210 | 16.3 | 3.9 | 4.0 |
| 10 | L. Ross | JR | 6-8/220 | 11.1 | 4.9 | 0.7 | F | 32 | T. Wright | SR | 6-7/185 | 12.1 | 5.8 | 0.5 |
| 23 | A. Williams | JR | 6-11/250 | 10.7 | 7.1 | 0.3 | C | 42 | M. Bjorklund | SR | 6-8/250 | 15.2 | 4.0 | 1.4 |
Opponent Breakdown
Most recently, North Dakota State became a national sensation on the football field. The Bison have won two consecutive FCS national championships with the trifecta a possibility. But North Dakota State isn't bad on the hardwood either. It qualified the NCAA Tournament in 2009 and was a participant in the CBI in 2012 and 2013.
As the Bison stampede to Columbus, they carry a five-game win streak, including an upset at Notre Dame on Wednesday. Two of their losses have come against quality opponents – Saint Mary's and Southern Miss – with another to archrival North Dakota.
North Dakota State is led by guard Taylor Braun (16.2 points) and forward Marshall Bjorklund (15.2). The duo averages more than 30 points combined and are among the top shooters in the country. Bjorklund is the active career NCAA leader in field goal percentage at 66.9 percent. He's never shot worse than 64.7 percent in a season. This year, he's at 71 percent. The three closest players to Bjorklund's career shooting mark are Bill Walton, Lew Alcindor and Akeem Olajuwon.
Bjorklund scored 26 points in the win against the Irish and should pose a challenge for Amir Williams. But the Bison don't just rely on Bjorklund – or Braun.
Two other players – TrayVonn Wright (12.1) and Lawrence Alexander (9.8) – average double figures. They've had four players reach the 20-point plateau this season. North Dakota State is eighth in team field goal percentage at 51.3 percent.
"As soon as they started watching film, they knew how good North Dakota State is," Matta said of his team. "You look at some of the games guys have had, I know our guys are like, 'Wow.'"
Buckeye Breakdown
At No. 3 in the country and sporting a 9-0 record, Ohio State has done things the easy way without a go-to guy on offense or that clear best player. Aaron Craft might be the closest thing. His offensive is sporadic, but defensively and leadership-wise, he's off the charts. Fellow senior Lenzelle Smith Jr. is also becoming more of a name.
Statistically, Smith is having his best season. He leads the team in scoring with 13 points per game and has become a consistent player of the offensive end. The 20-point games followed by four points appear to be a thing of the past. In the last five games, Smith has 19, 17, 12, 10 and 20 points.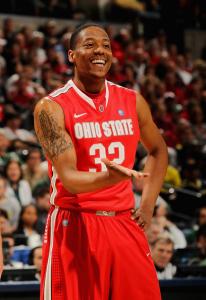 Head coach Thad Matta noticed that when Smith has a chip on his shoulder, he plays much better. So following the Buckeyes' win over Bryant, he jokingly asked reporters not to write about the 6-foot-4 guard.
"Nobody's asked me about him this year, but I think he's playing at a very high level," Matta said. "He's a complete basketball player."
That would include an abundance of team-high marks he's reached – field goal percentage (53), three-point percentage (46) and defensive rebounds (38). Smith has taken on a forgotten man persona, something that's followed him his entire career.
He entered Ohio State with a highly acclaimed recruiting class and just stood in the background. His freshman season involved an injury, setting him back and giving people more opportunities to see Jared Sullinger, Thomas and Craft. Even as his senior season arrived, Craft and Ross garnered most of the headlines.
"I think we saw that a couple years ago when teams were choosing to double-team Jared off of him and he had the one game, I think it was Indiana, where he had 20 something points and rebounds, he was diving off the back side," Matta said.
Smith credits the newfound consistency with continuously working during the offseason, which lifted his confidence to the highest it's been. With Ross and Williams stretching defenses, Smith has been the beneficiary, and teammates are getting him open looks.
"His ability to shoot right at 50 percent from three-point, he's rebounding, his assist to turnover ratio is positive – something that wasn't last year and one of the things we challenged on," Matta said. "He's had a really, really good demeanor about him in terms of being a senior and knowing that, 'Hey, this is my last crack at it.' I just love the way he's playing right now."
Etc
This is the first meeting between Ohio State and North Dakota State. The Buckeyes are 5-1 all-time against Summit League opponents.
North Dakota State won at Wisconsin during the 2005-06 season.
Ohio State has shot better than 52 percent from the field in each of the past four games.