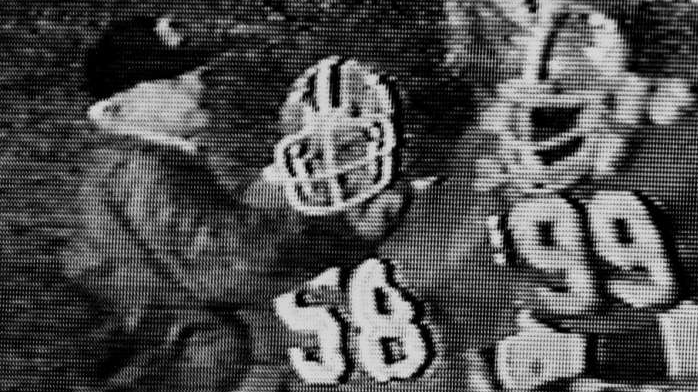 The 2014 Orange Bowl will feature the Clemson Tigers and Ohio State Buckeyes in only their second encounter ever. It is what happened in the two teams' only encounter that will dominate much of the conversation, and b-roll, leading to kickoff of the game in Miami. This game was the infamous 1978 Gator Bowl, in which newly anointed Clemson coach Danny Ford defeated Woody Hayes' Buckeyes, 17-15.
It was the aftermath of this otherwise ordinary game that made it last in college football lore. Charlie Bauman, a linebacker for Clemson, intercepted a pass from freshman Ohio State quarterback Art Schlichter to seal the game for the Tigers. After running out of bounds with the ball to the Ohio State sideline, Bauman triumphantly raised his hands to the predominantly pro-Clemson crowd in attendance in Jacksonville. An irate Woody Hayes lost control of his emotions and swung at Bauman underneath his facemask in a manner so precise it unfortunately demonstrated experience with the practice. A brief melee followed, with Hayes even shoving his own players, like Ken Fritz.
Caught on national television, and noticed immediately by Keith Jackson and Ara Parseghian, it proved to the be the last straw for Woody Hayes' tenure at Ohio State. After refusing to apologize for his actions, the legendary coach at Ohio State for 28 years was fired.
With that in mind, "the punch" may have actually meant more for Clemson than it did for Ohio State.
That is not to discount how crushing it was for Ohio State. Randy Gradishar, Woody Hayes' best ever linebacker, recounted the horror he felt in watching the game live with friend and teammate Tom Jackson, a former Louisville Cardinal, Cleveland native, and Ohio State sympathizer.
Randy Gradishar watched the 1978 Gator Bowl in a Pittsburgh hotel room with Denver Bronco teammate Tom Jackson.

Gradishar was an All-American at Ohio State in the 1970s and one of Hayes' favorite players.

When Hayes lunged at Bauman, Gradishar looked at Jackson.

"I said to Tommy, 'Woody's gone, Woody's done, that's the last straw,' " Gradishar said. "I felt real bad, not for me, but for Woody and the legacy he built, to go out that way...."
The incident may have resonated stronger with Woody Hayes' former players than it did for Ohio State fans. Much of Gradishar's comments that followed, elaborating on the 1978 Gator Bowl, bemoaned how difficult it was for Hayes to leave the program the way he did and how difficult it was for Gradishar to see Hayes years after that infamous incident.
Gradishar seems to echo Tom Skladany's saying of Hayes that his players were afraid of him as freshmen, hated him as a sophomore, liked him as a junior, and loved him as a senior. Much of the anguish regarding the 1978 Gator Bowl may fall on Hayes' former players who may be in attendance for the 2014 rematch between both programs. They saw both Hayes' madness and the method that underpinned it and supported them.
For general Ohio State fans, and certainly the younger ones, I'm unconvinced how much this incident either defined their Ohio State fandom in the 1970s, or how much it may shape their understanding of Ohio State's football legacy now. Though what follows is strictly anecdotal, no Ohio State fan I've met or know personally who came of age with Ohio State football during the "Ten Year War" mentions the 1978 Gator Bowl as the lowest moment of their fandom.
Games and events that typically get the blood boiling include the 1969 game against Michigan, in which Woody Hayes' self-professed best team ever was upset in Ann Arbor and denied a Rose Bowl bid. The 1975 Rose Bowl loss to USC came in a critical scenario where a win against the Trojans could've secured a national championship for the Buckeyes  after an Alabama loss to Notre Dame in the 1975 Orange Bowl. Neal Colzie's monumental error of judgment may have proved fatal.
Further, the 1976 Rose Bowl is one that formally cost players like Brian Baschnagel, Cornelius Greene, Archie Griffin, and Ken Kuhn a national championship in a four-year career that featured only two regular season losses. Perhaps the understated low moment of the decade was the infamous game against Oklahoma in 1977. For what it's worth, my dad (Class of 1978) quipped to me that leaving Ohio Stadium after this game was the closest he came to a homicide, which is saying something, given his rough upbringing. He still begrudges Oklahoma and Barry Switzer to this day. He's not the only Buckeye fan I know who feels that way about that game either.
From an Ohio State fan's perspective, did the 1978 Gator Bowl actualize what was already a fait accompli? Looking back ten years, Woody Hayes' 1968 renaissance came at a time when Ohio State fans had already questioned Hayes' credentials. If the 1968 season did not happen, Hayes may not have made it to 1970. Hayes' tenure in Columbus was far from unblemished. The 1976 season, in which the no. 2 Buckeyes lost at home to Missouri in Week 3, and were later blanked at home by Michigan, 22-0, may have signaled that Hayes' second wind had been exhausted even in a season that featured injuries to key players like Rod Gerald and Pete Johnson.
The 1976 season was followed by a 1977 season in which Ohio State lost to Oklahoma, lost at Michigan, and was so decisively demolished in the Sugar Bowl by Alabama so as to demonstrate that the Ohio State football program was falling behind the national powers, like Alabama and Michigan.
The 1978 season may have sealed Woody Hayes' fate well before the Gator Bowl. Older Ohio State fans may remember that Hayes was in an intense recruiting battle with Bo Schembechler and Joe Paterno for the services of Art Schlichter, arguably the highest rated Ohio State quarterback prospect ever before Terrelle Pryor in 2008. Much has been said of the recruitment of Schlichter and how it was handled by the coaches involved, as well as Schlichter's father. One of the promises Schlichter and his father were wanting regarded playing time. Schlichter felt he should start as a true freshman. Schembechler balked because of what he had in Rick Leach. Paterno cooled because of the commodity he had in Chuck Fusina.
Hayes had a two-year starting quarterback in Rod Gerald returning as a senior. Nevertheless, Hayes said "sure" and Schlichter signed with Ohio State. In an infamous moment, Woody Hayes sent both Schlichter and Gerald in the huddle to start the team's first offensive drive of the season at home against Penn State. Amid considerable anticipation, fans in attendance learned that Gerald was moved to wide receiver and Schlichter had got his wish to start at quarterback.
It proved disastrous. Ohio State was shut out, 19-0, in its last home-opening loss to date. Ohio State later tied Southern Methodist and lost at Purdue and in Ohio Stadium to Michigan to miss on its first conference championship since 1971. Hence, Ohio State went to the Gator Bowl to play Clemson in lieu of a higher profile game like the Orange Bowl or Sugar Bowl.
From this perspective, what was important about "the punch" that would not have manifested sooner rather than later? Hayes, 65 at the time, may have been in the twilight of his career. Punching Charlie Bauman underneath Bauman's facemask may have actualized what Ohio State fans would have been wanting in just a few years' time.
When "the punch" invariably enters into the conversation, both in pre-game and during the telecast of the 2014 Orange Bowl itself, it will be mentioned as a significant blow for Ohio State football. After all, it led to the dismissal of an iconic 28-year head coach with four national championships. However, Hayes remained at the university in an academic and administrative role. Ohio State football said goodbye to Woody Hayes (at least, on the field). The Ohio State University did not.
You will probably not hear what "the punch" meant for Clemson football. It meant much more for Clemson in the broad scheme of things than it did for Ohio State.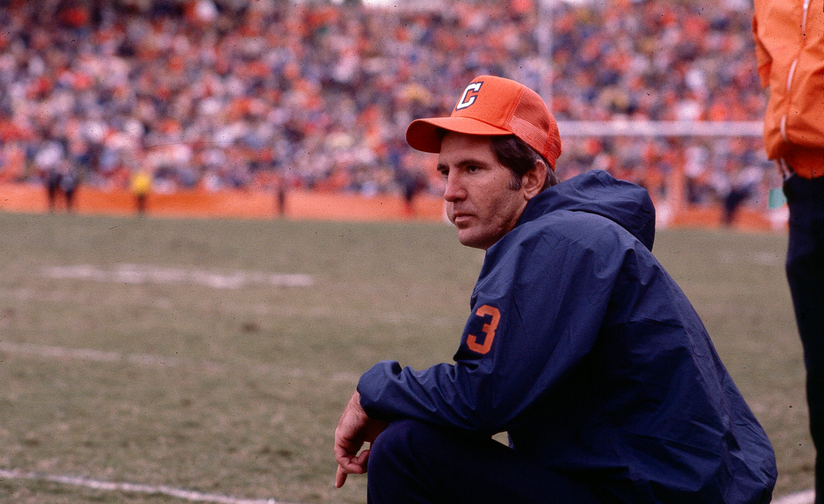 For those unaware, this is the first game that Danny Ford coached for the Clemson Tigers. The Clemson coach for the season was Charley Pell, who left Clemson at the end of the regular season for a job with the Florida Gators, then a college football backwater. Ford, a Bear Bryant protégé from Alabama, was promoted from offensive line coach to full time head coach for his debut against Woody Hayes in the Gator Bowl. Though Clemson was favored in this contest, he brought home the win. He started his tenure with Clemson on the right foot.
It turns out he needed it too. What followed in 1979 and 1980 were not the best seasons for Clemson football. Clemson finished the 1979 season with an 8-4 record, losing to Baylor in the Peach Bowl. The 1980 season proved to be an even bigger disaster. Clemson narrowly lost in Athens to the eventual national champion Georgia Bulldogs. However, it picked up four conference losses to programs like Duke, North Carolina State, North Carolina, and Maryland. Though it was only his second year as a head coach, Ford found himself on the hot seat entering the season finale in Clemson against South Carolina. His youth (he was only 32 at the time) made it a serious discussion.
Under pressure, Clemson came out firing against the no. 19 Gamecocks, which was led by eventual Heisman winner, George Rogers. Clemson won handily, 27-6, putting to rest any questions of Ford's job security. While the victory against the favored Gamecocks may have saved Ford's job, his opening salvo in the Gator Bowl may have made it at least an open question. Failing the ability to beat a fairly limp Ohio State team in a contest in which it is favored, and get its legendary head coach fired, would the win against South Carolina have mattered as much? Would he have already been fired? Clemson finished the season without a bowl game.
Nonetheless, Ford returned to the sidelines in Clemson and made history the following season. Beginning the season unranked, Clemson won its first two contests against Wofford and Tulane before hosting the defending national champion Georgia Bulldogs. Clemson defeated the no. 4 Bulldogs 13-3, shutting down the vaunted rushing attack led by Herschel Walker. Clemson won its next eight games, including a convincing 29-13 win over South Carolina in Williams-Brice Stadium.
Undefeated and ranked no. 4 in the country, Clemson was invited to the Orange Bowl to play the no. 1 Nebraska Cornhuskers. Clemson won 22-15, securing both the Associated Press and United Press International national championship selections. It is, to date, Clemson's only national championship and a significant source of pride among Tiger fans, no matter how dated it may seem now.
Though Danny Ford never won a national championship again, he used the 1981 season to solidify Clemson as one of the best college football programs of the 1980s. Clemson won four ACC championships in the next eight seasons. It won at least nine games in five of those eight seasons. Bowl wins include Citrus Bowl victories over programs like Penn State and Oklahoma. If not for the Miami Hurricanes being the program of the 1980s, Clemson's excellence during this time among peers like Oklahoma and Penn State (which it defeated in bowl games) may be better understood nationally. Clemson fans certainly understand it this way.
Though Ford's accolades during this period rest on his own merits (as well as gains achieved through numerous recruiting violations, which played a role in his eventual resignation in January 1990), "the punch" is where it started. Ohio State fans may bemoan, and college football pundits may remember, Charlie Bauman getting punched by Woody Hayes as the end of an era for Ohio State football. More importantly, it was the start of an era at Clemson and one that is still fondly remembered by Clemson fans to this day. Clemson fans are still chasing the 1980s and Danny Ford's shadow looms large in Death Valley.
Both fan bases will get to revisit "the punch" in the weeks leading to kickoff in Miami. We should not be surprised that the smiles in recollection of the 1978 Gator Bowl will come from the Clemson fans, but do know their smiles are more than schadenfreude. It meant more for their program than it did for Ohio State.