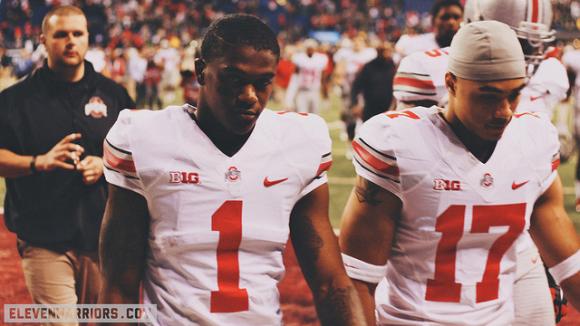 Two wins over Michigan, a miracle against Purdue, overtime at Wisconsin, Kenny Guiton's record-setting days in September 2013 – all of it occurred during Ohio State's 24-game win streak. Yet, losses linger much longer than wins. So it is that most will remember the Buckeyes' defeat to Michigan State and not everything that preceded it.
Some of the gusto disappeared since Ohio State lost once it finally played a top-10 team. But what it accomplished as the program went through its darkest hour should still be lauded. From 6-7 to 24-0 is an unprecedented rise. The 2011 season is now just a distant speed bump on a road paved with gold.
That wasn't the immediate thought in the wee hours of Sunday morning when Urban Meyer gave his post-mortem wearing a sullen expression before hopping on a golf cart to munch on some pizza. The image was indelible and appropriately captured the disappointment all of Buckeye Nation felt.
"I just feel we're all very blessed and fortunate to have these kids on our team. I love that locker room," Meyer said.
The bond he creates with his players is one reason why losses wear on Meyer so much. Every coach works hard, but few if any put as much into the job as Meyer. The phrase eat, breathe and sleep football comes to mind. Everything was set in place for Ohio State to win its first national title in more than a decade this season and the window could be closing, making Michigan State's upset that much more difficult to deal with.
Oh, and the Spartans did so with a roster stockpiled with Ohioans, including quarterback Connor Cook.
"We accomplished a lot, but this is all about how we respond to the next event," redshirt freshman offensive lineman Pat Elflein said. "So we're going to respond the right way and go get the next one. It's over with. We've got to put it behind us."
"I just feel we're all very blessed and fortunate to have these kids on our team. I love that locker room," -Urban Meyer
The rest of the college football world – and Buckeye fans – will remember this one for a long time. Critics will harken back to 2006 and 2007 and say it proves Ohio State remains a fraud, built on flair and little substance. Those who sat in Lucas Oil Stadium will remember it for coming up short on fourth down and pondering just how close the Buckeyes were to Pasadena.
In 1998, fans recall the loss to Michigan State, not beating Michigan or winning the Sugar Bowl. The same goes for other years with national championship implications. When the opportunity to validate one's status is presented, seizing that moment is paramount. Now 24 wins seems small and distant, no proof of elite standing.  
"Man, it hurts," running back Carlos Hyde said. "To be a senior, to be that close to a national championship and to fail – that hurts."
Blame is magnified after losses. Sure, defensive coordinator Luke Fickell took a healthy dose of criticism when the team won, but losing forms a runaway avalanche of disparagement – some deserved, some not.
When you're in charge of the Buckeyes' defense, it all comes with the job. Unfortunately, for Fickell, returns have been mixed. The defense allowed 30 or more points in five of 13 games, and it's even worse when you go back to his stint as interim head coach. Three seasons, 20 games of at least 21 points surrendered. That is nearly as unmatched as the win steak. 
"These seniors will do a great job," Fickell said. "You think back, these seniors have been through a lot of stuff in four years. That's why I grabbed Jack [Mewhort] and some of those guys and just went by them and said, 'Hey man, I really appreciate what you guys have done over a four-year period and I've been with you through a lot of that.'
"This is a journey. Sometimes you rip your chest open, you give it your all and then sometimes you don't get what you expect in return. That's part of life."
That perspective isn't lost on players. Junior linebacker Ryan Shazier spoke about taking the game personally and putting everything on the line each week. Now he's left with a pain that isn't easy to reverse.
Said Shazier: "It just hurts because we've been winning so much and just been doing everything together and been grinding so hard as a group."
It will linger for a while.