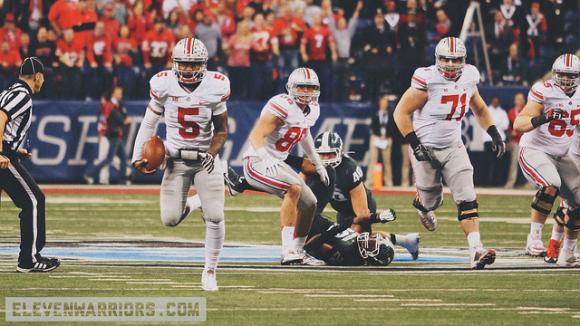 On a scale of 1-10, the loss of four starting offensive linemen for next season verges on a 12 when head coach Urban Meyer is asked. For two seasons, Jack Mewhort, Andrew Norwell, Corey Linsley and Marcus Hall formed the nucleus of an offense that etched its name all over the Ohio State record book while winning 24 consecutive games.
Next year, there will be no Carlos Hyde and four new starters on the line. Following the Big Ten Championship Game, quarterback Braxton Miller told Pete Thamel he intends to return for his senior season, which is a boost to what could have been a virtually entire new offense.
Upon closer examination, though, right guard Pat Elflein ridded some fears from Meyer and Ed Warinner the past two weeks. A significant player at that position will still leave the program, but Elflein's emergence essentially means only three new starters will be on the line.
He was so good at Michigan that Linsley described his performance as "unfreakingbelievable." And that day's work came literally on zero notice. It was only after Hall's infamous ejection that Elflein was thurst into the frontlines of a physical shootout. He helped lead the way for Hyde's 226 yards rushing, the most ever by an Ohio State player against Michigan.
"Pat played really well against a very good defensive line," Meyer said. "I'm excited about his future at Ohio State. For a redshirt freshman coming into that situation, he actually played, like, really good at times.
"I'm very impressed with him and very comfortable with him."
That became all the more obvious last Friday afternoon when Meyer revealed he would not start Hall against Michigan State in the biggest game of the season. By halftime, it was apparent Elflein would play the entire game. He wasn't invisible out there, either. Time and again, Hyde and Miller ran to the right side of the line where Elflein opened up running lanes.
Nation's best defense be damned, Elflein was not the least bit intimidated. Ohio State rushed for 273 yards and two touchdowns, averaging nearly seven yards per carry. Meyer admitted that Elflein is No. 6 on the line – first after the five starters. His first two extended outings proved that ranking isn't dubious.
"Pat did a tremendous job," Mewhort said. "I think that speaks a lot to the way he works during the week and he just prepared to go in there and win the game for us. That's something he did and he embraced it. He's not a kid anymore after playing in an environment like that. You kind of grow up a little bit and I think that was a really good learning experience for him. He thrived."
The pressure-packed situation Elflein was inserted into was just shy of what former Texas quarterback Garrett Gilbert experienced in the 2009 national championship game. Elflein credited his teammates with adding a level smoothness to his transition.
Communication is vital on any offensive line, so when a new piece if thrown into the equation messages could become blurred. However, Elflein has dealt with few issues and has yet to be flagged for a false start, making the move almost flawless.
"They all had my back. Those guys are seniors," Elflein said. "They kind of took me in this whole year knowing I was the next guy in."
An absence of nerves is another factor. Despite limited game time, preparation in practice led to little semblance of uneasiness. Perhaps Linsley's confidence in Elflein calmed him down.
"All year I've said to him, 'Man, one day you're going to be a hell of a player. You're going to get drafted real high,'" Linsley said. "He's going to get all these accolades and stuff because he's a heck of a player."
Elflein would only say he played "all right." Chances are Hall will assume his starting spot at the Orange Bowl in what represents his final game at Ohio State. But just like the Michigan game and the Michigan State game that followed, Elflein will be waiting patiently on the sideline.
"I'm always ready" he said. "If my number's called, I'm ready. If not, I'm still ready."