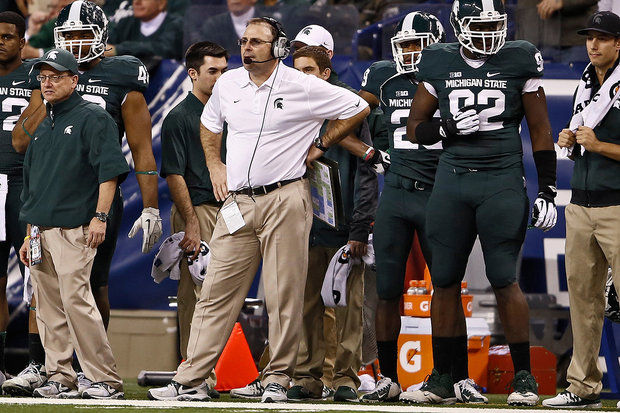 From MLive.com:
After Ohio State opened the second half with a 75-yard touchdown drive to tie the Big Ten championship game, and then grabbed the lead 7 minutes later, the nation's No. 1-ranked defense appeared to be on the ropes.

So Dantonio told defensive coordinator Pat Narduzzi to leave the coaches box and get to the sideline. This isn't out of the norm for Narduzzi, but the message once he arrived packed a little extra juice.

... "Every other word would probably have to be bleeped out," admitted defensive end Tyler Hoover. "His messages are strong. He's such an amazing guy."

The Spartans heard Narduzzi loud and clear, allowing just 47 total yards on Ohio State's final four drives, including just 25 in the entire fourth quarter.
Thankfully, Pat Narduzzi is reportedly up for the UCONN job, so this guy could be exiled to Connecticut in time for next year's B1G realignment that will see Ohio State and Sparty share divisions and a yearly game.
If only Narduzzi had just kept his meddling-ass up in his ivory tower. If only. If only. If only.
Suddenly Woody's words of "I despise to lose," never hit closer to home.