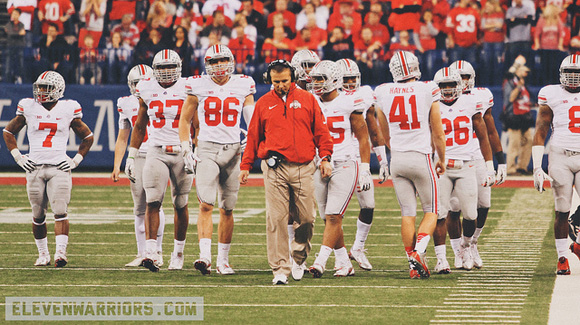 What happened is hard to deal with. Ohio State, winners of 24 straight, was four quarters away from winning the B1G and punching a ticket to play in their first national championship since 2008.
There was no denying the defense had problems heading into the matchup with Michigan State, but the thought was enough could be done on the defensive side of the ball to allow the offense to do it's thing. Of course, we all know what happened.
A sea of scarlet in Indianapolis' Lucas Oil Stadium was left dejected and searching for answers in a 34-24 defeat. The game felt surreal as many of OSU's season goals evaporated in a single evening. Two full years without an L is enough to make any fanbase believe they deserve a storybook ending, and the fact that Ohio State's fairy-tale ended so unceremoniously is a hard pill for Buckeye Nation to swallow.  What follows are the five stages of grief; a healthy process that most OSU fans will have to walk through in order to come to terms with the roller coaster of emotions they've been riding since Saturday night. 
Denial
This is probably the stage you felt for the remainder of Saturday evening. "This can't be happening". I was in Lucas Oil for the game and this was the emotion worn on the face of nearly every Buckeye fan exiting the stadium. It was certainly the quietest exodus I've ever experienced. Hordes of human shells leaving the stadium in silence refusing to accept the facts presented to them.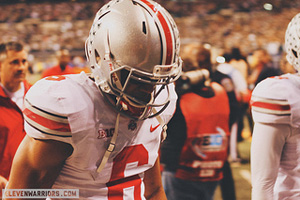 Denial is a defense mechanism; a way to shield oneself from the reality of the situation by deflecting it entirely. Some people can become locked in this stage, so the hope is that you've moved on. The Buckeyes lost. It's all over the Internet. Take my word for it, but don't actually go on the Internet. It's only going to make the next stage more intense.
Anger
Immediately following grief is anger, or the need to blame someone or something for the problem. My guess is this is where 98% of Buckeye Nation was on Sunday. "Who made the call to run Braxton Miller to the outside on 4th and 2?" Why didn't they #FEEDELGUAPO when they had the lead?" "How does Luke Fickell still have a job?" "Where has the passing game gone over the past few games?" "WHO IS TO BLAME?!"
This is a dangerous phase for anyone involved as it can lead to rash decisions and terrible public proclamations. Did the coaching staff make mistakes? Yes. But did that same coaching staff turn a 6-7 program into winners of 24 straight. Yes. Make no mistake, Urban Meyer is not Jim Tressel. He wont dole out loyalty in the face of underperformance. If particular coaches on his staff failed to meet expectations, he'll find some who will. Don't waste your time blaming. There's no question it will be sorted out in the offseason.
Bargaining
After anger comes bargaining where you'll try to concoct a way in which Ohio State can win back some confidence on the national stage. "If Ohio State beats Clemson AND Michigan State beats Stanford maybe the media will respect us." "Let's hope the SEC finishes their bowls with a losing record, while the B1G does the opposite."
All of this will play out in a couple of weeks so there's no need to worry about it until then. Ohio State can only control what they can control. Root for Ohio State, root for the B1G. If both perform well it could help shift the national narrative in 2014.
Depression
Then comes the inevitable sadness. This might set in leading up to Jan. 1. You'll be bombarded with talk of the BCS National Championship, a game the Buckeyes were a hair away from making. You'll be blindsided by talking heads saying "I told you so" in reference to Ohio State's strength of schedule and you'll lose sleep re-living plays that should have been.
It's going to be hard to watch TV, listen to sports radio or log-on to Twitter without being constantly reminded of Ohio State's shortcomings. My suggestion: unplug and enjoy the holidays with friends and family. They're more important than any game could ever be.
Acceptance
The hope is that days before Ohio State's Jan. 3rd tilt with Clemson you'll transition into the acceptance phase, ultimately appreciating what the Buckeyes have accomplished while getting excited about the future of your favorite football team.
Going undefeated is nearly impossible. Doing it for two straight regular seasons is basically unheard of. What this football team has accomplished over the past two seasons is historic and it should be remembered as such.
The transformation of the team over the past two years has been something to behold and conventional wisdom would suggest they're only going to get better as Urban has amassed an embarrassment of riches in the pipeline.
Premiere talent is coming and premiere coaching is already in-house. The combination of the two should make for an incredibly bright future for the Ohio State Buckeyes.
---
So move through these phases at your own pace, just make sure you're in a good place by Jan. 3rd. It's ok to dwell on what could have been as long as you keep one eye fixed toward the horizon. Good things are coming for this Buckeye program. Don't be too mired in your own grief to miss them.