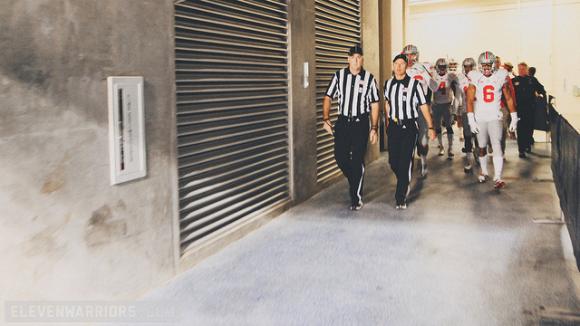 INDIANAPOLIS – It's been several years since Ohio State suffered a loss that left the team and fan base so disappointed. Expectations are always high in Columbus, but the 2006 and 2007 national championship defeats were the last to leave a lasting imprint. Add the 2013 Big Ten Championship Game to the mix.
As the Buckeyes trudged off the Lucas Oil Stadium turf Saturday, the agony and disappointment was present on every coach and player's face. The closeness of a national championship contributed, as did 24 consecutive wins.
"It's going to haunt all of us, I would imagine, for a little while," head coach Urban Meyer said following Michigan State's 34-24 victory. "What makes the loss harder is I really wanted these guys to experience something special."
Instead of playing for the national championship, Ohio State is more than likely headed to Miami and the Orange Bowl. It will take time for the pain to go away, but some members of the team are already preaching about the future, though not to diminish the events of Saturday.
But the overriding theme from the Buckeyes in the immediate aftermath was hurt.
"It sucks. It's a reality check," senior center Corey Linsley said.
One of the first areas receiving criticism is the defense. Luke Fickell's unit has been under fire for much of the season after giving up yards and points. The pass defense in particular has been unseemly. It was once again against the Spartans.  
"There's a lot [to fix]," Fickell said. "It is what it is. Guys have to make plays and we have to put them in situations where they can make plays. There's no finger-pointing."
"We have to get this fixed," Meyer said. "We're going to get back to work."
Ohio State found itself in a 17-0 hole just 21 minutes into the game, a shock probably even to Michigan State. Linsley said it had to do with the Buckeyes being too jacked up.
"They're obviously a good team, but it was like we were playing the Bears or something," Linsley said. "We were looking for everything and then we settled down and realized we had to do what we had been doing all year."
Meyer and Linsley offered perspective after the loss.
"I imagine there's a chance we'll get invited to a great bowl game," Meyer said. "If we do, they're going to get a very good Buckeye football team that's going to stick together and try to win a game. If you're asking me to measure the levels of hurt, I'm not sure I can do that."
"Our only option left is having a lot of fun working our butts off to win whatever game we get in," Linsley said. "It'll show our true character. We could sit there and blame this and blame that, but the only way you're going to get any production out of yourself is if you look at what you did wrong and correct it."
The team didn't take Michigan State lightly, but others did in the week leading up to the game. The Spartans entered as a one-loss team that didn't always garner respect from pollsters, media and college football fans.
"That probably is the best team that we've faced in the past two years," junior linebacker Ryan Shazier said. "They beat us."
The most controversial play of the day was Meyer's decision to have Braxton Miller run on 4th and 2 late in the fourth quarter. Hyde had been so effective yet only carried the ball 18 times. The play also called for Miller to run outside and rely on blocks from Hyde and Jeff Heuerman, not the offensive line.
"It was my call," Meyer said. "I wanted to put the ball in the hands of our best player, Braxton. We usually run that play a lot. We ran it to the boundary. I knew they'd pressure us. Thought he might be able to come out the other end of it. It was a chance to go try to win the game."
"We had actually practiced that play against that blitz, and they executed better than we did," offensive coordinator Tom Herman said. "You're in that gray area on fourth and whatever to throw it or run it, and Braxton was obviously running with some serious authority. If you run your quarterback, you gain an extra hat. We didn't execute."
"Big play by Denicos," Michigan State head coach Mark Dantonio said about Denicos Allen, who made the tackle.