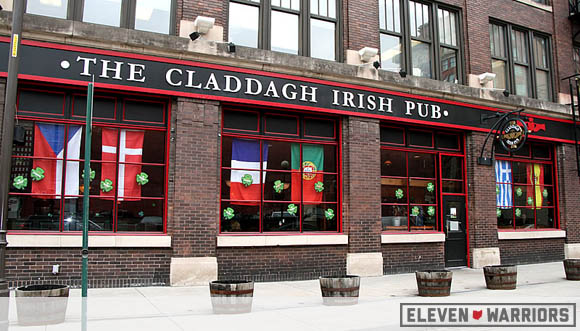 Heading to Indy for the Big Ten Championship game? Let's start the weekend right with an evening of food, drinks and football talk Friday at The Claddagh Irish Pub just three blocks from Lucas Oil Stadium.
Claddagh is staking itself out as the Ohio State gathering spot for the weekend and they're welcoming Eleven Warriors and its readers with a starter keg and 15% off all food. Let's eat, drink and be merry.
WHO: You, your friends, and their friends.
WHAT: Food, drinks and your best SPARTY NO jokes.
WHEN: Friday, Dec. 6, 7 p.m.
WHERE: The Claddagh Irish Pub, 234 South Meridian Street
WHY: Why not?
---