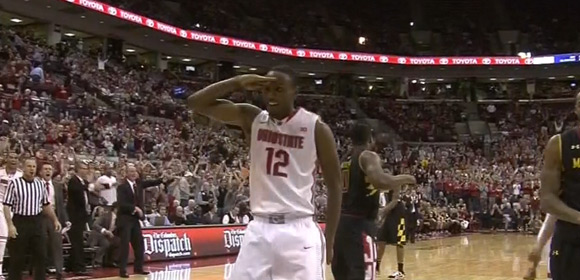 So much for that shooting slump.
After being mired in a season-long nosedive that lasted four games, LaQuinton Ross has busted out in a big way. First came a 17-point effort last week against North Florida, then the Ohio State forward delivered 20 points against Maryland on Wednesday, just two shy of his career high.
Ross made his first four three-point attempts en route to the Buckeyes' 76-60 win over the Terrapins in the Big Ten/ACC Challenge. Fifth-ranked Ohio State improved to 7-0 on the season.
"LaQuinton slowed things down in his mind and that allows him to do a lot more offensively," Ohio State head coach Thad Matta said. "Just the look in his face and the fact he wants to be coached is what makes a difference."
Ross had only 10 field goals in the first four games this season and went through a 2 for 20 stretch until the past two games, when he connected on 13-of-22 shot attempts for 37 points. In the first 20 minutes against the Terrapins, Ross missed just two of eight shots from the field and scored 17 points.
Big Ten commissioner Jim Delany was in attendance at Value City Arena as the Buckeyes welcomed future conference foe Maryland to campus. They were rude hosts, though, building a 43-26 halftime lead by pestering Maryland into 10 turnovers, which led to 18 points at the other end. Ohio State shot 54 percent in the first half and 52 percent for the game. It limited the Terps to 39 percent shooting one game after Maryland shot 62 percent from the field.
"I thought Ohio State was terrific," Maryland head coach Mark Turgeon said. "They came out making shots and they got a lot of confidence off of that. I thought they executed at a high level. Craft was in total control of the game on both ends of the floor, and they made shots. We didn't make shots tonight."
Sam Thompson scored 14 points on what seemed like seven dunks, Lenzelle Smith Jr. had 12 points and Aaron Craft finished with 10 points, six assists and five steals. From a defensive standpoint, the Buckeyes have 51 steals on the season and opponents have recorded 50 assists.
"No matter how well we are shooting the ball, no matter how well we are playing offensively, we will always be a team that hangs on our defense," Thompson said. "Anytime our defense is clicking like that and we are able to get easy layups and transitions off of our defense, it really gets us into a flow offensively."
Ohio State held an 11-point lead with 1:30 left in the first half before closing with a flurry of activity. An 8-0 run to end the half included a Craft steal and assist to Thompson for a layup as time expired.
"It started with Aaron," Matta said. "I called the timeout and told the guys we could get a little risky and turn up the pressure."
A five-day layoff between games could have cooled off the Buckeyes' shooters, but it appeared the lull had no effect. Ohio State roared out of the gate, scoring 18 points in the first six minutes and using a 15-3 run to build a double-digit lead. It never trailed by fewer than 12 points in the second half. 
"We just wanted to come out and not have a slow start," Craft said. "LaQuinton helped out a lot with his early shots, which relaxes everyone else and gets us going."
The Buckeyes host Central Connecticut State at 4:30 p.m. Saturday. The game will be televised by BTN.
---
Bonus: All three of Sam Thompson's alley-oops from tonight.