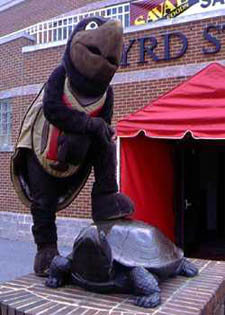 The Big Ten-ACC Challenge typically provides challenging and marquee early-season matchups for both conferences.
Ohio State will host Maryland in this year's edition of the annual series. The Terrapins might return the favor by entertaining the Buckeyes next year, but it will be a part of conference play. They will make the switch to the Big Ten from their current conference – along with Rutgers – beginning with the 2014-15 academic year. 
Tonight's game will provide a preview of what's to come, even if some refuse to believe that the Terps are not in the Big Ten yet. 
"The stage crew setting up for John Mayer asked who we're playing tomorrow," head coach Thad Matta said. "I told them 'Maryland' and they were like 'you're playing in conference already?'"
He is also keenly aware of the Terrapins' tradition and what they'll add to the conference, when they do join. 
"I've got great respect for Maryland, for the job [head coach] Mark [Turgeon] has done. You go back to Gary Williams, he was here and won a national title there," Matta said, at a press conference, Tuesday. "We've got a great understanding and a great appreciation for what they're bringing to the table."
| # | Name | YR | HT/WT | PTS | REB | ASST | P | # | Name | YR | HT/WT | PTS | REB | ASST |
| --- | --- | --- | --- | --- | --- | --- | --- | --- | --- | --- | --- | --- | --- | --- |
| 4 | A. Craft | SR | 6-2/195 | 11.3 | 3.8 | 5.3 | G | 32 | D. Wells | JR | 6-5/215 | 12.9 | 5.0 | 3.1 |
| 3 | S. Scott | JR | 6-1/185 | 11.0 | 4.5 | 3.7 | G | 5 | N. Faust | JR | 6-6/205 | 9.6 | 4.3 | 2.3 |
| 32 | L. Smith Jr. | SR | 6-4/210 | 11.3 | 4.8 | 1.7 | F | 10 | J. Layman | SO | 6-8/205 | 16.4 | 5.9 | 1.3 |
| 10 | L. Ross | JR | 6-8/220 | 8.0 | 5.0 | 0.7 | F | 1 | E. Smotrycz | JR | 6-8/230 | 13.7 | 7.6 | 2.0 |
| 23 | A. Williams | JR | 6-11/250 | 11.3 | 8.3 | 0.5 | C | 44 | S. Cleare | SO | 6-9/265 | 3.7 | 2.6 | 0.4 |
Opponent Breakdown 
Generally inefficient point guard performance plagued last year's Terps and was a key reason why their 25-13 squad just missed the tournament.
Seth Allen converted from off guard and had full offseason to work on his point-guard skills, heading into his sophomore year. What was supposed to be an improved backcourt took a major hit when Allen broke his left foot in a preseason practice. Now, Turgeon asks Wells to do a majority of the ball-handling. 
The results aren't ideal. Maryland ranks no. 245 in the nation with 19.4 percent of their possessions resulting in turnovers. Wells is averaging nearly as many turnovers as assists, and the only other point guard playing significant minutes is freshman Roddy Peters. 
Ohio State is forcing opponents into the worst assist-to-turnover ratio in the country, part of the reason why KenPom.com ranks them as the top defense, overall. The backcourt duo of senior Aaron Craft and junior Shannon Scott might be in store for another big day on that end. 
"We have guys that love to defend and can defend very well," Craft said. "We're not afraid to get out and pressure because we know we have great team defense. We're in the right position." 
Despite their shortcomings, former Wolverine Evan Smotrycz can pose a matchup problem. Smotrycz left John Beilein's team after starting 42 games and had the fifth-best three-point percentage mark in program history.
"When he was at Michigan, he was definitely a 'shooter,'" Matta said. "Now, he can put the ball on the floor. He's really completed a lot of phases of his game."
Defensively, the 6-foot-5-inch Wells and 6-foot-6-inch Faust make up one of the tallest backcourts in the country. They comprise a defense holding opponents to 62.1 points per game, among the nation's top 25. 
"The fact that they're joining the Big Ten next year, it's kind of a 'welcome' game for them," Scott said. "We're not going to take them lightly. We know every team wants to come in here and beat us, so we're all going to be ready for that." 
Other than their future plunge into the conference, the Buckeyes have another tie to the Terrapins' program. OSU associate head coach Dave Dickerson played for Maryland from 1985 to 1989, and returned as an assistant under Gary Williams. Dickerson was a part of the staff that led them to a national title in 2002. 
Dickerson is looking forward to the game, but hasn't been a part of the Terps' staff since 2004-05. He has no ties to the current staff, other than recently added special assistant Juan Dixon, who played for their 2002 championship squad. 
"Hopefully, it's just another game, and hopefully we can win," Dickerson said. "My nine years there as an assistant coach were probably the best nine years of my life. This is my first time ever coaching against Maryland, but as far as the emotional part of it, it lies with Ohio State." 
Buckeye Breakdown
Ohio State's offense has been inconsistent, so far, but the hope is last Friday's game against North Florida will provide a spark. 
The Buckeyes dropped 99 points on the Ospreys, and had five players in double-figures. It was truly an offensive explosion, as they hit 14 three-pointers and shot 69 percent from the field. 
Members of the the starting lineup are expected to rack up points, but it was Amedeo Della Valle who truly broke out. The sophomore guard hit five from beyond the arc, and set a career high with 17 points. 
"We've had a lot of different guys who had big nights," Matta said. "Ultimately, we're trying to get those to coincide, but a lot of times, you're playing a great team like Maryland. Defense is going to dictate where the shots come from." 
Etc.
The Big Ten went 2-4 in the opening night of the challenge.
The last meeting between OSU and Maryland was Nov. 30, 1985. Led by Dennis Hopson, the Buckeyes won, 78-66. That year's Terps squad featured senior Len Bias and freshman Dave Dickerson.
Matta feels like his team is getting the looks they want, but – prior to the North Florida game – failed to make those buckets consistently. In particular, he's looking for improvement in converting around the hoop.
"We've had opportunities to put the ball in the basket at point-blank range. Those are the ones that have got to get going," he said. "Execution-wise, we're doing a good job ... ultimately we've got to put the ball in the bucket." 
One Buckeye finally got a few shots to go down against North Florida, after struggling for a large part of the early season – LaQuinton Ross. The junior forward came into the game shooting 23 percent from the field. He exited the game after scoring 17 points on just nine shots. 
Matta hopes he can keep the momentum going.
"He's had great workouts coming off of Friday's game," Matta said. "The second he relaxes, he becomes an average player. I think he's starting to come to grips with that. I'm very proud of the way he played Friday, I'll be excited to see how he comes out."