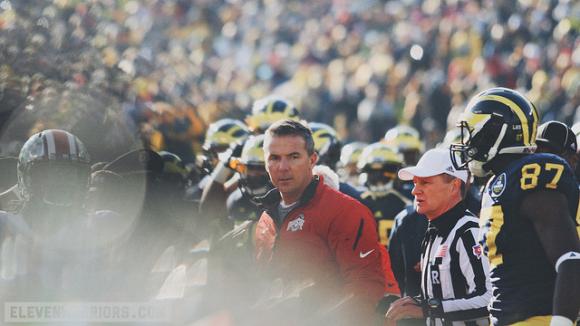 Same story, different week. Ohio State head coach Urban Meyer will not discuss the BCS ramifications until after the Big Ten Championship Game is completed. Then, if the Buckeyes win, he'll turn his attention to stumping for his team. But a win should remove all doubt, whether Auburn athletic director Jay Jacobs likes it or not.
Gene Smith said his concerns, like Meyer's, rested on Michigan State. A defensive end on Notre Dame's 1973 national champions and later a coach at his alma mater, Smith is well aware of the challenge the Spartans present. From Meyer's standpoint, doing anything than preparing for Michigan State would be a disservice to his team.
"I'll have a comment on Sunday," he said when prodded about the BCS. "We play a game. That's cheating my football team. There will be no conversation about what happens after this game until after the game. We've got to go watch Michigan State's defense and see if we have any comments about anything after this game."
Jacobs made a stir on Sunday when he said it would be "un-American" to leave a one-loss SEC team out of the national championship game. Most of that language was directed toward Ohio State, not No. 1 Florida State. The SEC is in the midst of seven consecutive national championships and unless the Buckeyes or Seminoles lose this week, it's all but certain to come to a screeching halt.
Florida State is an overwhelming favorite to beat Duke in the ACC Championship Game and most think Ohio State will defeat Michigan State, shutting out Auburn or Missouri and much to the chagrin of Jacobs. 
"An SEC team can't get left out with one loss," Jacobs told USA Today. "We just beat the No. 1 team in the nation. ... And a one-loss SEC team that wins in Atlanta – if it's us or Missouri – you can't get left out of the BCS after you beat the No. 1 team. We have a better argument because we beat the No. 1 team."
The Buckeyes' message trickled down from the top. Smith and Meyer both made references to what lies ahead in the immediate future, not what could possibly be in store for January. On Sunday night, Meyer only made one reference to the BCS before moving on the Michigan State.
At Florida, Meyer was 2-1 in SEC title games. He understands the magnitude of the moment but also the difficulty it presents. The game comes a week after playing your archrival, and in Ohio State's case, it wasn't your normal Michigan game. It was perhaps the most emotionally draining in the rivalry's history. Now they get a physical, smash-mouth defense that's slowed down virtually every offense it's faced this season.
"This will be a very stiff challenge for us. Excellent, excellent defense and a much-improved offense that is scoring a lot of points," Meyer said. "It's as fine a defense as there is in America."
The same can't be said for the Buckeyes' beleaguered unit. They gave up 600 yards for only the second time in school history – and a heaping pile of points. The offensive-minded Meyer understands how important that side of the ball is, though. His teams at Bowling Green, Utah and Florida all developed into good defensive teams and he noted all the resources he's put into defenses during his career.
For what awaits Saturday, Meyer knows a repeat performance cannot happen.
"We won't win the game. We won't win that game this time," he said. "That's just very simple. We have to play much better."
And that's exactly what he expects, throwing his support behind the embattled unit. Meyer said he expects an improved day's work. One way or another, Ohio State continues to win to the tune of 24 in a row.
"This team finds a way to win," he said. "It's a very purpose driven team that cares about each other. If one side of the ball is not playing particularly well, the other side has picked them up over the last two years."