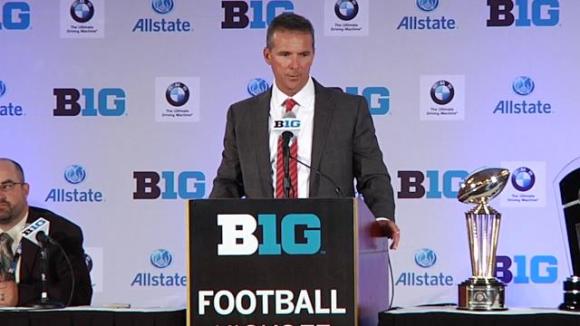 The clash at Lucas Oil Stadium Saturday night truly will be between the Big Ten's best. Ohio State and Michigan State each sport perfect 8-0 records, while the Buckeyes fashion the conference's top total offense, rushing offense and passing offense, and the Spartans feature the best total defense rushing defense and passing defense.
Something's gotta give in a titanic matchup not just for the Big Ten but for both teams. At stake for No. 2 Ohio State is the national championship. For 10th-ranked Michigan State, an outright conference championship – its first since 1987 – and a berth in the Rose Bowl for the first time in more than a quarter century.
The third installment of the Big Ten Championship Game is exactly what league brass had in mind when they expanded during the summer of 2010. A nation full of college football fans will flip their TVs to Fox at 8 p.m. to watch the Midwest showcase its brand of football. Suddenly, the days of being mocked could be in the rearview mirror.
On Sunday, Urban Meyer, a winner of two national championships in the SEC, said the Big Ten wasn't far behind the league that's won an unprecedented seven consecutive national championships. If Meyer's team – and Florida State – wins this week, he will extinguish the league's string of success that he started back in 2006.
The Ohio State-Michigan State game is drawing so much attention that College GameDay will air live from Indianapolis. Even after a monumental task last week for the Buckeyes, a thrilling 42-41 win in Ann Arbor, this week is even more important. For anything other than the Michigan game to be the most significant game in a potential championship season is foreign to all who dress in scarlet and gray.
"Surprisingly, I don't think it will be difficult at all," said senior center Corey Linsley when asked about how arduous the back-to-back games would be emotionally and physically.
Said senior captain C.J. Barnett: "We're all young guys. We'll be all right."
He does not share the same opinion of his head coach. Meyer dealt with playing Florida State and the SEC West champion in consecutive weeks on three occasions and called it "brutal." This is the first time since 1942 that Ohio State will face someone after Michigan in a game that is not a bowl. That year, the Buckeyes beat Iowa Pre-Flight in the finale and won the national championship. Might history repeat itself some 70 years hence?
"I don't want to say it's awful, but you talk about blowing out your staff and our players and then finals week," Meyer said. "But we know what's coming. You have to be so disciplined in the way you practice, and I'm going to warn our coaches and warn myself about sleep and taking care of yourself."
"There's no shortcutting Michigan State's defense." - Urban Meyer 
What Ohio State will find as a bigger roadblock than rest is the opponent across the way, the message Meyer said he delivered to the Buckeyes Sunday afternoon. If not for an anemic offense and early season question marks at quarterbacks, Michigan State could also be playing for a later than usual trip to Pasadena.
The Spartans went through the Legends Division like a meat grinder being paired with a slice of bologna. They became the first team to win all eight conference games by more than 10 points, and Michigan State won its division by a whopping three games. An 11-point win over Minnesota last week was the closest margin of victory.
Quarterback Connor Cook has steadily progressed throughout the season, completing 58 percent of his passes for more than 2,100 yards with 17 touchdowns and four interceptions. Running back Jeremy Langford is also part of the recent uptick on offense. He's over 1,200 yards rushing for the season, averaging five yards per carry. They might not be Braxton Miller and Carlos Hyde, but Michigan State's backfield duo shouldn't be taken lightly.
"It's all confidence," Cook said about the surge in production. "We've just found ourselves as an offense."
The identity of the 2013 Spartans doesn't stray far from the 2001-10 Ohio State Buckeyes. Dantonioball is the new Tresselball. The former Ohio State defensive coordinator has modeled Michigan State to fit the Buckeyes of the early 2000s. A quarterback that can manage the game and not make many mistakes, capitalize and be opportunistic when turnovers arise and, most importantly, play an aggressive style of defense that befuddles opponents.
"We've got to move the ball against a great defense. That's my focus," Meyer said. "The bottom line is, Ohio State is not even in any [BCS] conversations unless we can figure out how to move the ball against the No. 1 defense in America."
In the Buckeyes' 17-16 win in East Lansing during the 2012 season, they produced 383 yards of offense – 315 belonging to Miller. But the latest version of the Ohio State offense doesn't even resemble what it exhibited in September of 2012. It's like comparing a 1984 Ford Pinto to a new Corvette.
"They're a great team," Michigan State linebacker Denicos Allen said. "They move the ball, they have a good offense, explosive. We have an explosive defense. I always wanted that matchup. That's what everybody on this defense wanted, what everybody on this team wanted."
Wish granted. But it could be a case of be careful what you wish for. Ohio State is averaging nearly 50 points and 530 yards of total offense per game. If not for three-game absences in September, both Miller and Hyde could be on their way to New York for the Heisman Trophy ceremony.
Can Michigan State's defense really stop or slow down such a potent attack? After all, that first national title won by the SEC showed what Meyer can do against a team with the makeup of the Spartans. Michigan State is allowing 238 yards and 12 points per game.
"There's no shortcutting Michigan State's defense," Meyer said.
On Saturday night, that same notion and level of respect could return to the Big Ten.