What's the only thing faster than the service at Brian Hartline's convenience store? That would be Hartline, himself, seen slicing up the Jets' secondary for a 31-yard touchdown. 
One of his college teammates was not so lucky, this week. That Buckeye wide out was released by the team that also employs his father.  
Another former Ohio State wide receiver has been dealing with constant criticism and injuries, leading to a response on Twitter. Due to injuries to the rest of the offensive line, a 49ers lineman is forced to return to his old position.
Speaking of injuries, Giants lineman Jim Cordle is out for the rest of the season after injuring his knee, last week.
Plus, Eleven Warriors has stats from all former Ohio State players fortunate enough to play in the NFL, this weekend. 
Atlanta releases coach's son
Whether it was nepotism or actual need, the Falcons signed Brian Robiskie after Julio Jones suffered a season-ending foot injury.
He reportedly beat out Mohamed Massaquoi, Matt Willis and Courtney Roby for a chance to be coached by Atlanta receivers coach Terry Robiskie. When they picked up Brian Robiskie, head coach Mike Smith referenced Brian's "familiarity" with the team. 
"Brian has ... three or four years of experience, knows our offense, knows our verbiage,'' Smith said, in October. "I know that father and son always speak. I'm sure they kind of speak the same language.''
After being active for only one game and almost two months later, the Falcons cut Brian Robiskie. Rookie offensive tackle Terren Jones takes his place on the active roster.
Robiskie did not record a catch this year, but has 43 career receptions. He has now appeared on the active roster of four NFL teams – the Browns, Jaguars, Lions and Falcons. 
holmes limited, responds to criticism 
Santonio Holmes entered Sunday's game having missed two straight practices due to his hamstring injury. That didn't stop the Jets from making sure Holmes was active for Sunday's matchup against Hartline's Dolphins.
During the course of the game, however, "active" would not be a good term to describe Holmes. He played only three snaps and appeared to sit out the entire second half. 
"It was coach's decision," Holmes said, after the game. "(I had) limited plays coming off an injury. We wanted to monitor that and make sure everything is OK for the rest of the season."
It's been a rough, last two years for Holmes. He missed 14 games in 2012, due to a foot injury. This season, he's played in seven games and caught only 13 passes.
The New York media, despite their reputation, hasn't been too kind to Holmes, either. One haughty columnist declared Geno Smith – who went all of November without throwing a touchdown pass – is better off without Holmes. Other members of the media tried to bait him into saying something unsavory about his quarterback. 
With all the criticism facing Holmes, he took to Twitter to respond: 
Not trolling anyone, just wondering why the negativity towards me when nobody knows the reason

— Santonio Holmes (@ToneTime10) December 2, 2013
Boone shifts to left tackle
Joe Staley has been the anchor of the San Francisco offensive line. The 49ers' left tackle is a two-time Pro Bowler and has played a full 16 games in five of his seven seasons with the team.
He injured his knee in the first half of Sunday's game against the Rams, causing a shakeup on their stalwart offensive line. Luckily, head coach Jim Harbaugh could call upon four-time gold pants winner and experienced left tackle, Alex Boone. 
The former Buckeye lineman spent four years protecting the blind side of Justin Zwick, Troy Smith, Todd Boeckman and Terrelle Pryor. He went undrafted in 2009, but made the 49ers practice squad. With help from LeCharles Bentley, Boone elevated himself to a starter at the NFL level.
Now, he's a highly regarded left guard making the switch back to left tackle. 
"Just like riding a bike, it's like going back home," Boone said, after the game. He spent the majority of the game shutting down Robert Quinn, who has 13 sacks on the year.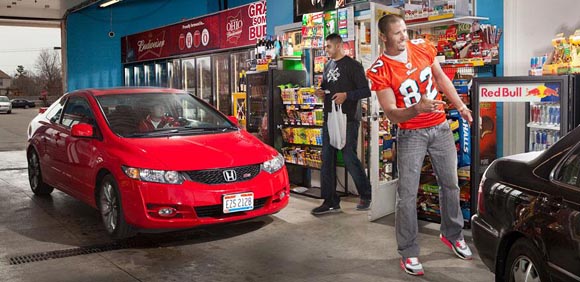 Hartline has been rather quiet since his week one outburst against the Browns. Back in Northeast Ohio, he torched the Cleveland secondary for nine receptions, 114 yards and a touchdown. 
This week, quarterback Ryan Tannehill tied a season high – with week one – by targeting Hartline 15 times. The Canton native rewarded his quarterback with nine receptions, 127 yards and this 31-yard slant and dash to the end zone.  
How ex-Buckeyes Fared During Week 13
| Player | team | position | stats/Notes |
| --- | --- | --- | --- |
| Mike Adams | Pittsburgh Steelers | OT | Stepped in at left tackle, to the delight of Steelers fans |
| Will Allen | Pittsburgh Steelers | S | 6 tackles, allowed deep ball early  |
| Jake Ballard | Arizona Cardinals | TE | Cardinals making use of Tight Ends, but not Ballard |
| Alex Boone | San Francisco 49ers | OG | Played left tackle, shut down Robert Quinn |
| Michael Brewster | Jacksonville Jaguars | OL | Helped Chad Henne beat an Ohio team |
| Chimdi Chekwa | Oakland Raiders | CB | 1 tackle on special teams, saw time at corner too |
| Kurt Coleman | Philadelphia Eagles | DB | 2 tackles, Eagles fans loved when his hold negated a TD |
| Jim Cordle | New York Giants | C | Placed on injured reserve after injuring his knee |
| Nate Ebner | New England Patriots | DB | 1 tackle and @DanteGiglio's GOAT special teamer |
| Reid Fragel | Cleveland Browns | OT | Inactive and still a better option at QB than Weeden |
| Ted Ginn Jr. | Carolina Panthers | WR | 2 rec, 41 yds, a 36-yard TD grab |
| Johnathan Hankins | New York Giants | DT | 2 tackles in comeback win over Redskins  |
| Brian Hartline | Miami Dolphins | WR | 9 rec, 127 yards, a 31-yard touchdown catch and run |
| Ben Hartsock | Carolina Panthers | TE | Inactive again due to knee injury  |
| A.J. Hawk | Green Bay Packers | LB | Led team with 12 tackles in blowout loss  |
| Boom Herron  | Indianapolis Colts | RB | Left game due to a pectoral injury  |
| Cameron Heyward | Pittsburgh Steelers | DE | 7 tackles in loss to Ravens |
| Santonio Holmes | New York Jets | WR | Played only 3 snaps in loss to Dolphins  |
| Malcolm Jenkins | New Orleans Saints | S | Plays tonight vs Seahawks  |
| James Laurinaitis | St. Louis Rams | LB | 9 tackles in loss to 49ers |
| Nick Mangold | New York Jets | C | Jets blown out, but teammate compared him to Ric Flair |
| Jake McQuaide | St. Louis Rams | LS | Snapped 2 FGs, 1 XP, 1 shout out to "Legatron"  |
| Mike Nugent | Cincinnati Bengals | K | 1 FG, 2 XPs in win over Chargers |
| Ryan Pickett | Green Bay Packers | DT | 2 tackles and helped Packers lose the coin toss too |
| DeVier Posey | Houston Texans | WR | Didn't catch a pass in loss to Patriots  |
| Terrelle Pryor | Oakland Raiders | QB | McGloin still starting, Pryor might see a few snaps soon |
| Dane Sanzenbacher | Cincinnati Bengals | WR | Inactive in win over Chargers |
| John Simon | Baltimore Ravens | LB | Inactive again in win over Steelers |
| Rob Sims | Detroit Lions | OG | Lions dominate Packers on ground, Sims plays a big role |
| Jake Stoneburner | Green Bay Packers | TE | Enjoyed a lovely meal with A.J. Hawk after loss |
| Donte Whitner | San Francisco 49ers | S | 9 tackles in win, improving in pass coverage |
[GIF via FanSided]