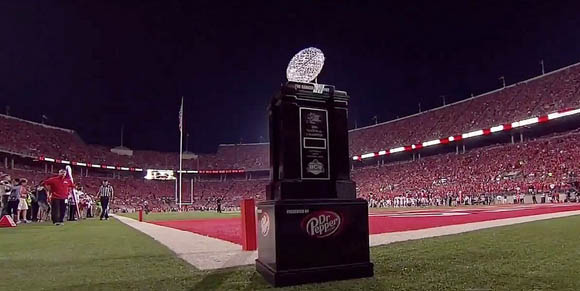 | RK | Team | BCS |
| --- | --- | --- |
| 1 | Florida State | .995 |
| 2 | Ohio State | .950 |
| 3 | Auburn | .923 |
| 4 | Alabama | .854 |
| 5 | Missouri | .843 |
| 6 | Oklahoma State | .763 |
| 7 | Stanford | .707 |
| 8 | South Carolina | .704 |
| 9 | Baylor | .662 |
| 10 | Michigan State | .653 |
Ohio State is in the BCS National Championship Game – for now. The second-ranked Buckeyes' lead on Auburn is 27 thousandths of a point in the latest standings, but that is larger than many thought it would be after an incredible Saturday. 
There was euphoria inside a convoy of buses as they trekked through Marion County at about 7 p.m. Saturday night. The occupants were the Ohio State Buckeyes, and they had just witnessed the most unlikely ending in college football history. Auburn's 109-yard missed field goal return propelled Ohio State into the title game discussion, but it also gave the Tigers a claim to join the party.
The Buckeyes are ranked second in the human polls and the computers. Auburn's average computer rating is slightly behind Ohio State. The Tigers play No. 5 Missouri this week, while the Buckeyes play a Michigan State team that's ranked 10th but gets little respect due to its Big Ten affiliation. 
Rivalry Saturday proved to be the best day of the season. Along with the Iron Bowl, Ohio State-Michigan delivered perhaps its finest game in 110 editions as the Wolverines' two-point conversion with 32 seconds left ended with a Buckeye interception.
If Ohio State – and Auburn – doesn't win its conference championship, all the BCS talk becomes moot. But just one week after BCS guru Jerry Palm said a one-loss team wouldn't and couldn't pass an unbeaten team, a scenario where that could indeed take place envelops college football.
The Buckeyes currently have a 25-point advantage over Auburn in the Coaches Poll and a 66-point lead in the Harris Poll. 
"I think if you're a voter and you're thinking about it, you don't make the jump of a one-loss over an undefeated until you have to," ESPN BCS guru Brad Edwards said. "You don't have to do it until next week, so regardless, don't read too much one way or the other into today's poll."
The final Coaches Poll ballots will be made public, which is a ploy to keep head coaches honest and attempt to force them not to vote with an agenda. But there have been many ballots in the past that have raised eye brows. It's not uncommon for coaches to favor fellow conference teams and there have been instances where it appeared they voted based on what game they wanted to see, not who the two best teams were. 
Ohio State has only defeated one team ranked in the BCS top 25 – No. 21 Wisconsin. Meanwhile, Auburn's defeated three top-25 teams – Alabama (4), Georgia (22) and Texas A&M (24).
Northern Illinois was the big winner in the BCS-buster sweepstakes this week. Fresno State's loss eliminated it from the non-qualifier pool. Now the Huskies just need to beat Bowling Green and either finish in the top 16 of the BCS rankings – they're currently 14 – and ahead of AAC leader Central Florida or finish in the top 12. UCF is currently ranked 16th in the BCS.