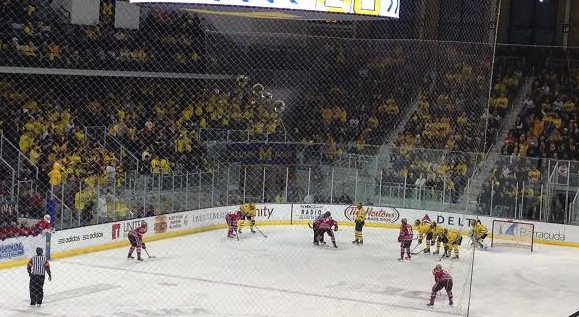 ANN ARBOR, Mich. – There will be no more questions about the CCHA. For years Ohio State players were asked why they didn't compete in the Big Ten. Now the Buckeyes have the same home as nearly every other varsity sport – 36 in all – in Columbus.
In front of a sold-out crowd at historic Yost Ice Arena, third-ranked Michigan topped Ohio State 4-3 in overtime Friday night. It was the first Big Ten Conference game for both programs after facing off 116 times. The significance is not lost on coaches and players in the league.
When the Buckeyes' first-year coach Steve Rohlik steps foot in a recruit's living room, he has a brand name to preach. The Big Ten is an international product that features six of the finest public institutions in America – Ohio State, Michigan, Michigan State, Penn State, Minnesota and Wisconsin.
Michigan head coach Red Berenson, in Year No. 30 at his alma mater, isn't your typical 73-year-old who shuns change. At the conference's media days in St. Paul, Minn., Berenson gave off the vibe of a youthful techy excited about the latest gadget to hit the Silicon Valley.
Berenson's latest nemesis in Columbus, Rohlik, the Buckeyes' fourth coach during Berenson's 30 years, sounded a similar tenor, explaining how the Big Ten's name will not only grow the conference but the sport.
"It's huge. You saw it tonight," said Rohlik, who captained Wisconsin's 1990 national championship team. "If there's something better in college hockey than what you saw – this is incredible.
"What the Big Ten is, what the brand is, what the name is, Big Ten network, all those things; if you're watching this in the U.S. and Canada, how can it not affect recruiting? This is a huge step for college hockey. Fifty-two million people are watching college hockey. I think it's a real boost and a real positive."
Perhaps the leading supporter – and gambler – in the conference's corner is the Big Ten Network, which is televising 27 regular season games. In January and February, the network will have eight straight Friday night hockey doubleheaders. It's important because of the channel's reach.
BTN is available in over 50 million homes in the United State and hockey-obsessed Canada. Six of the Buckeyes' 20 league games will be shown on BTN and another seven on either SportsTime Ohio or ESPNews. 
"There will be so much more coverage, even up in Canada, where my aunts and uncles and family are," Ohio State senior defenseman Curtis Gedig said. "If I tell my friends I play in the Big Ten Conference, they will know exactly what that is. The coverage, it will be crazy. A big steppingstone for college hockey, for sure."
The Big Ten hockey tournament will rotate between the Xcel Energy Center in St. Paul and Joe Louis Arena in Detroit. The first edition will take place in March in St. Paul, where the entire tournament will be broadcast on BTN.
Network president Mark Silverman, the brains behind its rousing success since launching in 2007, believes BTN's format will put more college hockey fans in front of their television sets.  BTN has already hit a home run with clever adds depicting prominent coaches from other sports with their front teeth knocked out to depict an ardent enforcer on the ice.
"We're in an investing phase, not in a moneymaking phase, with Big Ten hockey," Silverman said. "The hope is, over time, that we can grow the sport so it can pay for itself and hopefully be an overall benefit to the network.
"We think it will bring in new viewers. We think it will help with our ratings. But we're making a significant investment, and it's not a short-term investment."
The same goes for the current state of Ohio State hockey. In Rohlik's first season, the rebuilding Buckeyes are 8-5-0 after Friday night's loss. They had won eight of their previous nine games. Injuries at goalie present Ohio State with big question marks.
Starter Matt Tomkins has missed four consecutive games with a lower body injury. In his place is freshman walk-on Logan Davis who is 3-1-0. He only allowed four goals in 38 shots to the No. 3 team in the country Friday, but he doesn't appear to be the long-term answer. Collin Olson started the season opener before leaving the program after playing sparingly. That prompted Rohlik to go to the bullpen – almost literally. A catcher on the baseball team, Aaron Gretz, was forced into emergency backup duty.
Ohio State and Michigan will be back at it Monday night at 7:05 p.m. at Value City Arena. The game will air on STO and Fox Sports Detroit. The Buckeyes will then go on a three-week hiatus for the holidays before reconvening in late December. It could be what Rohlik and banged up Ohio State need before embarking on the crucial second half of the season.
After all, January and February are when they'll take center stage in millions of homes.
"This is a great league with some great teams and great traditions. We're lucky to be part of that," Ohio State junior center Tanner Fritz said. "We're stepping forward here and trying to be our best. I feel tonight was a big stepping block for us."