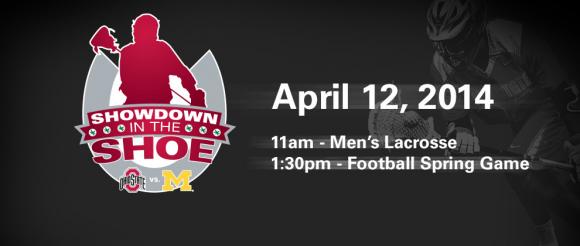 After a one-year hiatus, the Ohio State football spring game will return to Ohio Stadium. The university announced Tuesday in a statement that the game will be part of the Showdown in the Shoe slated for April 12, which will also feature an Ohio State-Michigan lacrosse game at 11 a.m. The football game will kickoff at approximately 1:30 p.m.
Last season's spring game took place at Paul Brown Stadium in Cincinnati due to renovations at the Horseshoe. 
"We are excited to again have our men's lacrosse team play in front of what we hope is another record-breaking crowd," Gene Smith, Ohio State vice president/director of athletics, said. "Our fans embrace the rivalry with Michigan so this is a special chance to introduce even more of Buckeye Nation to the sport of lacrosse."

The game will be the sixth edition of the Showdown in the Shoe, which began in 2008. The tradition was suspended in 2013 because of construction in Ohio Stadium that moved the Ohio State football spring game to Cincinnati. A record 31,078 fans were in attendance when the men's lacrosse Buckeyes defeated Air Force in 2010. The first game drew a then-NCAA regular-season and on-campus attendance record of 29,601 fans, with 30,192 at the 2009 contest to top that mark. Attendance is recorded at halftime of the men's lacrosse game, with tens of thousands more in the stadium by the end of the contest as the football spring game begins immediately after. The 2009 football spring game set a national attendance record of 95,722.

"We would like to thank Mr. Gene Smith and Coach Meyer for the opportunity to play in Ohio Stadium in conjunction with the spring football game," Nick Myers, in his sixth year as the head coach of the Buckeyes, said. "The event provides our men with a venue and crowd that is like no other in the sport of lacrosse. We understand the responsibility and we have embraced the opportunity as Buckeyes to prepare for this great rivalry game on April 12, 2014."

Information on tickets to the doubleheader, including the Showdown in the Shoe lacrosse game between Ohio State and Michigan and the football spring game, will be released at a later date.