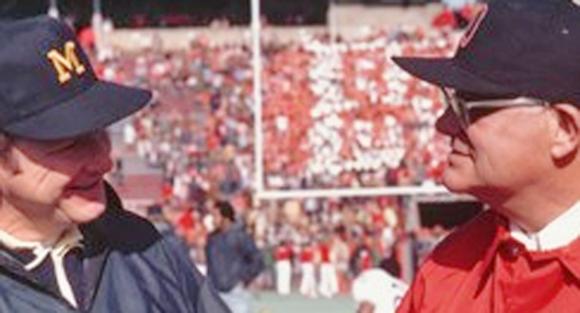 Stumble upon the Woody Hayes Athletic Center and you quickly realize who Ohio State plays this week. The Ms on a plaque honoring Hayes outside the facility are covered with scarlet tape and all the 2013 opponents except "That Team Up North" are covered on a schedule inside the team meeting room, effectively making it a one-game season. Beat Michigan Week is in full swing on the Buckeyes' campus.
Head coach Urban Meyer committed the ultimate sin on Monday by uttering the word "Michigan." When a reporter pointed it out, Meyer was taken aback and apologized.
"I did?" Meyer asked, stunned. "Wow."
The Ashtabula native and child of the Ten-Year War said he learned at a very young age to dislike Michigan. But he said an appreciation for the fierce rivalry never really forms until you're immersed in it. For Meyer, that happened in the late 1980s when he became a graduate assistant under Earle Bruce.
"I was driving to work on a Monday morning. I was a 21-year-old graduate assistant and I look up on those twin towers by the stadium, and it says 'Muck Fichigan,'" he recalled. "I said, that is really cool right there. They switched the M and the F and someone made them take it down. That was in 1986, so there is some old student now that is laughing their tail off saying, yeah, that was my room."
Meyer is a college football buff who's coached at four schools with bitter rivalries – Bowling Green's "Battle of I-75" with Toledo, the "Holy War" between Utah and BYU, Florida-Florida State and, now, arguably the biggest rivalry in college football. He's known to give quizzes to assistant coaches on the history of the program and rivalries.
"I'm a huge fan of college football," Meyer said. "I think that's what separates it. I'm a fan of pro football, too, but the pageantry and rivalries are unique in college football.
"Our players get it."
The Buckeyes enter Saturday's game as a 13-point favorite over a Michigan team that is reeling. The Wolverines lost three of four and four of six games – all to conference opponents. Dating to 2001, Michigan has only defeated Ohio State twice. It appears the Buckeyes will add to their archrival's misery again.
But don't tell players or coaches that. Even though Meyer admitted the football staff "goes over the top" with The Game, ultimate respect is also aimed at Michigan.

"We'll get their best game," he said, adding that records are irrelevant for the regular-season finale. "Teams that care about rivalries, it doesn't matter."
The Wolverines will also get Ohio State's best as injured linebacker Curtis Grant and banged up cornerback Armani Reeves are slated to play. Meyer also said cornerback Doran Grant, who missed the second half against Indiana, will be available.
The next two weeks will be a new experience for the Buckeyes, but Meyer has already dealt with playing a rival and then turning around to faceoff in a highly anticipated conference championship game. He did so three times while at Florida. The most important thing, Meyer said, is to stay rested and healthy.
"I don't want to say it's awful, but you talk about blowing out your staff and our players and then throwing finals week," Meyer said. "Our focus is on [Michigan], but we know what's coming. You have to be so disciplined in the way you practice. I'm going to warn our coaches about sleep and taking care of yourself, because these next two weeks are going to be brutal."