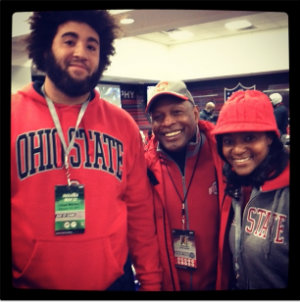 The Big Ten Conference welcomes four new pledges into the fold, but two highly rated recruits decided to back out of their commitments. 
Minnesota, Penn State, Rutgers and Wisconsin each landed one pledge, while Northwestern lost a top recruit. That drops the Wildcats to 10 in the rankings. Purdue also lost a commitment, and falls a spot to 13. 
On the Ohio State front, the Buckeyes will be heading to Ann Arbor for The Game. While they will be on the road, it will still be a good opportunity to impress recruits. Michigan will be hosting many mutual targets.
Ohio State recently hosted Chad Mavety for an official visit and he plans to decide within the next two weeks. Raekwon McMillan plans to announce his decision on Dec. 16. Christmas could come early for the Buckeyes. 
Now, on to the rankings.
14. Minnesota
Minnesota only gained one commitment from their huge recruiting weekend, but more is surely to come. The Gophers are only expected to add five or six new recruits, potentially more with early departures. 
Four-star offensive lineman Frank Ragnow has offers from Ohio State, Florida State and many other high level schools, but he could ultimately end up at in-state Minnesota. The Gophers are also in a good position to land three-star linebacker Christian Russell over Tennessee. 
Commitments: Canadian two-star Julien Kafo decided to pull the trigger and commit to Minnesota over offers from Indiana, UConn, Pittsburgh and Miami (OH). The defensive end sleeper drew interest from many other schools. 
Visitor news: After a big recruiting weekend, Minnesota will be on the road. The Gophers already have a few visits set up for December. 
13. Purdue
A disappointing season in West Lafayette is coming to a close. The Boilermakers are destined to finish 1-11 under first-year head coach Darrell Hazell. The recruiting scene hasn't gone much better for Hazell. Their highest rated commitment, Drue Tranquill, decided to flip his commitment to Notre Dame. Hazell's job is probably safe with it being his first season. 
Commitments: No new commitments this week.
Visitor news: The Boilermakers will be on the road, therefore no recruiting visitors. 
12. Illinois
Things could get interesting in Champaign if Tim Beckman is fired after the season. The 2014 class is largely unimpressive and Illinois needs a capable coach. 
The Fighting Illini have recently been trending for three-star defensive end Chris Slayton. Slayton has offers from Kansas, Syracuse, Minnesota, Cincinnati, Miami, Michigan State and many others. 
Commitments: No new commitments this week.
Visitor news: Northwestern will be coming to Champaign to take on the Fighting Illini. Many of the top underclassmen will be heading to Ann Arbor for The Game. 
11. Indiana 
Indiana will go another year without a bowl game. The 2014 recruiting class is subpar, but Kevin Wilson could land three-star linebacker Tegray Scales of Cincinnati. Scales has been getting interest from Ohio State and has an offer from Oklahoma and others. 
Commitments: No new commitments this week.
Visitor news: The Hoosiers will return home to take on the 1-10 Boilermakers. Three-star linebacker Richard Dorvilus and four-star Western Michigan commitment Trevon Young will be taking official visits. Young was once a Iowa commitment, but his offer was pulled after multiple legal issues.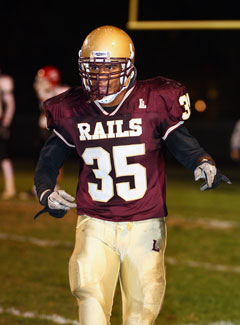 10. Northwestern
Northwestern once had the third ranked recruiting class in the Big Ten, but much like their football season, their recruiting class has fallen a part. Four-star receiver Dareian Watkins and NU decided to mutually part ways due to off the field problems. Watkins was considered to be one of their top prospects. 
The good news for Pat Fitzgerald and company is a few highly rated prospects including Parrker Westphal and Garrett Dickerson are very interested. Landing both of these prospects would help salvage this class. 
Commitments: No new commitments this week. 
Visitor news: The Wildcats travel to Champaign to finish their disappointing season. NU will be quiet on the recruiting scene. 
9. Iowa
The Hawkeyes impressed four-star offensive tackle Brian Wallace on his recent visit. Kirk Ferentz and staff have positioned themselves to land the highly rated tackle, however, Alabama, Arkansas and Missouri are still expected to get visits. 
Three-star quarterback Tyler Wiegers also visited recently. The one-time Rutgers commitment has a 100% crystal ball to Iowa. The pro-style QB would be a great addition for the Hawkeyes. 
Commitments: No new commitments this week. 
Visitor news: Iowa's home schedule is complete. They'll be on the road this weekend, but official visits will continue after the season. 
8. Maryland
Randy Edsall and staff have Maryland positioned for a strong finish with five-stars Damian Prince and Jalen Tabor leaning towards the Terrapins. Brock Ruble visited College Park recently and the Terps are fighting hard for his services against N.C. State and Florida State. 
A strong finish could push Maryland up into the top five of the B1G recruiting rankings. 
Commitments: No new commitments this week.
Visitor news: The Terrapins will finish their regular season on the road. Official visits are done until December for Maryland.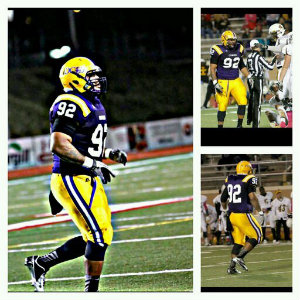 7. Nebraska
Nebraska has been recruiting numerous prospects that have committed elsewhere. It will be interesting to see if Bo Pelini can convince a prospect like Oklahoma commit Dallis Todd to come to Nebraska. 
Another thing to keep an eye on is Bo Pelini's job security. There was some internet buzz that he could step down after the Iowa game, but that has not came from a credible source. 
Commitments: No new commitments this week. 
Visitor news: The Huskers will host Iowa on Friday. Four-star JUCO defensive tackle Terrell Clinkscales and three-star defensive end Darius Slade are expected to visit for the game. Clinkscales recently picked up an offer from Ohio State and his recruitment is shaping up to be a Nebraska-Ohio State battle. Slade is strongly considering Michigan State. 
6. Rutgers
The Scarlet Knights have dealt with quite a few decommitments this recruiting cycle. At one point, they had four decommits in a week. The past two weeks, Rutgers has added two new pledges into the fold. 
The one time number three recruiting class in the Big Ten has fallen to sixth. It's disappointing to see because they could use all the help they could get with joining the B1G next season. 
Commitments: Rutgers added another commitment this week with the addition of three-star Eric Wiafe. Wiafe, originally a member of the Scarlet Knight's 2013 class, has now qualified to be a part of Rutgers' class. Their class now sits at 23. 
Visitor news: Rutgers will play at UConn, Saturday. No visitors. The Scarlet Knights will wrap-up their season at home on Dec. 7. 
5. Michigan State
2015 running back Mike Weber of Cass Tech tweeted "I'm ready to commit just waiting on my dad." Ohio State has recruited Weber, but Michigan State is the leader here. If a decision is made soon, expect him to be a Spartan. 
Mark Dantonio will continue to plug away on perhaps his best recruiting class at Michigan State, which comes during one of his best seasons as a Spartan. 
Commitments: No new commitments this week.
Visitor news: Michigan State will host the surprising Minnesota Gophers to end the regular season. One time Rutgers commitment Kiy Hester will visit East Lansing. The four-star safety could flip to the Spartans.  
4. Penn State
Despite landing a four-star defensive tackle this week, the Nittany Lions continue to pursue five-star Thomas Holley. Holley is scheduled to visit Florida this weekend and a decision could come soon after that. Penn State appears to be the favorite with Florida looking to make up ground and Notre Dame in the background. PSU was helped by Ohio State deciding to move on from the highly rated prospect. 
Bill O'Brien has continued to look at other 2014 prospects, but scholarship numbers are beginning to tighten up. 
Commitments: The Nittany Lions added a big commitment from four-star JUCO defensive lineman Tarow Barney. Barney had offers from Iowa State, Arizona State, Kansas State and others. Alabama had also shown late interest. He is expected to compete for instant playing time. 
Visitor news: Penn State will be on the road, therefore they will be quiet on the recruiting scene. PSU will host four-star offensive tackle Alex Bookser on Dec. 6.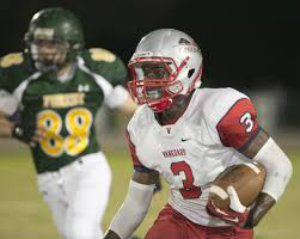 3. Wisconsin
Gary Andersen continues to recruit better than Bret Bielema ever could. Wisconsin continues to be in on many top prospects including recent Northwestern decommit Dareian Watkins. The four-star athlete has been trending towards the Badgers after taking a visit. 
Another highly rated athlete, Jamil Kamara, named Wisconsin in his final three with Virginia and Pitt. Five-star running back Joe Mixon also continues to list Wisconsin as one of his leaders. 
Commitments: The Badgers picked up a commitment from three-star receiver Natrell Jamerson. The 6-foot, 170 pound Florida native had a handful of offers from the likes of FIU, Middle Tennessee State and UAB. 
Visitor news: Wisconsin will wrap-up their season with a home game against Penn State. Numerous prospects are expected to attend including Jacob Tuioti-Mariner, Serge Trezy, and Deion Hallmon. These three prospects have all been trending toward the Badgers on the crystal ball. 
2. Michigan
There has been some recent twitter buzz regarding Michigan landing a commitment in the next couple of days. A while back, there was buzz about '15 four-star defensive tackle Hjalte Froholdt committing to the Wolverines. 
With their '14 class wrapping up, Michigan already has six commitments for their 2015 class. It appears they could be close to adding to one of their classes. 
Commitments: No new commitments this week.
Visitor news: Michigan will host Ohio State, Saturday. Michigan insiders have been speculating that the Wolverines will host sixty or more prospects. I'm expecting this number to be higher. 2015 TE C.J. Conrad will be in Ann Arbor and Justin Hilliard might make the visit, as well. The Glenville duo could make the visit, but that is not confirmed. 
1. Ohio State
One of Ohio State's top targets, four-star offensive tackle Chad Mavety, visited this past weekend. The Buckeyes have long been considered a front runner along with Florida State. It appears the visit went well and decision is expected in the near future. A surprise visitor for the Buckeyes was four-star receiver Trevion Thompson, who has long been considered a Clemson lean. With Johnny Dixon leaning elsewhere, the staff could turn up the heat on Thompson. 
The top remaining target, five-star linebacker Raekwon McMillan, has announced that he will decide on Dec. 16. The Georgia product favors Alabama, Clemson and Ohio State over the other schools. 
Commitments: No new commitments this week.
Visitor news: The Buckeyes will travel to Ann Arbor for The Game. There will be no visitors in Columbus, however, Michigan will be hosting many prospects that are also considering Ohio State. Official visits for OSU will continue after the season. 
---
Rankings Overview
| No. | School | Commits | Scout ★ AVG | Rivals ★ AVG | 247 ★ AVG | ESPN ★ AVG | Overall ★ Avg |
| --- | --- | --- | --- | --- | --- | --- | --- |
| 1 | Ohio State | 17 | 3.76 (9) | 3.65 (6) | 3.77 (5) | 3.71 (9) | 3.72 |
| 2 | Michigan | 16 | 3.56 (14) | 3.47 (18) | 3.56 (11) | 3.80 (7) | 3.60 |
| 3 | Wisconsin | 21 | 3.05 (24) | 2.86 (22) | 3.15 (22) | 3.00 (33) | 3.02 |
| 4 | Penn State | 16 | 3.13 (29) | 3.13 (31) | 3.31 (23) | 3.40 (25) | 3.24 |
| 5 | Michigan State | 17 | 3.18 (27) | 3.06 (32) | 3.00 (34) | 3.24 (40) | 3.12 |
| 6 | Rutgers | 23 | 2.87 (32) | 2.71 (29) | 2.95 (35) | 3.00 (32) | 2.88 |
| 7 | Nebraska | 15 | 2.73 (45) | 2.93 (41) | 3.00 (42) | 3.21 (NR) | 3.00 |
| 8 | Maryland | 12 | 3.17 (48) | 3.00 (54) | 3.08 (45) | 3.33 (NR) | 3.10 |
| 9 | Iowa | 16 | 2.94 (38) | 2.75 (50) | 2.88 (47) | 3.07 (NR) | 2.91 |
| 10 | Northwestern | 12 | 3.08 (51) | 3.00 (53) | 3.17 (49) | 3.25 (34) | 3.13 |
| 11 | Indiana  | 14 | 2.86 (54) | 2.64 (61) | 2.86 (63) | 3.00 (NR) | 2.84 |
| 12 | Illinois | 14 | 2.57 (67) | 2.71 (57) | 3.00 (65) | 3.00 (NR) | 2.82 |
| 13 | Purdue | 10 | 2.70 (73) | 2.67 (76) | 3.00 (72) | 3.00 (NR) | 2.84 |
| 14 | Minnesota | 9 | 2.89 (62) | 2.78 (73) | 3.00 (73) | 3.00 (NR) | 2.92 |
Number in parentheses is national rank