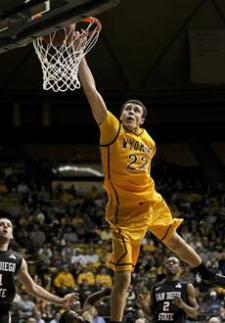 Ohio State's non-conference schedule rarely features much in the way of resistance. The Buckeyes load up on cupcakes in November and December and waltz into the Big Ten slate highly ranked but mostly untested. It's hard to argue with the model when you consider the success under Thad Matta, unless you're doling out money for tickets to see Northeast State and Zanesville A&M.
This season has already featured a dominant road win against ranked opponent, but two home games against Ohio and American have presented much closer than expected wins. Sloppy offensive play has been the theme. In the latest win over American, Ohio State shot 35.7 percent from the field and 18.8 percent from beyond the arc.
"I just didn't think we got better," Matta said, referencing the gap between the Marquette and American game. "That was probably the biggest thing. We were OK, but I don't know if we played at the level that I wanted to play at."
The only area the Buckeyes are lacking is offense. Matta believes confidence is low. Ohio State is second-to-last in the Big Ten in scoring at barely more than 70 per game, while the defense is among the best in the country.
LaQuinton Ross, thought to be the offensive savior this season, has scored a whopping seven points per game – 28 in all. The junior forward is 1 for his last 13 from the field and just 9 for 37 in the young four-game season. Senior point guard Aaron Craft spent the spring and summer overhauling an inconsistent shot but has seen little in the way of results so far. He's shooting 34.5 percent from the floor, the worst percentage of his career.
"It's frustrating," Craft said. "It's probably a combination of things. Maybe confidence. We've put the time in. Right now, I think we might be doing a little too much thinking, might be pressing a little too much. We just need to trust in the work that we've put in and trust in our teammates. We need to focus on being ready to make a play with the ball."
| # | Name | YR | HT/WT | PTS | REB | ASST | P | # | Name | YR | HT/WT | PTS | REB | ASST |
| --- | --- | --- | --- | --- | --- | --- | --- | --- | --- | --- | --- | --- | --- | --- |
| 4 | A. Craft | SR | 6-2/195 | 10.5 | 4.8 | 6.0 | G | 2 | R. Grabau | JR | 6-2/175 | 15.6 | 1.2 | 2.4 |
| 3 | S. Scott | JR | 6-1/185 | 12.5 | 4.8 | 3.8 | G | 14 | J. Adams | SO | 6-2/175 | 11.2 | 2.8 | 2.8 |
| 32 | L. Smith Jr. | SR | 6-4/210 | 9.5 | 3.8 | 0.8 | F | 20 | N. Sobey | SR | 6-3/185 | 7.6 | 2.4 | 1.6 |
| 10 | L. Ross | JR | 6-8/220 | 7.0 | 5.3 | 0.8 | F | 11 | D. Cooke Jr. | JR | 6-9/220 | 6.4 | 7.8 | 1.0 |
| 23 | A. Williams | JR | 6-11/250 | 9.5 | 6.8 | 0.3 | C | 22 | L. Nance Jr. | JR | 6-8/225 | 11.8 | 8.4 | 2.2 |
Opponent
Wyoming enters Monday night's game with a 4-1 record, the lone loss coming by five points to a presumed NCAA Tournament team in Colorado. The Cowboys have shot at least 50 percent from the field in their last three games. They average 72.8 points, shoot 50 percent from the field and 42 percent from three-point range.
Wyoming, like Ohio State, can also play defense. It has not allowed a fast-break point in four of five games this season. The Cowboys are holding opponents to 61 points per game and 36 percent shooting.
Larry Nance Jr., the son of Cavs legend Larry Nance, is the catalyst for Wyoming on both ends of the floor. He's averaging 11.8 points, 8.4 rebounds, 2.2 assists and 1.8 blocks per game. Nance has reached double figures scoring in four of five games.
Guards Riley Grabau (15.6 points) and Josh Adams (11.2) are also averaging double figures. Grabau is the best overall shooter, converting on 57 percent of his shots from the field. He's actually better from 3, where he's 14 of 23.
Buckeye Breakdown:
Marc Loving enjoyed a standout high school career that included being named Mr. Basketball his senior season and twice being honored as a first-team All-Ohio selection. But he still wasn't in the same league as Jared Sullinger, BJ Mullens and other recent Ohio-born players.
Through four games, though, Loving has become a stabilizing force for a team that's struggling mightily on offense. In the past two games, he's taken over for Ross in the second half. On the season, Loving is averaging 6.5 points and 2.5 rebounds in 15.5 minutes per game.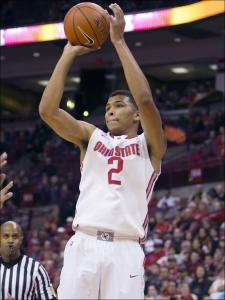 His performance has surprised many fans who didn't expect immediate returns from Loving. However, coaches and teammates started seeing glimpses of production in practice. Loving, 6-foot-7 and 215 pounds, earned praise for his sharpshooting.
"I'm probably a little bit surprised at how quickly he's adapted," Matta said. "The greatest thing Marc has going for him is he wants to be a player. He's a sponge in learning and studying film. He's only had two 'freshman' practices, and he knew he had them. He came back and followed them up with a great practice."
Loving is one piece in a nine-man bench. It remains to be seen whether his playing time takes a hit once Big Ten season arrives, as Matta tends to whittle down his list of substitutes. If it were up to Lenzelle Smith Jr., though, Loving would be a shock to the system – all season.
"The cat is out of the bag on everybody except Marc Loving, who's going to provide pretty solid minutes and points for us," he said. "He's one of the top-notch shot-makers on our team. That will be a surprise and new face for our fans.
"I know how difficult it can be to transition from high school to college. It's a totally different ballgame. But if he can transition what he's doing in practice to the games, he's going to be great."
Etc
Ohio State is 2-1 all-time vs. Wyoming and 8-6 against teams from the Mountain West.