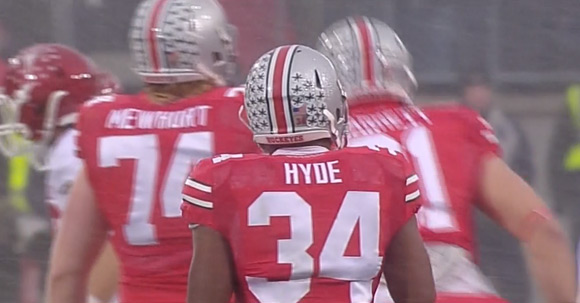 The Buckeyes entered Saturday's Senior Day game against Indiana with a chance to secure a spot in the Big Ten championship game for the first time and set a new school record for consecutive wins.
Ohio State fans will recall last year's completely stupid late deluge of Hoosier points that turned a laugher into an uncomfortably close victory, and an embarrassing one for the Buckeye defense. Kevin Wilson's offense had been explosive throughout the 2013 season until running into problems at Wisconsin's Camp Randall Stadium last week.
The way Illinois moved the ball against Ohio State, it was only natural if Buckeye fans had a little trepidation with Indiana's more dynamic offense coming to town. Despite looking great from the second half of the Iowa game until the midway point of the second quarter at Illinois, the Silver Bullets resurrected a lot of fears about their soundness a week ago.
Would the defense recover and play well again? Could Carlos Hyde erase the statistic about no Urban Meyer running back reaching the 1,000-yard mark? Would Ohio State run for 500 yards on one of the conference's most pathetic defenses? Could the seniors walk off Ohio Stadium's turf for the last time as winners?
Yes, yes, almost (471), and yes. The Buckeyes set a new school record with their 23rd consecutive victory, and it wasn't a close game, but two late Indiana touchdowns were a bit annoying. Here are your talking points:
 
Water Cooler prep (Everything you need to know…in one paragraph)
Ohio State led wire to wire and the game was never in doubt. So if you see any headlines that use the word "survives" as a verb to describe Ohio State's day, call and/or write your congressman. Braxton Miller ran 13 times for 144 yards (11.1 YPA) and two spectacular scores, and was 11/17 passing for 160 yards, two touchdowns and a pick. Carlos Hyde went over 1,000 yards on the season with 117 yards and two scores on 18 carries (6.5 YPA). Bradley Roby played great and blocked a punt in the 42-14 win.
Talk before the game 
"Carlos Hyde should get as many yards as he wants today."
"El Guapo going for 1,000. Ohio State looking to clinch a spot in the B1G title game."
Update from Ohio Stadium: it's snowing. Cool!

— Jerry Emig (@BuckeyeNotes) November 23, 2013
Another Stadium update: there will be 19 seniors honored before today's game. A 19th spoke with Coach Meyer and was added late this week.

— Jerry Emig (@BuckeyeNotes) November 23, 2013
Turns out the 19th was walk-on linebacker Craig Cataline.
Talk in the aftermath
"Leaders Division Champs until the end of time!"
"Best game of the year for Shazier and Roby."
"OK, the prologue is over. It's Michigan week now."
Give that man a buckeye leaf (Player of the game)
If yesterday's game was Ryan Shazier's last one in the Shoe, it was a great sendoff. The junior linebacker was all over the field and his number might be permanently tattooed on Nate Sudfeld's flesh. Shazier finished with 20 tackles (16 solo, tying Tom Cousineau's single-game OSU record set in 1978), five tackles for loss, a forced fumble, a pass breakup and a sack. He was locked in all day and it may have been his finest game as a Buckeye in three memorable seasons.
Snot Knocker of the Game
With the way he played all day, it's only fitting that Shazier made the game's biggest hit. Trailing 14-0 in the second quarter, Indiana set up for a second-and-10 play from its own 17-yard line. Sudfeld dropped back and set up a screen to the left side to Stephen Houston, in an effort to slow down Ohio State's pass rush. Shazier gave zero damns about Indiana's screen pass, sprinting to his right to drill Houston for a one-yard gain. Houston got up, but there is no confirmation that his skeletal system was entirely intact.
Did you see that?! (Play of the game)
Roby set the Buckeyes up with a first and goal when he blocked Erich Toth's second-quarter punt and Ron Tanner returned it seven yards to the Indiana eight. After Hyde carried for three yards, Urban Meyer sent Kenny Guiton onto the field. Kenny G lined up in the shotgun, with Miller split out to the left. Guiton took the snap and ran left, pitching to Miller, coming back against the grain. Miller appeared to have a run/pass option on the play, but Heuerman was covered. Braxton kept the ball and leapt high over cornerback Tim Bennett and linebacker Forisse Hardin. Miller cartwheeled in the air, but came down with the ball on the goal line to put the Buckeyes ahead 21-0.
When you sank into your chair (The moment Buckeye football disgraced your family)
It always seemed like Indiana would get on the board at some point, but it was a bit flattering for the Hoosiers to finish within four touchdowns of the Buckeyes. Indiana's second touchdown was set up by a Kenny Guiton fumble following a nice run for the senior quarterback. Whether you choose the fumble itself or the touchdown it set up — either moment was a chair sinker — doesn't matter. They were both bummers.
Jim Tressel's Least Favorite Moment of the game
Tressel was warm and comfy in his OSU Snuggie, lying on a futon and watching the game on a 30-year-old Zenith in his den. With a cup of hot cocoa on the TV tray beside him, Tressel watched the game as he whittled. (Not many know he often carves Civil War figures from random bits of firewood.)
As he put the finishing touches on a carving of his fifth favorite Civil War general, George Brinton McClellan, he looked up and watched Miller pass quickly out to Jordan Hall twice in a row to the left. When Miller had the same play tipped and intercepted on the next snap, Tressel sliced Little Mac's nose right off, eliciting an exclamation of "shucks!" from the former OSU coach. Ellen poked in her head and admonished him, saying "Language, James!"
What you texted your friend at the end of each quarter
First: Good start if you don't count the fumble.
Second: That's 1,000 for El Guapo. Now let's get Braxton to 1,000.
Third: Uh-oh, shutout's in jeopardy.
Fourth: Final score won't impress, but then again, what does impress this year? 11-0!
It was over when
Hyde waltzed in from five yards out, capping a four-play, 69-yard drive that took 52 seconds, putting Ohio State up 28-0 with 37 seconds to play in the first half. The Buckeyes threw only one pass on the drive — a 34-yard strike from Miller to Jeff Heuerman. Ohio State looked in control throughout, and although Indiana moved the ball between the 20s a few times, and the Buckeyes helped them with three turnovers, the Hoosiers never seemed a threat.
---
Only The Game remains in the 2013 regular season. Michigan (7-4, 3-4) is coming off a 24-21 loss at Iowa in what has to be an incredibly disappointing season for the Wolverines. Brady Hoke's bunch will try to salvage some warm, fuzzy feelings with an upset in the greatest rivalry in sports. But no, let's not have that.