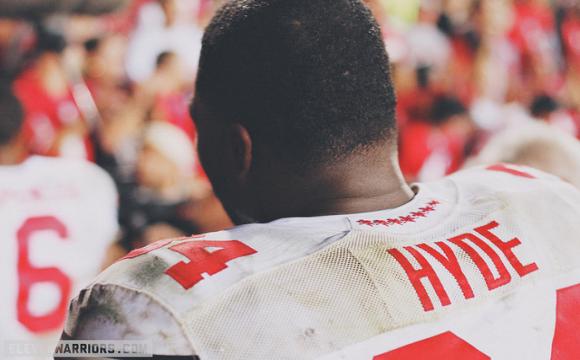 COLUMBUS – As far as sendoffs go, Carlos Hyde couldn't have asked for much better. First came an emotional pre-game ceremony, then the main event – a 117-yard performance that pushed him over the 1,000-yard mark for the season to become the first tailback under Urban Meyer to reach that lofty perch (quarterback Braxton Miller rushed for 1,271 yards in 2012).
"It's really cool because as an offensive lineman, you don't really show up on the stat sheet," senior Jack Mewhort said. "What Carlos does is kind of a reflection on us as offensive linemen. That's not to take anything away from him. He's a workhorse, he's got great vision week in and week out.
"When you're an O-lineman, you kind of live vicariously through the other guys on the offense. It goes to show when people talk about this offense talking about spreading the ball out, that's not all that it is. We take a lot of pride in it. I know it feels good for him, but it feels good for us, too."
At the conclusion of the 2012 season, a year in which Hyde rushed for 970 yards in 10 games, many pointed to a senior campaign filled with yards and touchdowns. But instead, Hyde's final season took a messy and unexpected detour.
A three-game suspension at the outset of the season ended the 1,000-yard talk. Worse for Hyde was a chink in his character, but he didn't mope during his punishment. Hyde chose to become a teacher to other running backs and prepare the starting defense by working diligently on the scout team.
"Mentally, it was an unbelievable advantage for him," running backs coach Stan Drayton said. "Having to play a service role to this football team on the scout team made him hungry, made him extremely hungry. It also made him not take for granted the opportunities that he has in front of him."
When Hyde returned against Florida A&M, his goals were right there in front of him – contribute to a national title contender and rush for 1,000 yards. He admitted the latter was "a big goal" but didn't let it distract him from the team's objectives.
"During my suspension, I told myself it's still possible, you just have to go harder," Hyde said. "That's exactly how I play. My mindset is I have to make up time."
Saturday's outing was Hyde's sixth consecutive 100-yard game. Last week, he became the fifth Ohio State back to eclipse the 200-yard mark with the third-best total in school history – 246 yards. Meyer prefers a more power-run spread offense than the conventional pass-heavy, spread-the-field system that most fans think of. With Hyde and Miller in the backfield, he's able to execute it to perfection.
"The offensive line and Carlos Hyde have proven over and over again they can take over games," Meyer said. "That's who we are.
"One thing about Carlos Hyde is, because of our formation, we're really just running him into a stack of 20 guys. From the spread with his skill set, he's the perfect back for what we're looking for."
Hyde is built like a bowling bowl, a running back in a fullback's body with wide receiver speed. His versatility allows for some pass-catching, but Hyde is most comfortable running between the tackles. He's done exactly that on his way to the end zone 13 times this season.
With a trip to Ann Arbor on the agenda, he hopes to expand on that number.
"I'm expecting That Team Up North to bring their 'A' game," Hyde said. "We are certainly going to bring ours. It is going to be an exciting game – my last against them. I'm looking forward to it."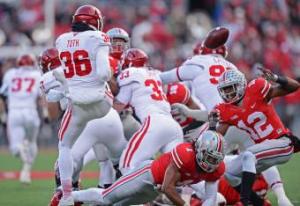 Senior Moment
It started with Jamie Wood and ended with Jack Mewhort. There were 19 in all. Each and every one of them playing in their final game in the famed Horseshoe. As Ohio State's seniors took the field to applause, emotion meshed with game faces. Motivation was not lacking.
Some three hours later, a quartet of senior offensive linemen finished off a 311-yard rushing day for the Buckeyes in a 42-14 win – their 23rd in a row – over Indiana. Included in that total was Hyde's 117 yards to push him over 1,000.
"It's bittersweet," Mewhort said. "I've had my time here and it's time for me to move on. The next time I'll be in the stadium, I'll be a visitor. I'm going to be irrelevant. I was kind of enjoying it a little bit. I've had some great memories there."
The past two seasons, Kenny Guiton generated more memories than anyone believed he could or would. He came to Ohio State as an afterthought, someone with little chance of ever playing significant minutes. But fate intervened and Guiton saved an undefeated season in 2012, then set numerous school records in 2013.
In the pre-game Senior Day festivities, no player received a louder cheer than Guiton. Fans adore him and shouted, "Kenny G" in admiration. Guiton called it "very warm."
"It really meant a lot playing in my last game at Ohio Stadium," he said. "I feel that I have been through a lot in my time here. It was awesome hearing the crowd when I was running out onto the field."
To the surprise of no one, Guiton once again played a starring role. With the Buckeyes leading second quarter, he entered the game at quarterback. Split wide was Miller, who came near Guiton when the ball was snapped and then took a handoff to the end zone, but not before he flipped over an Indiana defender.
"That play is called Jazzy," Guiton said. "I come in and Braxton plays as a receiver. We have been practicing it for a while and we were happy we were able to execute."
The name is a play on Guiton's Kenny G moniker. Meyer said Tom Herman thought of it.
"If he said that, I guess I did," Herman said, sheepishly.
As one curtain closed, others remain wide open with the audience still rapt with anticipation. Ohio State travels to Ann Arbor next week to play Michigan before making its first appearance in the Big Ten Championship Game a week later in Indianapolis. Still in the cards is a possible berth in the national title game.
"The great thing with all the stuff right now is you can't get too sentimental because we have a big game next week," Mewhort said. "I think everybody is pressing the brakes a little bit until we win a couple more games. Then we'll have more time to talk about it."
What Can Brown Do For You?
Many heralded fourth- and fifth-year players took the field for one last time in Ohio Stadium Saturday afternoon. One of the Corey Browns doesn't fit that superstar billing. He's battled an identity crisis since he became a Buckeye five years ago. Brown came to Columbus as a five-star prospect destined to add his name to Ohio State's long list of greats at defensive back. However, what he encountered was a five-year detour.
First came a redshirt season, then came another Corey Brown. In between all of it was sporadic playing time and no signature career moment. Now the man known as "Pittsburgh" or "Pitt" has found his footing and made a name for himself in the process. That it happened with Christian Bryant going down with an injury wasn't Brown's preference, but he upheld the Buckeyes' "next man up" mantra.
"I don't like seeing anyone go down, especially my brother, CB. But I felt like it was a good opportunity for me to seize, and that's what I'm trying to do," Brown said.
Instead of being a lockdown cornerback, Brown became a utility player and found a niche as a fill-in at several different wants and needs in the defensive backfield. Nickel, free safety, strong safety – Brown's done it all. Now it appears he's saved his best for last.
In six starts since Bryant's injury, Brown has recorded 25 tackles, including a career-high six stops the past two weeks, and an interception. And the interception came at a crucial point for the secondary and defense as a whole. Facing mounting criticism after multiple weeks of yielding scores of passing yards, Ohio State encountered one of the top passers in the Big Ten, Penn State freshman Christian Hackenberg.
When the Nittany Lions cut through the Silver Bullets with precision, a here-we-go-again outlook enveloped an antsy Ohio Stadium until Brown picked off Hackenberg, setting off a 63-14 beatdown. It created momentum that still hasn't vanished.
"Pitt's done great. I think the interception [against Penn State] was a huge play," cornerbacks coach Kerry Coombs said. "He plugs in and fits in. He's done a very admirable job. We look for him to continue to develop and improve over the next month."
Meyer lamented the loss of Bryant for weeks. The senior safety is one of the most vocal leaders on the team and a top producer on the defensive side of the ball. His loss wasn't just symbolic. It caused communication issues that were evident at Northwestern when Brown was beaten for multiple touchdowns.
"You don't replace great players instantly unless there's so many it doesn't make a difference," Coombs said. "There's a reason why a player's an All-Big Ten player. There is a transition time. The burden on all of us is to always have the next guy in ready."
Safeties coach Everett Withers feels like Brown's importance is in part due to his versatility but also the attitude and production he brings. Next year, Ohio State must look elsewhere to find a jack-of-all-trades in the secondary. For three more games, Withers will relish what Brown provides.
"He's been a valuable part of our football since we've been here," Withers said. "We've put him everywhere and he's been a guy who can do the job. We'll miss him because of his value to the football team. You talk about guys who've added value to the program – he's added value to the program."